Sorry we have no scheduled courses at the moment. Please contact us below.
Get in Touch
Culture, cuisine, scenery & great motorcycling along empty roads – The Iberian Peninsula has it all..
Highlights Include:
Picos Mountains
Sierra de la Demanda, Sierra de la Guadarrama, Sierra de Gredos
Parque Natural da Serra de Estrela
Guadalupe
Cordoba
Andalucia
Key Information
Start
Bilbao
Finish
Malaga
Duration
8 Days & 9 Nights
Distance
2,200km
Riding Difficulty
Easy
Pillion Supplement
€850
Single Room Supplment
€360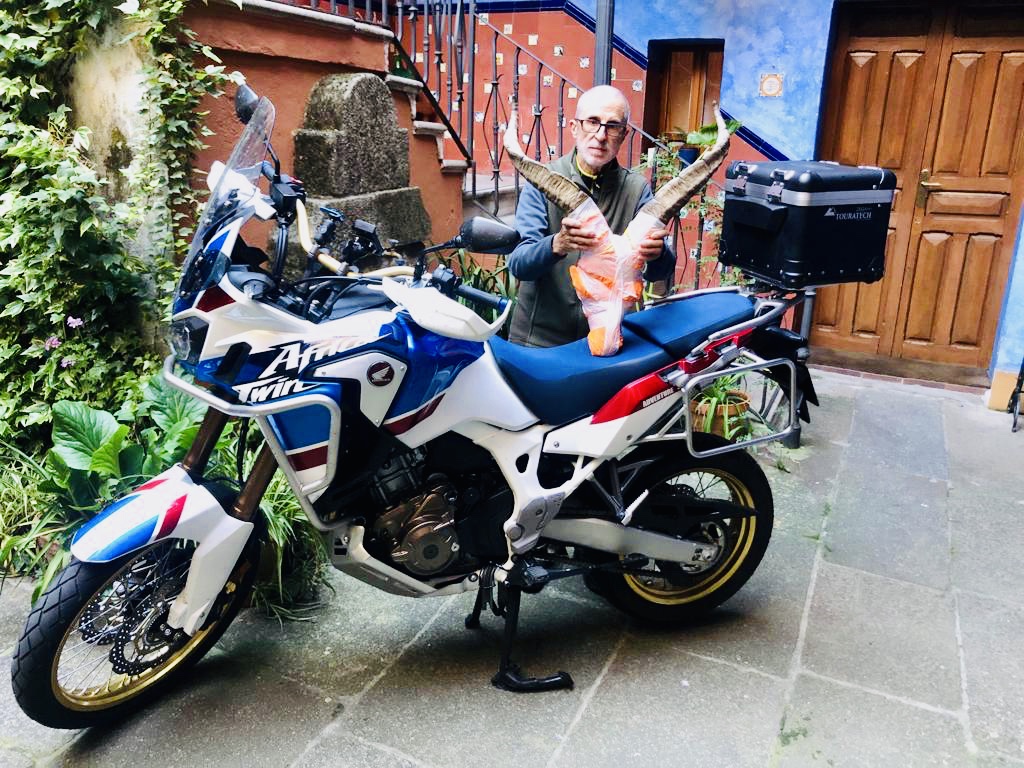 More Information
Day 1 Bilbao to Fuente De
Leaving Bilbao behind we head west in search of the Picos de Europa.There are a couple of route options on offer today particularly in and around the Picos.The jagged, deeply fissured Picos de Europa mountains straddle southeast Asturias, southwest Cantabria and northern Castilla y León, and some of the most spectacular countryside in Spain. The Picos comprise three limestone massifs: the highest of which is Macizo Central (or Macizo Los Urrieles), reaching 2648m. The 671-sq-km Parque Nacional de los Picos de Europacovers all three massifs.This was the first National Park to be declared in Spain and there is no doubt that its natural richness and outstanding scenery make it a truly unique place.Along the route we will visit Potes -a small town in the heart of the Picos de Europa. A river runs through the town with an attractive small stone bridge crossing it. Surrounding the village are the hills and mountains of the Picosde Europa. Potes lies in the Valley of Liebana which is planted with grapes, cherries and walnuts. The town makes its own spirit called Orujo.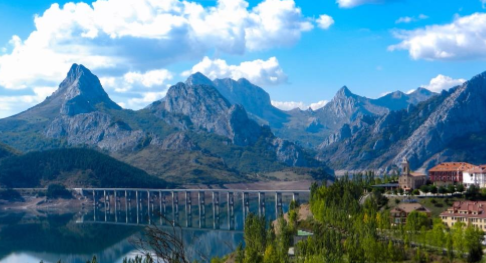 Day 2 –Fuente Deto Milagros
Heading south out of Fuente Deand leaving the Picos behind we head southeast via Aguilar de Campoto one of our favourite placesto eat in central Spain at Milagrosjust southof Aranda de Duero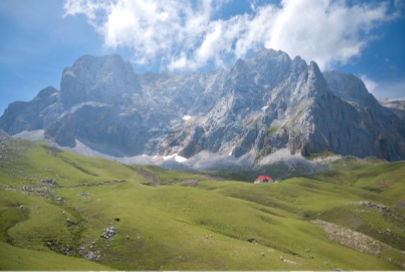 Day 3 –Milagrosto El Escorial
Leaving Milagros we meander our way further south in a zig zag fashion between the Sierra de la Demandaand Sierra de la Guadarramato our destination at El Escorial:in the heart of the latter(on the side of Mount Abantos). Just 50 kilometres from Madrid San Lorenzo de El Escorial is one of the most interesting touristic and cultural towns in the area. Its main attraction is the Monastery and Royal Palace de San Lorenzo de El Escorial.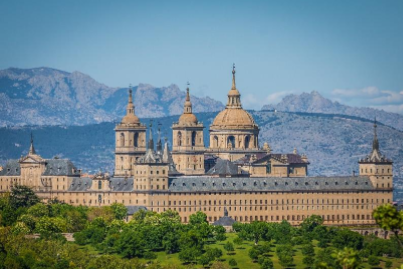 Day 4 –El Escorial to Covilha, Portugal
Heading west through some very rural countryside we traverse the Sierra de Gredos and enter Spain's Extremadura Region before crossing the border into Portugal to our destination at the gateway to the Parque Natural da Serra de Estrela–Portugal's first natural park.Covilha is a city with an air of freshness and space whose original town walls date back to the 12th century. However, much of the architecture hails back to Covilhã's golden age when it was the heart of a thriving woollen industry mainly operated by the town's sizeable Jewish community. Indeed the town had been the leader in manufacture of cloth from times of Moorish rule. Only in the 1500s, following the discovery of far-flung lands and the consequent introduction of silk, did this slow down. However, its textile production did continue in post 16th century Portugal thanks to the foresight of King João V who commissioned the country's military attire from Covilhã's looms, and again in the late 1700s when the influential Marques de Pombalset up the Real Fábrica de Panoshere. This factory created enough wealth that in 1870 the town's status was raised to that of city. Now the impressive old factory building is part of the University of Beira Alta and houses a museum dedicated to the industry.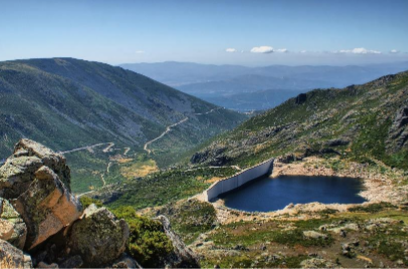 Day 5 –Covilha Rest Day with optional ride outs
Strategically located in the Parque Natural da Serra de Estrela we have an excellent opportunity to explore the highest region of Portugal (with a maximum altitude of 1,993m)and also some of the best motorcycling roads in the country.One such road to the east offers an impressive sequence of hairpin bends climbing up into the highlands with stunning views amidst rugged scenery, lakes and sleepy villages.We also have an opportunity to visit the fine Cathedral of nearby Guarda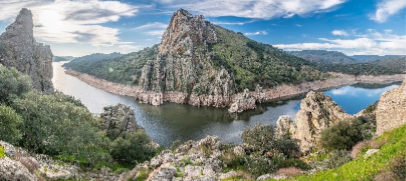 Day 6 –Covilha to Guadalupe
Meandering our way back into Spain and south east through the Extremadura region we pass vast wetlands and reservoirs.The two main rivers, the Tajo and the Guadiana, are dammed for almost all of their passage through Extremadura, being used for hydro-electricity production, the supply of water to the population and the irrigation of crops. The shortage of water during the summer months, which can be prolonged, has led to the building of numerous reservoirs and dams. In fact, Extremadura is the region with the greatest length of interior coastline in the Iberian Peninsula, measuring almost 2,000 kilometres. These artificial wetlands are used intensively by bird-life for which they are a real oasis.Our destination at Guadalupe village has grown up around the fabulous Monastery of Guadalupe which is one of Spain's most popular tourist attractions. In 1325 a farmer found a statue of the Virgin Mary buried in his field. The statue was rumoured to have been carved by St Luke and visitors came flocking from far and wide to see it and a shrine built to house it. The monastery grew in splendour and has towers and turrets and is a beautiful building. The Monastery of Guadalupe is a UNESCO World Heritage Site.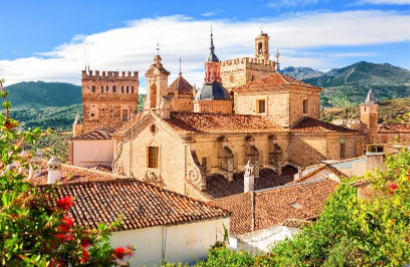 Day 7 –Guadalupe to Cordoba
Crossing into Andalucia we head south in search of Cordoba and it's mesmerising multiarched Mezquita. One of the world's greatest Islamic buildings, the Mezquita is a symbol of the worldly, sophisticated culture that flourished here more than a millennium ago when Córdoba was capital of Islamic Spain and western Europe's biggest, most cultured city. Córdoba's real charms unfold as you explore the winding, stone-paved lanes of the medieval city to the west, north and east of the touristic area immediately around the Mezquita, wandering between wrought-iron balconies and lamps, potted plants, overhanging trees, golden-stone buildings and verdant interior patios, emerging every few minutes on yet another quaint little hidden plaza.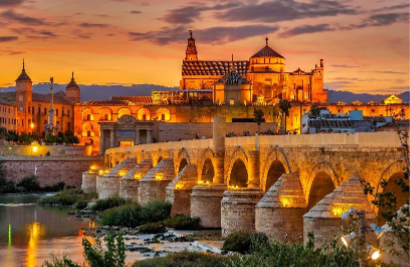 Day 8 –Cordoba to Malaga
Leaving Cordoba we detour via the Serrania de Ronda-a range of mountains in the province of Malaga dotted with picturesque white-washed villages (pueblos blancos)such as Zahara de la Sierra and Grazalema. Interlinking these beautiful villages is one of the regions best roads –the Puerto de las Palomasor Dove Pass.Puerto de las Palomas leads through Sierra de Grazalema Natural Park, a UNESCO Biosphere Reserve, high over a rugged pass with excellent views north and south. It's that good you will want to turn around and do it all again! Finally we have an option to detour north via the scenic setting of Caminito del Reyor 'Kings Pathway' before travelling onwards to Malaga via the Sierra de Chinenea.El Caminito del Rey is an air path built into the walls of the Gaitanes Gorge of Spain, in the province of Malaga. Caminito del Rey is considered one of the most impressive and dangerous mountain trails in the world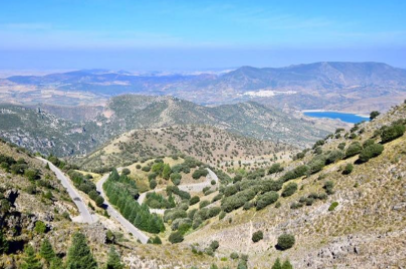 We will be providing a more detailed itinerary on arrival to include hotel info and GPS co-ordinates. Please note that this is an outline route and maybe subject to change.
Included:
Return transport of your motorcycle from our base in Gorey, Co. Wexford.
B&B accommodation in quality 3-4 star hotels.
Half board on all riding days. 
Tour guide(s)
Detailed route maps / itinerary etc. allowing some self-guiding if preferred.
Return ferry to/from Corsica
Not Included
Any travel costs to get to the start and from the finish point for the tour.
Personal travel, accident and medical insurance (covering matters such as medical expenses, repatriation, cancellation, curtailment, loss or damage to property)
Motorcycle insurance cover, motorcycle breakdown cover or recovery costs
Entrance fees to sights and parks, optional local excursions or local activities, (except where stated)
Lunches or snacks (except where stated). Any meals whilst on board ferries. Evening meals on rest/optional ride out days.
Personal spending money, tips, souvenirs or other extras.
Personal documentation (eg visas, passport), vaccinations, personal taxes, border crossing fees, motorcycle documentation
Costs of motorcycle repair (parts, labour or other related costs), tyres
Fuel, oil & other motorcycle consumables
Toll road fees, traffic fines or other charges relating to breach of the law
Any other item not specifically included in the price.
Hotels
As with all our guided tours we carefully select very good standard 3 or 4* hotels. Over the years we have built up a vast selection of tried and tested hotels around the world and we select hotels for their character and service rather than just on their star rating.  Hotel standards vary all over the world and a 4* in Africa or South America is not always the same as in Europe. In some more remote locations, we may use equivalent 3* hotels or the best available in the area, which could be a more family run establishment, with local character.
Pre-trip we provide you with Tour Specific Information that gives you detailed information about how to prepare and plan your tour, and what to expect when on tour.  These are a few FAQ that many people have. If you have any further queries or concerns please do not hesitate to contact us.
What bike is suitable to bring?
Generally speaking we recommend adventure or touring style motorcycles as the most suitable.  However, sports, sport-touring and cruiser motorcycles may also be suitable subject to you being comfortable riding it for the distance and duration of the tour and that it has been properly prepared and adequately serviced with good tyres.
What riding experience do I need?
Generally speaking we recommend all participants to be experienced tourers in Europe and/or beyond. Obviously, some destinations are easier than others, as classified by our difficulty ratings, and should you have concerns please do not hesitate to contact us. It is your responsibility to ensure your motorcycling skills are up to the requirements for this tour. Obviously advanced riding skills increase enjoyment factor and reduce risk.
Do I have to ride in a group?
No!  We do not make you ride in convoy and we offer you the freedom to decide how you would like to ride. However, we find most people prefer to ride with the group without the need to navigate. We use either the 'drop off' or 'buddy' systems when group riding (depending on country and complexity of navigation); these are tried and tested systems of group riding and allow riders to ride at their own pace. Full details are provided at pre-trip briefings. Daily departure times are set every evening for the following morning depending on the days route and points of interest. If you prefer to ride on your own, we provide you with a map and route cards with recommendations for lunch or coffee stops and hotel information. We offer a very flexible approach with an emphasis on maximum enjoyment.
Is this ride suitable for a passenger?
Yes. Pillion passengers should be experienced tourers / travellers. 
What is the average group size?
Our groups are normally between 8 – 14 riders (some riders will have passengers). Most riders are from the Ireland, but we do also have overseas riders who may take part.
What documents do I need?
You will need your original documents as follows: 
Passport and Driving Licence.  Passengers only need their passport.  As a general rule, passports should be valid for at least 6 months after the end of the tour; however, this may be shorter in some European countries. 
If you are bringing your own motorcycle, you will also need your motorcycle registration document (RF101 / log book) and your motorcycle insurance.
In addition, you must have valid travel/medical insurance.
Visas as required Please ensure that you are fully aware of all passport and visa requirements and that you allow adequate time to obtain them.
What will the weather be like?
Depending on season / time of year we will advise expected weather conditions in the pre-trip information and also suggest the most suitable gear based on our experience. It is imperative that tour participants have suitably adequate gear. Please note our tour calendar is carefully planned taking into account the most suitable seasons / local weather for the destination. However, as much as we would like, we cannot always guarantee the best weather. Particularly considering the un-predictable climates the world has been experiencing.
What about my health when I am abroad?
You need to be physically fit and healthy and also take the necessary health precautions.  It is essential for you to consult your doctor or travel clinic for up-to-date medical travel information prior of travel, particularly if you have a pre-existing medical condition. Please ensure that you are fully aware of all official travel advice, local customs, current affairs, travel requirements and medical/travel advice. Please check with your GP regarding recommended inoculations. 
Do I need Travel / Medical Insurance?
It is a condition of you travelling with us that you are adequately insured.  Your insurance policy must cover you for the costs of any medical expenses, medical treatment or repatriation needed, due to injury or illness on this trip, including those that occur whilst motorcycle touring, either as the rider or a passenger.  It is important that your insurance company understands that the main purpose of your trip is motorcycle touring, using your own large capacity cc motorcycle or a rental motorcycle.  Your insurance must cover you for the full duration of the trip and for all countries we travel through.
In addition, we strongly recommend that your insurance policy has cover for loss or damage to your personal belongings, delay at your outward or homeward point of departure, personal liability, overseas legal expenses and cancellation and curtailment. We do not refund your deposit simply because you failed to take out insurance in sufficient time. Some travel insurance policies do not cover motorcycle travel over a certain cc or for a prolonged duration.
Minimum Numbers
We require a minimum number of 8 riders on this tour.  If we do not have this number of bookings, then we reserve the right to cancel the tour.
Booking:
Overlanders may accept a booking online, via telephone or by email. To confirm a booking a deposit is required – once the deposit is received the booking is confirmed.
Payments & Fees:
A deposit is required at time of booking.
Guided tours – 50% required at least 60 days prior to the shipment / travel date.
All payments must be made in full at least 30 days prior to the shipment / travel date.
Cancellation/Amendments/Refund Policy:
Please note that all payments and deposits are non refundable nor transferrable if cancellation accrues within one month before the shipment / tour date.
Where possible we will try to accommodate any amendments you wish to make.
In the event of curtailment no refunds shall be made.
Refunds may be processed via the original method of payment, except for cash transactions where refunds will be provided by cheque.
Preparation for Shipping (if applicable)
All rider/pillion gear including boots and helmets should be packed into a kit/sports bag and labelled with the owners name, bike make/model and registration. One kit bag permitted per person.

Please note loose items or items tied onto the motorcycle will not be transported.
Bin liners, rubbish bags, cardboard boxes etc are not acceptable.

Motorcycles should be in a clean and presentable condition both for outbound and return shipments. If your motorcycle is considerably dirty post trip please wash it before returning it.
All Luggage (hard and soft panniers) should be left unlocked and removable from the motorcycle if necessary for transport purposes.
Alarms should be switched off or in "Ferry" mode for transport purposes.
Fuel level should be kept relatively low. All our depots are within a few km of fuel stations.
Keys for both the motorcycle and luggage should be left with the motorcycle.
At handover we will require a signed customs declaration form and a photocopy of the registration document / log book stapled together. Customs declaration from will be emailed pre-shipment. These should only be handed over in hard copy at time of delivery.

Do not email copies in advance.
We will not accept original copies of registration documents/log books.
Gallery