Ural Motorcycles – Official Dealer for Ireland & UK
Adventures without limits!
At AMI we are delighted to become an authorised dealer for the world's leading manufacturer of sidecar motorcycles – who have been in business for more than 80 years no less! Trusted by riders across the globe, Ural motorcycles are specially designed for you to share adventures and explore further. 
Ural is a Russian company that was founded way back in the early days of World War Two when the Soviets decided that they needed a motorcycle and sidecar, or outfit, to assist with the war effort. The bike was based on BMWs R71 and the side car was made so that it could be ridden pretty much anywhere as well as being strong enough to carry whatever could be loaded on or into it. Fast-forward just shy of 80 years and now a staggering 3.2 million bikes later, the company still makes almost indestructible sidecar outfits that are powered by a simple yet reliable, air-cooled, 750cc flat twin motor. Best of all, they are still entirely made in Russia in the same factory, at the foot of the Ural mountains, where they were first built in 1941. In 2021 – Ural Motorcycles' 80th anniversary year – there is a lot for the company to talk about including a Euro 5 compliant left-hand sidecar with manually selectable two wheel drive!
"The most fun you can have on 3 wheels" – Cycle World Magazine
"It's a perfect mix of retro and modern" – Jay Leno
"An incredible way to travel as a family" – Mihai Barbu; 80,500km across 42 countries 
Want to know more? 
Contact us for more information on the best Ural Motorcycle for you. Fully customizable with a wide range of colours, various bespoke build options and accesories; there's much to choose from!
Visit the Ural websites for more information:
Follow the official social media channels 
Demonstrator availble at AMI
Meet the all new, Euro5 compliant, Left Hand Sidecar outfit; now with selectable 2WD!
Of course we can also supply RH models…
Check out the review by John Rooth!
Australia's oldest motorcycle tester and well known for his work with 4wd's, tests the first side car on the Australian market in fifty years that's got a driven sidecar wheel. The new Ural looks like 1950's style, but comes with a delightful blend of old school power and brand new reliability. Fuel injected and fun – the Ural is as rugged as half a Volkswagen and twice as tough.
The Ural Ranger 
The Ural Ranger is the world's most popular sidecar motorcycle.
With more storage capacity and accessory choice than any other, plus the flexibility and security of selectable 2-wheel drive, it is built to take you wherever your adventure may lead you.

The Ural CT 
The one-wheel drive version of our Ranger model.
The cT sits lower than the Ranger, making it ideal for weekend adventures, long road trips and light off-road use.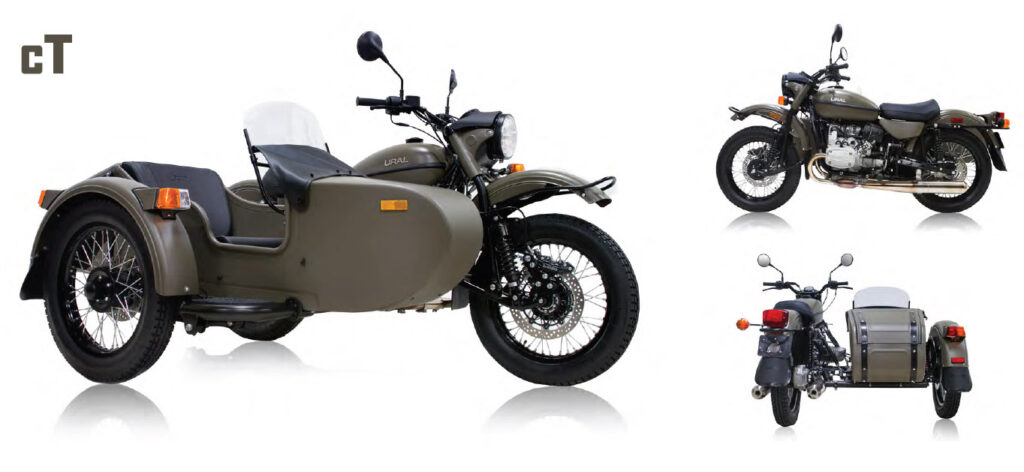 Technical Specs
745 cc
030,15 kW (41 hp)
TRANSMISSION 4-SPEED + REVERSE
19 LITRE FUEL TANK CAPACITY
SIDECAR WINDSCREEN AS STANDARD
2-YEAR UNLIMITED MILEAGE WARRANTY