Overlanders was founded in late 2009 by Derek and David Rynhart following our experiences touring Europe.
We have been touring by motorcycle for over 15 years at this stage and between us have clocked up over hundreds of thousands of kilometres across 50 odd countries. We are continually researching and planning new tours to far off distant lands. Nothing appeals to us more than crossing borders and discovering / exploring foreign lands and cultures; except maybe sharing those experiences with our customers. 
How it all began? As we began to travel further away from Ireland we found we were spending more and more time on motorways just getting to and from our destination. This was both time consuming and expensive, and at the end of every tour we asked the same question: "Where can we find a company to transport our motorcycles for us?" Hence, Overlanders was established.
Since then Overlanders has grown and our list of services has expanded quite a bit. In late 2014 a sister company, Adventure Motorcycles Ireland, was formed to provide a more 'complete package' to compliment our transport / tour services. AMI, now run by Gary Rynhart, are authorised dealers for Honda, Yamaha, Suzuki, Ural Sidecars and sole distributors for Touratech accessories, Scott & Knox clothing, along with a number of other premium brands. AMI can also supply a wide range of other makes and models of motorcycle.
Meet the team…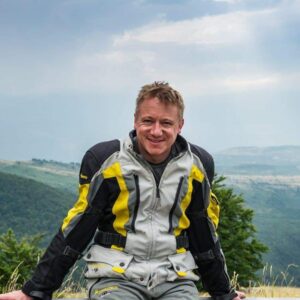 𝗡𝗮𝗺𝗲: David Rynhart
𝗔𝗴𝗲: 35
𝗥𝗼𝗹𝗲𝘀: Tour guide, tour planner, logistics, truck driver and all things Overlanders.
𝗡𝗶𝗰𝗸𝗻𝗮𝗺𝗲: Danger Mouse (thanks Charlie 😡)
𝗟𝗼𝘃𝗲𝘀: Adventure travel, all things motorcycle and very very strong espresso.
𝗛𝗮𝘁𝗲𝘀: The Coronavirus  
𝗔𝗯𝗼𝘂𝘁: Being a short arse he typically relies on momentum and gyroscopic forces…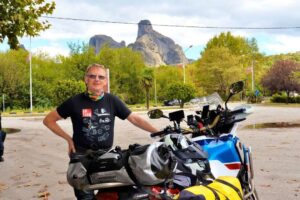 𝗡𝗮𝗺𝗲: Derek Rynhart  
𝗔𝗴𝗲: 35 + VAT
𝗥𝗼𝗹𝗲𝘀: Tour guide, truck driver, recce volunteer 🙄
𝗡𝗶𝗰𝗸𝗻𝗮𝗺𝗲: Duracell Derek
𝗟𝗼𝘃𝗲𝘀: Adventure motorcycling & planning new tours to distant lands
𝗛𝗮𝘁𝗲𝘀: THE OFFICE & Sunday drivers 😡
𝗔𝗯𝗼𝘂𝘁: we estimate there is over a million kms on the clock in the last 10 years and we're hoping for another million…
Favourite Quote: "wanderlust runs through my veins, I refuse to die where I was born"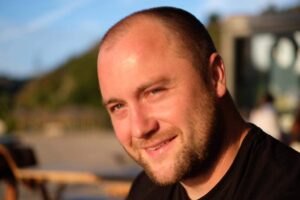 𝗡𝗮𝗺𝗲: Gary Rynhart
𝗔𝗴𝗲: 31
𝗥𝗼𝗹𝗲𝘀: AMI Sales, all things AMI, test pilot & guides the occasional ACT tour.
𝗡𝗶𝗰𝗸𝗻𝗮𝗺𝗲: The Deer Hunter
𝗟𝗼𝘃𝗲𝘀: Off road motorcycling, shooting, travel
𝗛𝗮𝘁𝗲𝘀: Deer 🦌 who don't use the "safe cross code"😡
𝗔𝗯𝗼𝘂𝘁: some say he once climbed a sand dune in the Sahara on an R1 and that he somehow managed to dislocate his shoulder in his sleep…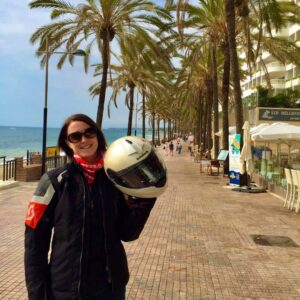 𝗡𝗮𝗺𝗲: Catherine Rynhart  
𝗔𝗴𝗲: Apparently you shouldn't ask a lady…
𝗥𝗼𝗹𝗲𝘀: Accounts, hotel bookings and all things tours & transport
𝗡𝗶𝗰𝗸𝗻𝗮𝗺𝗲: San (Enniscorthy slang 🙄)
𝗟𝗼𝘃𝗲𝘀: Travel, the outdoors, exercise & reading
𝗛𝗮𝘁𝗲𝘀: Being disorganised and bookkeeping.
𝗔𝗯𝗼𝘂𝘁: Some say she was once a girl racer and that she misses David terribly when he's on tour 🤣🤣 NOT LIKELY