Sorry we have no scheduled courses at the moment. Please contact us below.
Get in Touch
It may be the home of the Greek Gods but it's got an eclectic mix of fantastic motorcycling; from mountains and gorges to stunning coastlines all interlinking quaint, interesting towns & villages with a laid back atmosphere and of course the delicious Greek cuisine.  
"There is so much of Greece you can't know even if you're Greek. It's sprinkled out all around the edge of the Aegean, all over the place. It's already a secret place wherever you go, even if it's somewhere huge like Athens or Corinth. The place enchanted me" – Joanna Lumley
All we know is that by the end of this tour you will have (like us) fallen in love with Greece…
Key Information
Start/Finish Location
Gulf of Corinth, Greece
Duration
12 days / 13 nights
Distance
Variable (circa 2,100km)
Riding Difficulty
Moderate
Culture Shock
Low
Pillion Supplement
€1250
Single Room Supplement
€520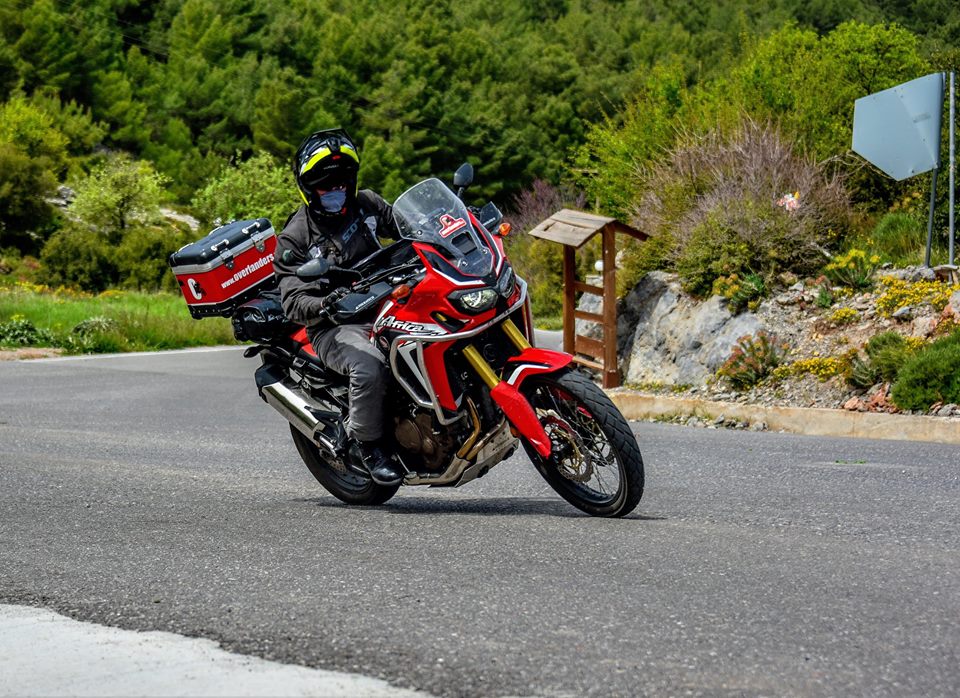 We first visited Greece in April 2016 and immediately fell in love with what we regard as one of Europe's most underrated motorcycling destinations. Due to it's inaccesibility from Western Europe (by road) and lengthy ferry crossings; Greece see far less motorcycle touring traffic than it deserves. This tour is designed to incorporate the highlights of mainland Greece and is a perfect mix of remote mountains, gorges, stunning coastlines and beautiful old towns full of character.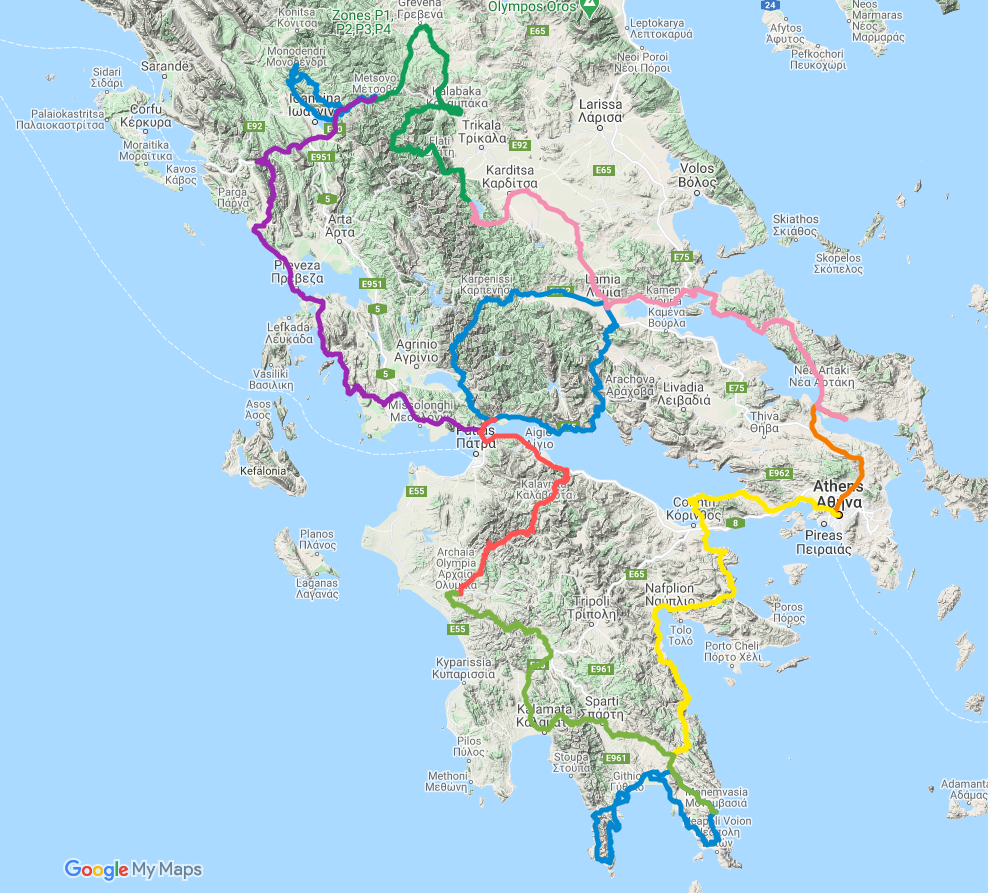 More Information
Suggested Flights
Aer Lingus – Dublin to Athens 22nd April and Athens to Dublin Friday 5th May
Ryanair – TBC
No part of mainland Greece is more than 150km from the sea!
Highlights include:
Athens & Acropolis (high city); The UNESCO World Heritage Site of Acropolis is the most striking and complete ancient Greek monumental complex still existing in our times.
Ancient Olympia; inhabited since prehistoric times. In the 10th century B.C., Olympia became a centre for the worship of Zeus. The Altis – the sanctuary to the gods – has one of the highest concentrations of masterpieces from the ancient Greek world. In addition to temples, there are the remains of all the sports structures erected for the Olympic Games, which were held in Olympia every four years beginning in 776 B.C.
Peloponnese Region; Great archeological sites, amazing castles, natural beauty in the form of mountains, forests, rivers and caves surrounded by the sea, beautiful beaches (sandy and smooth on the west coast – rocky on the east) make this part of Greece ideal for motorcycle touring.
Magnificent Pindus Mountain Range & National Park; The biggest mountain range of Greece, stretching from the Greek-Albanian borders (NW) to the northern Peloponnese (SE). It is roughly 160 km long and is considered the backbone of mainland Greece.
Stunning Coastal Routes
Gorges & Canyons galore 
Twisty mountain passes
The Corinth Canal;  An important navigational route which once allowed ships to enter the Aegean Sea. Dug through the isthmus at sea level, the canal is 6.4 kilometers long with a width of only 25 meters and took apporx. 12 years to construct. Impossible for modern ships to go through, the canal has now lost any significant economic importance it once had.
Greek Cuisine

Greek food spreads its culinary influence throughout Europe and beyond. It is known as some of the best food in the world! With an age old tradition, Greek cuisine has been greatly influenced by both Eastern and Western cultures. With each successive invasion and settlement came culinary influences – from the Romans, Venetians, Balkans, Turks, Slavs, and even the English – and many Greek foods have names with origins in those cultures, most notably the Ottoman Empire.
This tour starts and finishes at the Corinth Canal – the gateway between Northern Greece and the Pelopennese. Private shuttle from / to Athens Airport is provided.
Updated 2023 Itinerary to follow.
Nafpaktos is considered to be amongst the most scenic and romantic destinations of the Greek hinterland with natural beauty and important history. Nafpaktos is an idyllic setting in the shadows of the mountains of South Central Greece. Those feeling a little more energetic may wish to climb up to the Venetian Castle overlooking Nafpaktos and the Corinthian Gulf.
Nafpaktos to Karpenissi
Leaving our base and the coast behind we head north along twisty roads through gorges and into the mountains which will be the backdrop for the next 4 days. Karpenissi is one of Greece's last undiscovered corners; tranquilly enfolded in the arms of its pine-clad mountain slopes and snowy peaks. This  most isolated and mountainous region of Greece is no more than a 3 hour drive from the sandy beaches of either coast, and  from Athens.  Alpine peaks rear up over 6,000 ft and are gashed  and studded with ravines, rivers, meadows, waterfalls, lakes, thick forests, byzantine monasteries, and lovely traditional villages. As befits a vast natural park, designated by UNESCO as one of Europe's cleanest areas, there are activities of all kinds – White water rafting in the Trikeriotis and Tavropos rivers, canyoning in Vothonas, skiing and  paragliding in Velouchi,  riding, canoeing, hiking, mountain biking, swimming, trekking in the Pantavrechi ravine, fishing for trout in the Karpenissiotis river, shrimping on the coast of Acarnania, truffle hunting  – Karpenissi offers it all but more importantly the region has excellent motorcycling.
Karpenissi to Meteora
Our route today takes us further north and around the man made marvel of Lake Plastiras – An artificial lake in perfect harmony with nature, embraced by picturesque rural villages, fir forests and the imposing Agrafa mountain range. Our destination today is the spectacular and jaw dropping UNESCO World heritage site of Meteora, one of the largest and most important complexes of Greek Orthodox monasteries in Greece. 
Meteora to Monodendri
Today is a day for exploring the Pindus National Park with some fantastic routes around and through the park. A trip to Northern Greece wouldn't be complete without a visit to Metsovo – a quaint and picturesque alpine like village nestled on the fringes of the Pindus National Park and an idyllic location for lunch! Our destination this evening is at the entrance to the Vikos Gorge – which begins 600m after Monodendri village and constitutes a true natural monument. Its overall length exceeds 30km (Tselepovo-Kleidonia). Its depth varies but is regarded as the wolrd's deepest canyon in relation to it's width. In Monodendri it reaches 600m and is the narrowest point and in Vikos village it reaches 1.200m (more than 1.300m in its east part and approximately 1.100m in its west part). In its deeper part the gorge reaches approximately 2.200m in width. Due to its geological isolation and the absence of human presence, Vikos gorge includes rare plant and flower species of Epirus. There has also been more than 110 bird species, 19 serpent and amphibian species recorded, as well as many rare butterfly species. 
Monodendri to Lefkada Island
Southward bound for the first time on this tour we traverse the Tzoumerka mountain region, the wildest and most remote mountainous area in the country that is passable by paved roads. In the afternoon we find the Ionian sea on our right and travel along the quiet coastal roads to Lefkada Island and beach paradise.
Lefkada to Vytina
Travelling further south we reach the Gulf of Corinth and the gateway to the Pelopennese region.Today we cross the Gulf of Corinth by ferry (as opposed to a boring bridge) and immersing ourselves in the Pelopennese we travel leisurely cross country through the Vouraikos Gorge and some remote mountainous regions to Vytina – a strategic base for the next 2 nights.
Vytina rest day (optional rideout to Olympia)
Olympia, the site of the ancient Olympic Games, which were celebrated every four years by the Greeks. Olympia is situated in a valley in Elis, in western Peloponnisos (Peloponnesus), through which runs the Alpheus River. It'd be a shame to visit Greece and not visit Olympia and if Olympia doesn't excite you then the roads to and from certainly will!
Vytina to Areopoli
Over the years we've compiled an absolutley spectacular zig-zag route central Pelopennese. It takes us along some of our favourite roads through beuatiful gorges and never ending twisties with the odd traditional restuarant serving hearty food. 
Areopoli to Monemvasia
On the menu today is a loop of the Mani Peninsula, passing nearby the southernmost point of mainland Greece, and the 2nd most southern point of continental Europe.Our destination today is easily one of the most impressive places in Greece. Located on the south eastern side of Peloponnese, Monemvasia was entirely carved on the back of an island in medieval times. The village is not visible from the mainland which allowed locals avoid enemy attacks. Originally the only way to reach Monemvasia was by boat but is now connected by a short causeway. At first glimpse you'll understand why it's commonly referred to the 'Gibraltar of the East' and more importantly why it's our favourite destination in Greece.
Monemvasia Rest Day (optional rideout)
A walk around the Castle Town is a travel to the past, while the sea view from the castle top is breath-taking. An opportunity to soak up the beauty of Monemvasia and get lost in its labyrinth of cobble alley ways or perhaps some local exploration to the likes of Elafonisos Island with some of the most beautiful beaches in the world. 
Monevasia to Corinth Canal
Leaving Monemvasia behind us we traverse the Oros Paronas, the greatest mountain range of Peloponnese. Mount Parnon extends along the east side of the peninsula, separating the Laconian plain from the Argolic Gulf and ending at Cape Maléa in the southeast. About 86% of its area consists of forests – mostly black pine, cephalonian firs, oaks, maples and chestnut trees- and grasslands, while the rest is cultivated land. The protected forest of Juniperus drupaceae- a species of the cedar family- close to Malevi monastery is the only one of its kind in Europe. The range is also home to 113 rare plants, including 16 locally endemic ones, as well as one of the few remaining populations of jackals in the country. As we travel north we prepare to leave the Pelopennese but not without a visit to the Great Theatre of Epidaurus which is defined as the most beautiful and best preserved of all ancient theatres. We will also have to oppurtunity for a photo stop at the Corinth Canal. A fitting end to the day!
Corinth Canal to Athens
Todays ride is short and intentionally so as we arive in Athens at lunch time with the afternoon set aside for an optional guided tour of the Acropolis and / or open top bus tour of the Ancient city of Athens, home to the Greek Civilisation for more than 4,000 years. Our local guides, Anna & Dimitris, are a wealth of information and certain to keep your attention. A must do when in Athens.
Athens to Nafpaktos
Time to leave the big smoke behind as we head north and west (along the north coast of  the Corinthian Gulf) to our finish point in Nafpaktos. It's also possible to visit the Temple of Apollo in the acrhaeoligical site of Delphi on route, which in ancient times was considered the centre of the known world, the place where heaven and earth met. This was the place on earth where man was closest to God…
All we know is that by the end of this tour you will have (like us) fallen in love with Greece and that it will exceed your expectations. The Adriatic/Ionian sea combined with the less travelled Balkan countries, to the north, are likely reasons this beautiful country is less frequented by motorcyclists from central Europe and hence doesn't get the publicity it deserves in the world of motorcycle touring. While thats bad for the tourism industry in Greece it's good for the few motorcycle tourists who do visit and have the roads virtually to themselves. 
We will be providing a more detailed itinerary on arrival to include hotel info and GPS co-ordinates. Please note that this is an outline route and maybe subject to change.
Included:
Return transport of your motorcycle from our base in Gorey, Co. Wexford to Greece
B&B accommodation in quality 3 – 5 star hotels.
6 evening meals
Tour guide(s)
Detailed route maps / itinerary etc. allowing some self-guiding if preferred.
Ferries across Corinth and Euboean Gulfs
Not Included
Any travel costs to get to the start and from the finish point for the tour.
Personal travel, accident and medical insurance (covering matters such as medical expenses, repatriation, cancellation, curtailment, loss or damage to property)
Motorcycle insurance cover, motorcycle breakdown cover or recovery costs
Entrance fees to sights and parks, optional local excursions or local activities, (except where stated)
Lunches or snacks (except where stated). Any meals whilst on board ferries. Evening meals on rest/optional ride out days.
Personal spending money, tips, souvenirs or other extras.
Personal documentation (eg visas, passport), vaccinations, personal taxes, border crossing fees, motorcycle documentation
Costs of motorcycle repair (parts, labour or other related costs), tyres
Fuel, oil & other motorcycle consumables
Toll road fees, traffic fines or other charges relating to breach of the law
Any other item not specifically included in the price.
Hotels
As with all our guided tours we carefully select very good standard 3 to 5* hotels. Over the years we have built up a vast selection of tried and tested hotels around the world and we select hotels for their character and service rather than just on their star rating.  Hotel standards vary all over the world and a 4* in Africa or South America is not always the same as in Europe. In some more remote locations, we may use equivalent 3* hotels or the best available in the area, which could be a more family run establishment, with local character.
Pre trip we provide you with Tour Specific Information that gives you detailed information about how to prepare and plan your tour, and what to expect when on tour.  These are a few FAQ that many people have. If you have any further queries or concerns please do not hesitate to contact us.
What bike is suitable to bring?
Generally speaking we recommend adventure or touring style motorcycles as the most suitable.  However, sports, sport-touring and cruiser motorcycles may also be suitable subject to you being comfortable riding it for the distance and duration of the tour and that it has been properly prepared and adequately serviced with good tyres.
What riding experience do I need?
Generally speaking we recommend all participants to be experienced tourers in Europe and/or beyond. Obviously, some destinations are easier than others, as classified by our difficulty ratings, and should you have concerns please do not hesitate to contact us. It is your responsibility to ensure your motorcycling skills are up to the requirements for this tour. Obviously advanced riding skills increase enjoyment factor and reduce risk.
Do I have to ride in a group?
No!  We do not make you ride in convoy and we offer you the freedom to decide how you would like to ride. However, we find most people prefer to ride with the group without the need to navigate. We use either the 'drop off' or 'buddy' systems when group riding (depending on country and complexity of navigation); these are tried and tested systems of group riding and allow riders to ride at their own pace. Full details are provided at pre-trip briefings. Daily departure times are set every evening for the following morning depending on the days route and points of interest. If you prefer to ride on your own, we provide you with a map and route cards with recommendations for lunch or coffee stops and hotel information. We offer a very flexible approach with an emphasis on maximum enjoyment.
Is this ride suitable for a passenger?
Yes. Pillion passengers should be experienced tourers / travellers. 
What is the average group size?
Our groups are normally between 8 – 14 riders (some riders will have passengers). Most riders are from the Ireland, but we do also have overseas riders who may take part.
What documents do I need?
You will need your original documents as follows: 
Passport and Driving Licence.  Passengers only need their passport.  As a general rule, passports should be valid for at least 6 months after the end of the tour; however, this may be shorter in some European countries. 
If you are bringing your own motorcycle, you will also need your motorcycle registration document (RF101 / log book) and your motorcycle insurance.
In addition, you must have valid travel/medical insurance.
Visas as required Please ensure that you are fully aware of all passport and visa requirements and that you allow adequate time to obtain them.
What will the weather be like?
Depending on season / time of year we will advise expected weather conditions in the pre-trip information and also suggest the most suitable gear based on our experience. It is imperative that tour participants have suitably adequate gear. Please note our tour calendar is carefully planned taking into account the most suitable seasons / local weather for the destination. However, as much as we would like, we cannot always guarantee the best weather. Particularly considering the un-predictable climates the world has been experiencing.
What about my health when I am abroad?
You need to be physically fit and healthy and also take the necessary health precautions.  It is essential for you to consult your doctor or travel clinic for up-to-date medical travel information prior of travel, particularly if you have a pre-existing medical condition. Please ensure that you are fully aware of all official travel advice, local customs, current affairs, travel requirements and medical/travel advice. Please check with your GP regarding recommended inoculations. 
Do I need Travel / Medical Insurance?
It is a condition of you travelling with us that you are adequately insured.  Your insurance policy must cover you for the costs of any medical expenses, medical treatment or repatriation needed, due to injury or illness on this trip, including those that occur whilst motorcycle touring, either as the rider or a passenger.  It is important that your insurance company understands that the main purpose of your trip is motorcycle touring, using your own large capacity cc motorcycle or a rental motorcycle.  Your insurance must cover you for the full duration of the trip and for all countries we travel through.
In addition, we strongly recommend that your insurance policy has cover for loss or damage to your personal belongings, delay at your outward or homeward point of departure, personal liability, overseas legal expenses and cancellation and curtailment. We do not refund your deposit simply because you failed to take out insurance in sufficient time. Some travel insurance policies do not cover motorcycle travel over a certain cc or for a prolonged duration.
Minimum Numbers
We require a minimum number of 8 riders on this tour.  If we do not have this number of bookings, then we reserve the right to cancel the tour.
Booking:
Overlanders may accept a booking online, via telephone or by email. To confirm a booking a deposit is required – once the deposit is received the booking is confirmed.
Payments & Fees:
A deposit is required at time of booking.
Guided tours – 50% required at least 60 days prior to the shipment / travel date.
All payments must be made in full at least 30 days prior to the shipment / travel date.
Cancellation/Amendments/Refund Policy:
Please note that all payments and deposits are non refundable nor transferrable if cancellation accrues within one month before the shipment / tour date.
Where possible we will try to accommodate any amendments you wish to make.
In the event of curtailment no refunds shall be made.
Refunds may be processed via the original method of payment, except for cash transactions where refunds will be provided by cheque.
Preparation for Shipping (if applicable)
All rider/pillion gear including boots and helmets should be packed into a kit/sports bag and labelled with the owners name, bike make/model and registration. One kit bag permitted per person.

Please note loose items or items tied onto the motorcycle will not be transported.
Bin liners, rubbish bags, cardboard boxes etc are not acceptable.

Motorcycles should be in a clean and presentable condition both for outbound and return shipments. If your motorcycle is considerably dirty post trip please wash it before returning it.
All Luggage (hard and soft panniers) should be left unlocked and removable from the motorcycle if necessary for transport purposes.
Alarms should be switched off or in "Ferry" mode for transport purposes.
Fuel level should be kept relatively low. All our depots are within a few km of fuel stations.
Keys for both the motorcycle and luggage should be left with the motorcycle.
At handover we will require a signed customs declaration form and a photocopy of the registration document / log book stapled together. Customs declaration from will be emailed pre-shipment. These should only be handed over in hard copy at time of delivery.

Do not email copies in advance.
We will not accept original copies of registration documents/log books.
Gallery