Sorry we have no scheduled courses at the moment. Please contact us below.
Get in Touch
"There are few destinations left in Europe that ensnare the wild imagination like the Balkans – this is an explorers and adventure motorcyclists paradise"
UPDATE: The dates for this tour have changed in order to match flight schedules. This tour has also been extended by two nights in order to give us an extra night in Kosovo and also an extra day's biking in beautiful Albania.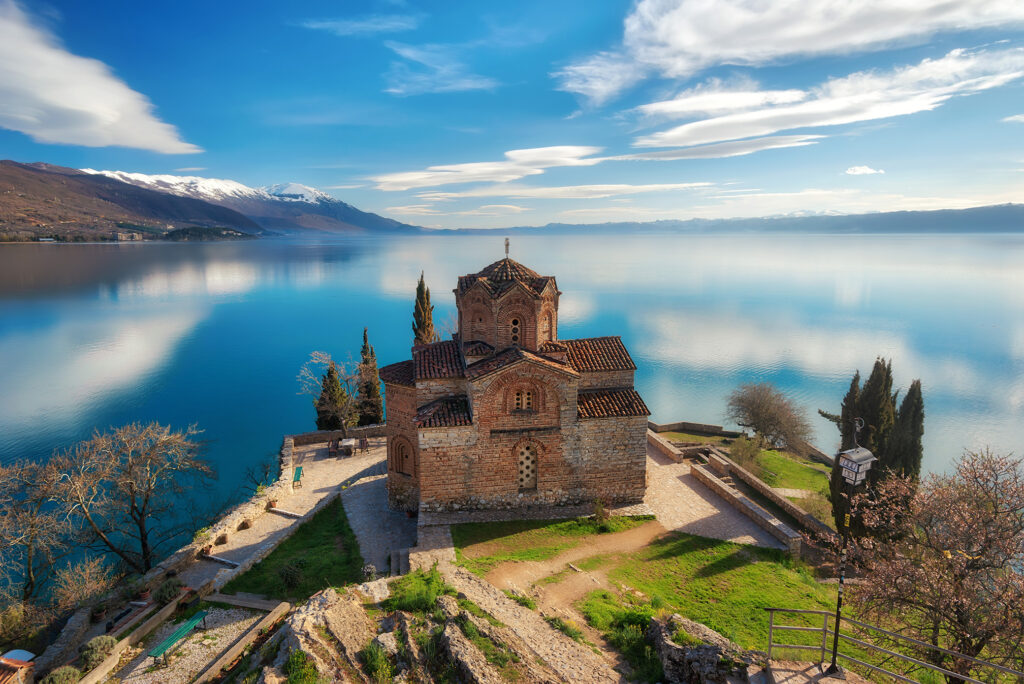 Key Information
Start / Finish Location
Bari, Italy
Duration
13 Days & 14 Nights
Distance
2,000 km approx.
Riding Difficulty
Moderate/Difficult (see more info)
Culture Shock
Medium
Pillion Supplement
€1,250
Single Supplement
€560
Other
Ferry & support vehicle included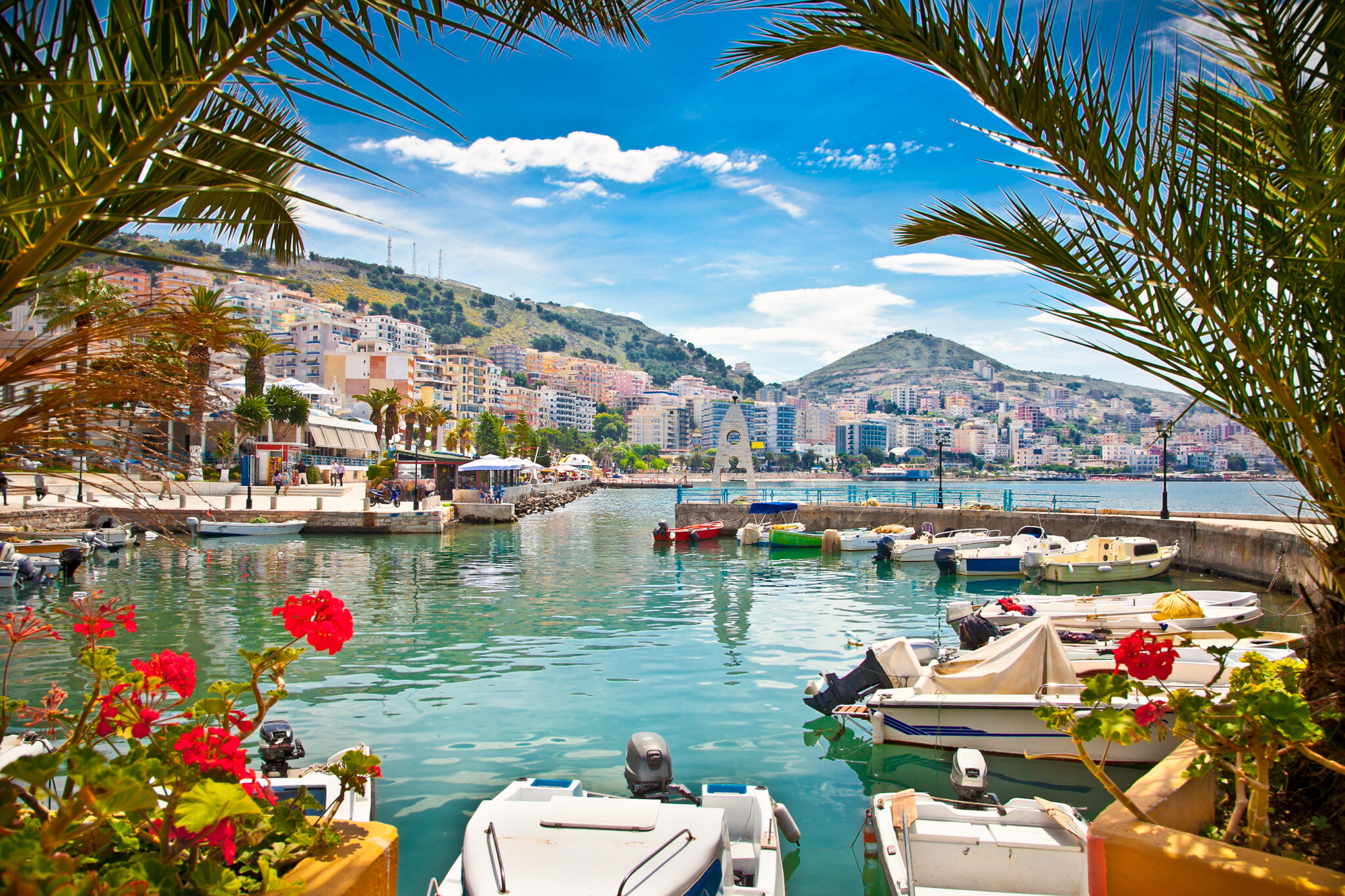 Our tour of Croatia, Bosnia & Montenegro has proved hugely popular over the past few years and we are delighted to be adding a second tour in the southern reaches of the Balkan peninsula covering the very best Albania, North Macedonia & Kosovo has to offer. Relatively un-touristed, these countries boast soaring alpine peaks, twisty roads, stunning Mediterranean coastline, mountain lakes, wild natural scenery and very welcoming people with a unique culture
We first visited Albania in 2008 and, coming from Montenegro, were instantly intrigued by the contrast between the two countries. Our brief visit in 2008 planted a seed and created a burning desire to return and explore further. These countries have so much to offer the explorer and adventure motorcyclists. Having completed a very comprehensive reconnaissance tour in late 2020 of relatively un-chartered territory, we've created a fantastic itinerary with the help of expert local knowledge, that takes in the very best these three countries have to offer both on and off the beaten track. It's fair to say that the three countries have all exceeded expectations and we've been overwhelmed by the raw natural beauty that lies around every corner.   
Book now or register your interest!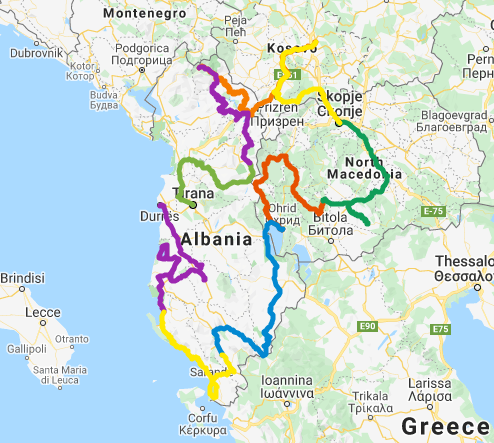 More Information
This tour begins and finishes in Bari, Italy.
Tour participants should arrive arrive early afternoon Friday 24th (Ryanair flight ex Dublin scheduled to arrive 12.35).
Day 1 (Friday 24th)
Transfer from airport, handover of motorcycles, followed by tour briefing before riding the short distance to the port of Bari for overnight sailing across the Adriatic to Albania (9-10 hour sailing)
Days 2, 3 & 4
With an early arrival in Albania on day 2 we head south for an introduction to the Albanian Alps and a visit to Berat before turning west for the coast and the Albanian Riviera. The following days see us head further south along the coast all the way to the border with Greece before turning in land crossing some high mountains on route to Ohrid Lake.
Highlights:
Citadel of Berat; a city more than 2,400 years old with a troubled history.
A night on the Albanian Riviera where the Adriatic and Ionian seas meet; which means clean waters and brilliant beaches. With over 300 sunny days a year, it's easy to see why it's a popular beach resort.
Llogara National Park. The lush forests of pines and oaks are only the beginning of this "mountain of panoramas," which is beautifully surrounded by numerous mountain ranges and the majestic Ionian Sea.
Llogara Pass; surrounded by regal forests that remain magically cool even during the scalding heat of the summer. Among them, is the so-called Flag Pine (Pisha Flamur), a century-old tree, bent from the winds into the shape of a flag. Some culinary delights that should not be missed include the hot kulaç (the Albanian version of a hot biscuit) with fresh local butter and cheese, as well as the homemade yogurt, plain or with nuts and the famous Llogara honey.
Butrint National Park; Of the countless antique ruins and landmarks of Albania, Butrint is the one most responsible for putting Albania on the map. Butrint's glorious 2500-year-old ruins, within a majestic 30 km wide natural reserve, are some of the most well-preserved in Europe. In 1992, Butrint was declared a World Heritage Site by UNESCO and it sits comfortably at the top of every international list of must-sees in Albania. Though life in Butrint had started long before, the influence of Hellenic culture in Albania officially began in the 6th century B.C. when Greeks from the island of Corfu settled on the hill of Butrint. According to mythology, the city's antique name of Buthrotum comes from the word buthrotos, meaning "the wounded bull," which refers to the Trojans' sacrifice of a bull when they established the town on the hill.
Gjirokaster; is a city in southern Albania, in a valley between the Gjerë mountains and the Drino, at 300 metres above sea level. Its old town is a UNESCO World Heritage Site, described as "a rare example of a well-preserved Ottoman town, built by farmers of large estate". The city is overlooked by Gjirokastër Fortress, where the Gjirokastër National Folklore Festival is held every five years. It is the birthplace of former Albanian communist leader Enver Hoxha, and author Ismail Kadare.
Barmash Pass over the Gramoz Mountains; part of the northern Pindus mountain range
Day 5 
Scheduled rest day with optional excursion by boat on Ohrid Lake
Highlights:
Lake Ohrid is a lake which straddles the mountainous border between the southwestern part of North Macedonia and eastern Albania. It is one of Europe's deepest and oldest lakes, with a unique aquatic ecosystem of worldwide importance, with more than 200 endemic species.
Ohrid Town; Ohrid is North Macedonia's most seductive destination. It sits on the edge of serene Lake Ohrid, with an atmospheric old quarter that cascades down steep streets, dotted with beautiful churches and topped by the bones of a medieval castle. Traditional restaurants and lakeside cafes liven up the cobblestone streets
The Monastery of St. John of Kaneo; The small monastery was erected to St. John of Patmos, likely the same person as St. John the Apostle, in the 13th century. The monastery can be reached by a 20 minute hike from the ridge above, or a short boat ride from the main dock in Ohrid.
Lake Ohrid Boat Ride; The crystal blue waters of Lake Ohrid are the heart and soul of this region. The lake provides food and transportation for many of the inhabitants of the town. One of our favorite things to do in Lake Ohrid was chartering a small boat to take us from the Monastery of St. Jovan of Kaneo out onto the lake for views of the mountains and then back to town. This region needs to be appreciated from the water.
Bay of Bones; dating back between 1200 and 700 BC, the original prehistoric settlement occupied 8500 square meters. The Ohrid Lake, quite shallow around this period, allowed for a massive wooden structure to be erected above the water, considered by many as one of the largest prehistoric palafittes – Bay of Bones is a partial recreation of the settlement
The 10th century monastery of St. Naum built upon a rock overlooking Ohrid Lake and on the Albanian / Macedonian frontier.
Days 6 & 7
Sees us head north and west via national parks, through the rural countryside of North Macedonia and on-wards for a night in the capital; Skopje.
Highlights:
Mavrovo National Park; The gorges, pine forests, karst fields and waterfalls of Mavrovo National Park offer a breath of fresh. Beautiful vistas abound, and the park is home to North Macedonia's highest peak, Mt Korab (2764m)
Krushevo; North Macedonia's highest town. Loved by skiers in the winter, hikers in the summer and coffee drinkers all year round. This quaint hilltop town is famously known for its blue window trimmings, its 19th century Macedonian architecture and as the site of the great 1903 Ilinden uprising. 
Skopje; Europe's most unusual city and commonly called the city of statues. Not usually fans of cities, this one has something very appealing from ancient archaeological sites to communist structures from the Yugoslav era to the Old Bazaar.
Days 7 & 8
Entering Kosovo via the scenic route we travel to Prishtina for 2 nights.
Highlights:
2 nights in Europe's youngest capital. A century ago, Prishtina was a multi-cultural and vibrant trading town with a colourful bazaar at its centre and a population conversing fluently in Albanian, Turkish and Serbian. Mosques, Catholic and Orthodox churches adorned the city's skyline and a small Jewish community ran its own schools. The forceful transformation from an Ottoman trading town to a communist capital, from Yugoslav socialism to parallel Albanian self-rule and from Milošević to UNMIK rule has left many marks of destruction. Only now, as capital city of an independent state, is Prishtina starting to reassert a new urban identity.
Days 9, 10, 11
Departing Kosovo we return to Albania for a visit to the northern highlands before turning south and west to Albania's Capital, Tirane 
Highlights:
Valbona Valley National Park – considered to be the hidden gem of Albanian Alps. The park covers a total area of 80 km2, encompassing Valbona River and its surrounding areas with mountainous terrain, alpine landscapes, glacial springs, deep depressions, various rock formations, waterfalls and the Valbona Valley with its dense coniferous and deciduous forest. It is characterized by its very remote areas which have a large preserved ecosystem all of which is primarily untouched with pristine quality. This vast pristine ecosystem is the centrepiece of what has been referred to as the Albanian Miracle of the Alps.
Sections of road among the very best we've ever ridden!
Stay in an rural Agrotourism Hotel for a real sample of Albanian cuisine.
Day 12
Departing Tirane in the late afternoon it's a short journey to the port for our overnight sailing back into Italy.
Highlights:
Tirana, the capital of Albania, is known for its colourful Ottoman-, Fascist- and Soviet-era architecture. Pastel buildings surround the city's focal point, Skanderbeg Square, which is named for its equestrian statue of a national hero. On the square's north end is the modernist National History Museum, covering prehistoric times through Communist rule and the anti-Communist uprisings of the 1990s. With its clubs, bars, cafes, and taverns, Tirana is worth discovering by both day and night. 
Day 13
Arriving early morning we have the whole day for biking in Italy or optional early check in to the hotel for our final night. 
Highlights:
Matera, Italy — The cave dwellings are piled atop one another like giant rocks spilled from the sky. The sandstone landscape stretches across a hill, one road and narrow alleys slicing here and there through the landscape.
We think of Rome, at 3,000 years old, as ancient, but it looks newly incorporated compared with Matera, which is 5,000 years older. This town of 60,000, almost in the heel of Italy's boot, wears its age well in movies. It has appeared in such films as "The Passion of the Christ" (2004), "Ben-Hur" (2016) and "Mary Magdalene" (2018). But in real life, it has only recently come into its own. Matera, in southern Italy's Basilicata region, was designated a UNESCO World Heritage Site in 1993; UNESCO described it as the "most outstanding, intact example of a troglodyte settlement in the Mediterranean region."
Day 14 
Check out and departure. (Ryanair flight to Dublin departs 13.00) 
Included:
Return transport of your motorcycle from our base in Gorey, Co. Wexford to Bari, Italy with option to join the tour without transport element.
B&B accommodation in quality 3-5 star hotels. Please note that in some more remote regions we may be using carefully selected guesthouses / accommodation or best available in the area. All accommodation is carefully selected considering quality, location, amenities and character.
Half board on all riding days. 
Tour guide(s)
Detailed route maps / itinerary etc. allowing some self-guiding if preferred.
Return ferry to/from Bari, Italy
Boat trip on Ohrid Lake
Not Included
Any travel costs to get to the start and from the finish point for the tour.
Personal travel, accident and medical insurance (covering matters such as medical expenses, repatriation, cancellation, curtailment, loss or damage to property)
Motorcycle insurance cover, motorcycle breakdown cover or recovery costs. Depending on your insurance provider, Green Card local insurance may need to be purchased at the various borders at a relaitively low cost of typically €10 – €20 per country. 
Entrance fees to sights and parks, optional local excursions or local activities, (except where stated)
Lunches or snacks (except where stated). Any meals whilst on board ferries. Evening meals on rest/optional ride out days.
Personal spending money, tips, souvenirs or other extras.
Personal documentation (eg visas, passport), vaccinations, personal taxes, border crossing fees, motorcycle documentation
Costs of motorcycle repair (parts, labour or other related costs), tyres
Fuel, oil & other motorcycle consumables
Toll road fees, traffic fines or other charges relating to breach of the law
Any other item not specifically included in the price.
Hotels
As with all our guided tours we carefully select very good standard 3 or 4* hotels. Over the years we have built up a vast selection of tried and tested hotels around the world and we select hotels for their character and service rather than just on their star rating.  Hotel standards vary all over the world and a 4* in Africa or South America is not always the same as in Western Europe. In some more remote locations, we may use equivalent 3* hotels or the best available in the area, which could be a more family run establishment, with local character.
Pre trip we provide you with Tour Specific Information that gives you detailed information about how to prepare and plan your tour, and what to expect when on tour.  These are a few FAQ that many people have. If you have any further queries or concerns please do not hesitate to contact us.
What are the roads and driving like?
As with most countries in the far reaches of eastern Europe; the roads on this particular tour, while all paved, vary quite a bit. From sublime newly laid grippy asphalt to smooth / worn old surfaces with occasional rutting and the odd pothole. There are some sections in the mountains which have patchy asphalt – though not technical , average speed is slow!  We try to avoid the busier main single carriage routes as much as possible and use rural less trafficked roads. Roadworks, whilst not common, can be poorly organised. As there are many old vehicles on the roads it's not uncommon to see fuel /oil leaks. In general the standard of driving is quite poor and other road users require special attention, particularly in Albania. Remember this is not Western Europe and the infrastructure hasn't benefited from huge European investment.      
What bike is suitable to bring?
Generally speaking we recommend adventure or touring style motorcycles as the most suitable.  However, sport-touring and cruiser motorcycles may also be suitable subject to you being comfortable riding it for the distance / duration of the tour and considering the road conditions as described above.
What riding experience do I need?
Generally speaking we recommend all participants to be experienced tourers in Europe and/or beyond – this is particularly important in the Balkans. Obviously, some destinations are easier than others, as classified by our difficulty ratings, and should you have concerns please do not hesitate to contact us. It is your responsibility to ensure your motorcycling skills are up to the requirements for this tour. Obviously advanced riding skills increase enjoyment factor and reduce risk.
Do I have to ride in a group?
No!  We do not make you ride in convoy and we offer you the freedom to decide how you would like to ride. However, we find most people prefer to ride with the group without the need to navigate. We use either the 'drop off' or 'buddy' systems when group riding (depending on country and complexity of navigation); these are tried and tested systems of group riding and allow riders to ride at their own pace. Full details are provided at pre-trip briefings. Daily departure times are set every evening for the following morning depending on the days route and points of interest. If you prefer to ride on your own, we provide you with a map and route cards with recommendations for lunch or coffee stops and hotel information. We offer a very flexible approach with an emphasis on maximum enjoyment.
Is this ride suitable for a passenger?
Yes. Pillion passengers should be experienced tourers / travellers. 
What is the average group size?
Our groups are normally between 8 – 14 riders (some riders will have passengers). Most riders are from the Ireland, but we do also have overseas riders who may take part. From time to time we may split into smaller groups depending on itinerary.
What documents do I need?
You will need your original documents as follows: 
Passport and Driving Licence.  Passengers only need their passport.  As a general rule, passports should be valid for at least 6 months after the end of the tour; however, this may be shorter in some European countries. 
If you are bringing your own motorcycle, you will also need your motorcycle registration document (RF101 / log book) and your motorcycle insurance.
In addition, you must have valid travel/medical insurance.
Visas as required Please ensure that you are fully aware of all passport and visa requirements and that you allow adequate time to obtain them.
We recommend an international driving permit available from: https://www.theaa.com/driving-advice/driving-abroad/idp Whilst driving permits are not always accepted or demanded they are handy to have! 
What will the weather be like?
Depending on season / time of year we will advise expected weather conditions in the pre-trip information and also suggest the most suitable gear based on our experience. It is imperative that tour participants have suitably adequate gear. Please note our tour calendar is carefully planned taking into account the most suitable seasons / local weather for the destination. However, as much as we would like, we cannot always guarantee the best weather. Particularly considering the un-predictable climates the world has been experiencing.
What about my health when I am abroad?
You need to be physically fit and healthy and also take the necessary health precautions.  It is essential for you to consult your doctor or travel clinic for up-to-date medical travel information prior of travel, particularly if you have a pre-existing medical condition. Please ensure that you are fully aware of all official travel advice, local customs, current affairs, travel requirements and medical/travel advice. Please check with your GP regarding recommended inoculations. 
Do I need Travel / Medical Insurance?
It is a condition of you travelling with us that you are adequately insured.  Your insurance policy must cover you for the costs of any medical expenses, medical treatment or repatriation needed, due to injury or illness on this trip, including those that occur whilst motorcycle touring, either as the rider or a passenger.  It is important that your insurance company understands that the main purpose of your trip is motorcycle touring, using your own large capacity cc motorcycle or a rental motorcycle.  Your insurance must cover you for the full duration of the trip and for all countries we travel through.
In addition, we strongly recommend that your insurance policy has cover for loss or damage to your personal belongings, delay at your outward or homeward point of departure, personal liability, overseas legal expenses and cancellation and curtailment. We do not refund your deposit simply because you failed to take out insurance in sufficient time. Some travel insurance policies do not cover motorcycle travel over a certain cc or for a prolonged duration.
Minimum Numbers
We require a minimum number of 8 riders on this tour.  If we do not have this number of bookings, then we reserve the right to cancel the tour.
Booking:
Overlanders may accept a booking online, via telephone or by email. To confirm a booking a deposit is required – once the deposit is received the booking is confirmed.
Payments & Fees:
A deposit is required at time of booking.
Guided tours – 50% required at least 60 days prior to the shipment / travel date.
All payments must be made in full at least 30 days prior to the shipment / travel date.
Cancellation/Amendments/Refund Policy:
Please note that all payments and deposits are non refundable nor transferrable if cancellation accrues within one month before the shipment / tour date.
Where possible we will try to accommodate any amendments you wish to make.
In the event of curtailment no refunds shall be made.
Refunds may be processed via the original method of payment, except for cash transactions where refunds will be provided by cheque.
Preparation for Shipping (if applicable)
All rider/pillion gear including boots and helmets should be packed into a kit/sports bag and labelled with the owners name, bike make/model and registration. One kit bag permitted per person.

Please note loose items or items tied onto the motorcycle will not be transported.
Bin liners, rubbish bags, cardboard boxes etc are not acceptable.

Motorcycles should be in a clean and presentable condition both for outbound and return shipments. If your motorcycle is considerably dirty post trip please wash it before returning it.
All Luggage (hard and soft panniers) should be left unlocked and removable from the motorcycle if necessary for transport purposes.
Alarms should be switched off or in "Ferry" mode for transport purposes.
Fuel level should be kept relatively low. All our depots are within a few km of fuel stations.
Keys for both the motorcycle and luggage should be left with the motorcycle.
At handover we will require a signed customs declaration form and a photocopy of the registration document / log book stapled together. Customs declaration from will be emailed pre-shipment. These should only be handed over in hard copy at time of delivery.

Do not email copies in advance.
We will not accept original copies of registration documents/log books.
Gallery