Sorry we have no scheduled courses at the moment. Please contact us below.
Get in Touch
Northern Thailand
"The very best South East Asia has to offer the adventure motorcyclist"
Start / Finish Location
Chiang Mai, Thailand
Duration
12 Days & 13 Nights (Fully Supported)
Distance
2,500km approx.
Riding Difficulty
Easy to Moderate
Culture Shock
Low to Medium
Pillion Supplement
€POA
Single Room Supplement
N/A - all single room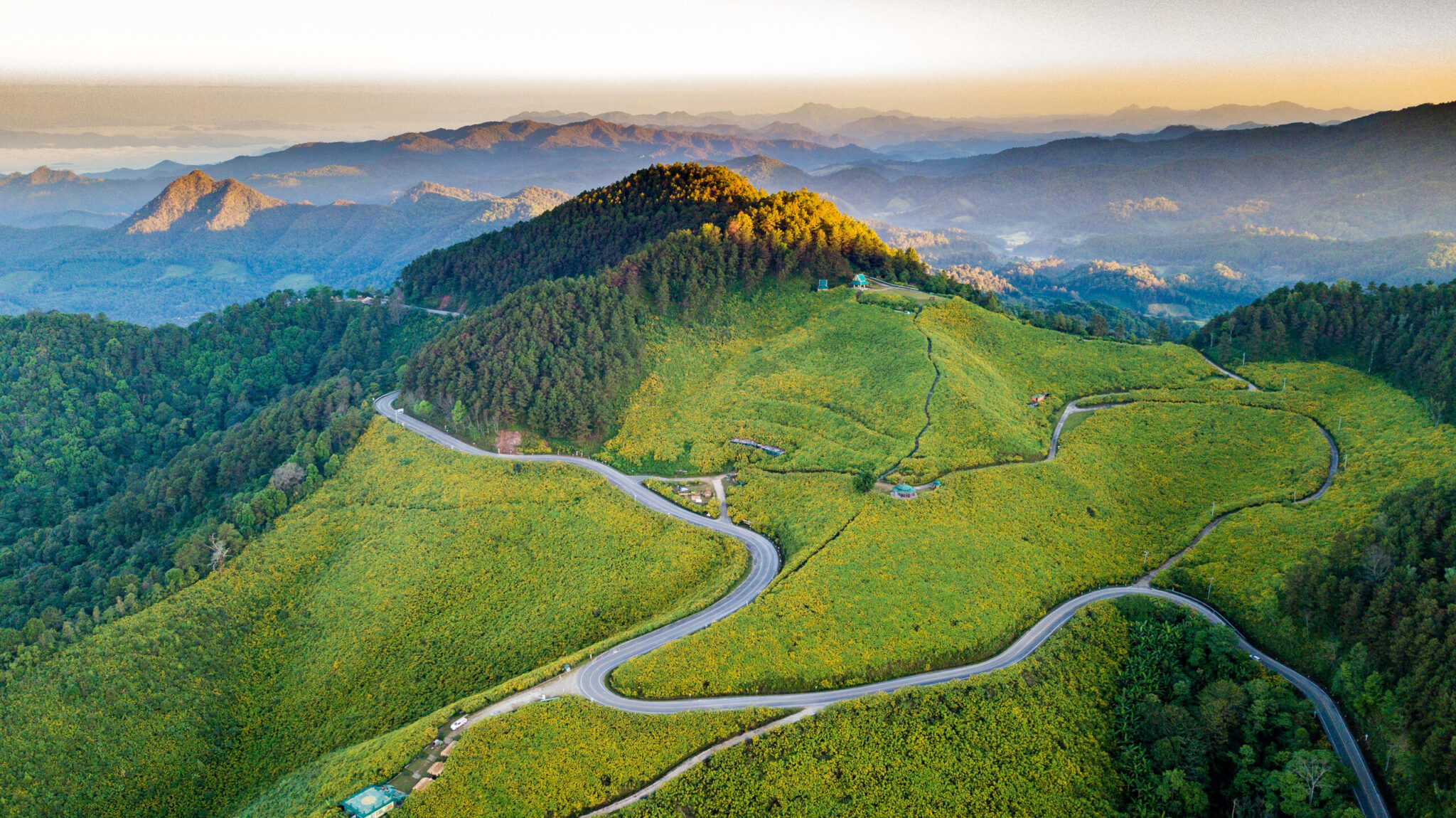 New itinerary for 2022 to follow…
Highlights Include: Luang Prabang | Golden Triangle | Mekong River | White Temple | Tribal Villages
Why go to Laos? Imagine a country where your pulse relaxes, smiles are genuine and locals are still curious about you. A place where it's easy to make a quick detour and find yourself well and truly off the traveller circuit, in a landscape straight out of a daydream: jagged limestone cliffs, brooding jungle and the snaking Mekong River. Welcome to Laos, home to as many as 132 ethnic groups and a history steeped in war, imperialism as mysticism. Paddy fields glimmering in the post monsoon light, Buddhist temples winking through morning mist as monks file past French colonial villas… Motorcycling in South East Asia can only be described as an Adventure of a Lifetime and is a perfect mix of excellent roads, spectacular scenery, culinary delights and most of all very warm and welcoming people.
More Information
New itinerary for 2022 to follow…
Day 1 – Chiang Mai to Dan Sai – 400km.
Heading southeast out of Chiang Mai we're bound for Laos but first an overnight in Dan Sai in the Loei province. Dan Sai is primarily known for it's Phi Ta Khon – the country's liveliest and loudest festivals also known as the Ghost Mask Festival.
Day 2 – Dan Sai to Nong Khai – 300km.
Leaving Dan Sai we have an option to ride along the banks of the Mekong through sleepy market towns and flood-plain fields of tobacco, tomatoes and chillies on route to Nong Khai. Known as the Naga City (Nagas being the giant serpent guardians said to inhabit the Mekong River) and famed for its lovely position on the Mekong, Nong Khai is a bustling Thai town and the gateway to Laos and it's capital Vientiane. It has many beautiful features which attract a considerable number of Thai and foreign visitors every year, including Sala Keaw Khu the almost surreal sculpture park; the enormously revered Luang Por Phra Sai Buddha Image which has a remarkable history; the truly extraordinary Phu Phra Bat Historical Park and the Thai-Lao Indochina Market called Tha Sadet Market which occupies many streets in the centre of town.
Day 3 – Nong Khai to Vang Vieng – 195km.
Today we cross the 1170m long Friendship Bridge into Laos and onwards to Vang Vieng via Vientiane. The Frienship Bridge opened on April 8, 1994, and was the first bridge across the lower Mekong, and the second on the full course of the Mekong. The cost was about £19 million, funded by the Australian government as development aid for Laos. The bridge was designed and built by Australian companies as a demonstration of their ability to complete major infrastructural projects in Southeast Asia.
As a picturesque party town Vang Vieng, for many travellers, is simply a piece of heaven on earth. Surrounded by scenic landscape ranging from mountains to rivers and limestone cliffs to rice fields, this small and scenic town offers a long list of interesting attractions. The Nam Song River is where you will witness the famous tubing – and young travellers sitting in large inner tubes floating downriver is a common sight in Vang Vieng. It is the stunning scenery of river and rock formations surrounding this place that will keep you dreaming of Laos long after you've settled back into real life.
Day 4 – Vang Vieng to Phonsovan – 230km.
Heading east from Vang Vieng we travel cross country in the shadows of Phou Bia – Laos's highest mountain at 2819m. Phou Bia is off limits however due to the large amount of unexploded ordinates from war times. Often mist-shrouded and chilly, with locals gathering collars around weather beaten faces, the dusty old town of Phonsovan has heaps of charm if you look past its nondescript Soviet façade. Touchingly while other areas of Laos erupt in boutique villas and pockets of sophistication, Phonsovan, like some retro-leaning Muscovite, barely changes.
Day 5 – Phonsovan rest day with optional ride-outs.
Opportunity to visit the mysterious Plain of Jars and the historic, and until very recently, very secret Long Tieng Vietnam War Era CIA 'Air America' airbase.
Long Tieng was often described as "The Most Secret Place on Earth". It was located in a valley at 3,100 feet elevation, high enough to have chilly nights and cold fogs. It was surrounded by mountains and on the northwest side of the runway were karst outcrops several hundred feet high. In the shadow of the Karst outcrops was "Sky" the CIA headquarters in Long Tieng. Jerry Daniels, a CIA officer codenamed "Hog," is said to have named Sky after his home state of Montana, known as "Big Sky Country."Long Tieng was protected on three sides by limestone mountains.
"What a place is Long Tieng," said US AID officer Jim Schill. "Tribal soldiers dressed in military garb standing next to traditionally dressed Hmong, with Thai mercenaries milling about. And the Americans here are mostly CIA operatives with goofy code names like Hog, Mr. Clean, and Junkyard. The town itself is not much. There's one paved road running through it and tin shacks on either side with eating shops, food stalls, and living quarters."
During the Secret War, Long Tieng became the largest Hmong settlement in the world. In the words of one author, Long Tieng "became a desultory metropolis, an unpaved, sewerless city of 30,000 where Hmong ran noodle stands, cobbled shoes, tailored clothes, repaired radios, ran military-jeep taxi services, and interpreted for American pilots and relief workers."
Day 6 – Phonsovan to Luang Prabang – 260km.
Another great ride as we approach the Unesco protected and fabled city of Luang Prabang. Hemmed in by the Mekong and Khan rivers, this ancient city of temples is a travellers dream: rich in royal history, Buddhist monks, stunning river views, world class French cuisine and the best boutique accommodation in Southeast Asia. Luang Prabang is arguably one of the most sophisticated places in Southeast Asia and has rightfully gained mythical status as a travellers Shangri La 
Day 7 – Luang Prabang to Xayaboury – 100km.
With a very lazy start we take time to explore Luang Prabang before a delayed departure for Xayaboury with an optional visit to Kuang Si waterfall.
Kuang Si (Xi) Waterfall is the biggest in the Luang Prabang area with three tiers leading to a 50-metre drop into spectacular azure pools before flowing downstream. The pools also make great swimming holes and are very popular with both tourists and locals. The pools also have cascades of up to five metres high with deliciously cold water due to the shade given by the surrounding lush tropical jungle.
Day 8 – Xayaboury to Chiang Klang – 190km.
Another short day today as we cross the Mekong river back into Thailand.
Day 9 – Chiang Klang to Chiang Kong – 200km.
Highlights include riding along the Laos border and visiting Pu Chi Fa and Phu Sang national parks but more importantly riding the road No. 1148!
In the morning we ride the exhilarating mountainous highway No. 1148, ranked in the top 10 it's one of the most fun biking roads to be found anywhere in the world with 120 kilometers of up and down curves through the impressive mountains. In the afternoon we pass the national park of Phu Chi Fa. The famous cliff is part of an elevated area, the DoiPha Mon sub-range, that rises near the border with Laos sloping towards the Mekong River. The highest point of the ridge, DoiPha Mon, is 1628 m high. With spectacular views over the surrounding mountains, it is one of the famous tourist attractions of the Thai highlands where one can catch a glimpse of the "sea of mist" – the view of the fog-surrounded hills.
Day 10 – Chiang Kong to Chiang Rai – 170km.
Today we visit the Golden Triangle and the Opium museum. The Golden Triangle is one of Asia's two main opium-producing areas. It is an area of around 950,000 square kilometres that overlaps the mountains of three countries of Southeast Asia: Myanmar, Laos and Thailand.
Along with Afghanistan in the Golden Crescent, it has been one of the most extensive opium-producing areas of Asia and of the world since the 1950s. Most of the world's heroin came from the Golden Triangle until the early 21st century when Afghanistan became the world's largest producer.
The Golden Triangle designates the confluence of the Ruak River and the Mekong River, since the term has been appropriated by the Thai tourist industry to describe the nearby border tripoint of Thailand, Laos and Myanmar. We may also have the opportunity for a boat ride on the mighty Mekong.
Day 11 – Chiang Rai rest day.
First on the agenda today is a visit to Wat Rong Khun, better known as "the White Temple". The White Temple is one of the most recognizable temples in Thailand. Located outside the town of Chiang Rai the temple attracts a large number of visitors, both Thai and foreign, making it one of Chiang Rai's most visited attractions.
Wat Rong Khun is a unique temple that stands out through the white colour and the use of pieces of glass in the plaster, sparkling in the sun. The white colour signifies the purity of the Buddha, while the glass symbolizes the Buddha's wisdom and the Dhamma, the Buddhist teachings.
We also have an opportunity to visit the village of Doi Chang, home do Doi Chaang Coffee. Located in the Golden Triangle region of Thailand, the village of Doi Chang has not always been known for its coffee. Instead, it was an area, which was known for its opium production and trade, and many grew the cash crop in order to survive and take care of their families. With the help of a Royal initiative of Thailand in 1983, farmers were given Arabica coffee plants to grow. The rich soil in the north of Thailand and the cooler weather helped the coffee to flourish. After producing coffee for over 20 years, and frustrated with the efforts of dealing with third party coffee dealers, the farmers in Doi Chang decided to form their own coalition and sell coffee directly themselves.
Day 12 – Chiang Rai to Pai – 310km.
Our destination tonight is the town of Pai. The town's permanent residents are a seemingly harmonious mix of Western hippies, Thai Rastas, and Muslims which gives the place a unique vibe. Pai marks our first stop in the authentic mountainous province of Mae Hong Son and we are now on the infamous Mae Hong Son Loop. The Mae Hong Son Loop is a comprehensive way to discover one of Thailand's most authentic provinces and experience authentic northern Thai & Shan minority culture – the Mae Hong Son Loop is the perfect antidote. Mae Hong Son is the most mountainous province in Thailand and receives few visitors due to its relatively remote location and time needed to reach it.
Day 13 – Pai to Mae Hong Son – 110km.
Highlights today include a Mountain Tea Plantation, Chinese Village and an optional cave visit. Most of Mae Hong Son's landscape is surrounded by many high complicated mountain ranges, variety of forests, and covered by mist all year round. All these reasons bring it to be called "City of Three Mist". Due to the nature's charm and beauty together with the large magnificent cave, hot spring, both small and big streams, these all seem to be the important factors to bring Mae Hong Son to become the biggest center of conservative travelling style in Thailand.
Day 14 –– Mae Hong Son to Chiang Mai – 285km.
On the agenda today is the Japanese War Museum and a two and a half hour boat ride up river to visit the some of the Karen tribes and in particular the Karen Padaung. The tribes women are strikingly recognized for the large brass rings they wear around their necks, thus lengthening them and giving them the more common name of 'The Long Neck' tribe. The Padaung call themselves "LaeKur" or "Kayan" and they have their own unique language which originates from Tibeto-Burmese.
We will be providing a more detailed itinerary on arrival to include hotel info and GPS co-ordinates. Please note that this is an outline route and maybe subject to change.
Included:
Motorcycle Rental
B&B accommodation in quality 3-4 star hotels.
Lunch on all riding days. 
Tour guide(s)
Detailed route maps / itinerary etc. allowing some self-guiding if preferred.
Return ferry to/from Corsica
Not Included
Any travel costs to get to the start and from the finish point for the tour.
Rental security, deposits etc.
Personal travel, accident and medical insurance (covering matters such as medical expenses, repatriation, cancellation, curtailment, loss or damage to property)
Motorcycle insurance cover, motorcycle breakdown cover or recovery costs
Entrance fees to sights and parks, optional local excursions or local activities, (except where stated)
Lunches or snacks (except where stated). Any meals whilst on board ferries. Evening meals on rest/optional ride out days.
Personal spending money, tips, souvenirs or other extras.
Personal documentation (eg visas, passport), vaccinations, personal taxes, border crossing fees, motorcycle documentation
Costs of motorcycle repair (parts, labour or other related costs), tyres
Fuel, oil & other motorcycle consumables
Toll road fees, traffic fines or other charges relating to breach of the law
Any other item not specifically included in the price.
Pre-trip we provide you with Tour Specific Information that gives you detailed information about how to prepare and plan your tour, and what to expect when on tour.  These are a few FAQ that many people have. If you have any further queries or concerns please do not hesitate to contact us.
What riding experience do I need?
Generally speaking we recommend all participants to be experienced tourers in Europe and/or beyond. Obviously, some destinations are easier than others, as classified by our difficulty ratings, and should you have concerns please do not hesitate to contact us. It is your responsibility to ensure your motorcycling skills are up to the requirements for this tour. Obviously advanced riding skills increase enjoyment factor and reduce risk.
Do I have to ride in a group?
No!  We do not make you ride in convoy and we offer you the freedom to decide how you would like to ride. However, we find most people prefer to ride with the group without the need to navigate. We use either the 'drop off' or 'buddy' systems when group riding (depending on country and complexity of navigation); these are tried and tested systems of group riding and allow riders to ride at their own pace. Full details are provided at pre-trip briefings. Daily departure times are set every evening for the following morning depending on the days route and points of interest. If you prefer to ride on your own, we provide you with a map and route cards with recommendations for lunch or coffee stops and hotel information. We offer a very flexible approach with an emphasis on maximum enjoyment.
Is this ride suitable for a passenger?
Yes. Pillion passengers should be experienced tourers / travellers. 
What is the average group size?
Our groups are normally between 8 – 14 riders (some riders will have passengers). Most riders are from the Ireland, but we do also have overseas riders who may take part.
What documents do I need?
You will need your original documents as follows: 
Passport and Driving Licence.  Passengers only need their passport.  As a general rule, passports should be valid for at least 6 months after the end of the tour; however, this may be shorter in some European countries. 
If you are bringing your own motorcycle, you will also need your motorcycle registration document (RF101 / log book) and your motorcycle insurance.
In addition, you must have valid travel/medical insurance.
Visas as required Please ensure that you are fully aware of all passport and visa requirements and that you allow adequate time to obtain them.
What will the weather be like?
Depending on season / time of year we will advise expected weather conditions in the pre-trip information and also suggest the most suitable gear based on our experience. It is imperative that tour participants have suitably adequate gear. Please note our tour calendar is carefully planned taking into account the most suitable seasons / local weather for the destination. However, as much as we would like, we cannot always guarantee the best weather. Particularly considering the un-predictable climates the world has been experiencing.
What about my health when I am abroad?
You need to be physically fit and healthy and also take the necessary health precautions.  It is essential for you to consult your doctor or travel clinic for up-to-date medical travel information prior of travel, particularly if you have a pre-existing medical condition. Please ensure that you are fully aware of all official travel advice, local customs, current affairs, travel requirements and medical/travel advice. Please check with your GP regarding recommended inoculations. 
Do I need Travel / Medical Insurance?
It is a condition of you travelling with us that you are adequately insured.  Your insurance policy must cover you for the costs of any medical expenses, medical treatment or repatriation needed, due to injury or illness on this trip, including those that occur whilst motorcycle touring, either as the rider or a passenger.  It is important that your insurance company understands that the main purpose of your trip is motorcycle touring, using your own large capacity cc motorcycle or a rental motorcycle.  Your insurance must cover you for the full duration of the trip and for all countries we travel through.
In addition, we strongly recommend that your insurance policy has cover for loss or damage to your personal belongings, delay at your outward or homeward point of departure, personal liability, overseas legal expenses and cancellation and curtailment. We do not refund your deposit simply because you failed to take out insurance in sufficient time. Some travel insurance policies do not cover motorcycle travel over a certain cc or for a prolonged duration.
Minimum Numbers
We require a minimum number of 8 riders on this tour.  If we do not have this number of bookings, then we reserve the right to cancel the tour.
Booking:
Overlanders may accept a booking online, via telephone or by email. To confirm a booking a deposit is required – once the deposit is received the booking is confirmed.
Payments & Fees:
A deposit is required at time of booking.
Guided tours – 50% required at least 60 days prior to the shipment / travel date.
All payments must be made in full at least 30 days prior to the shipment / travel date.
Cancellation/Amendments/Refund Policy:
Please note that all payments and deposits are non refundable nor transferrable if cancellation accrues within one month before the shipment / tour date.
Where possible we will try to accommodate any amendments you wish to make.
In the event of curtailment no refunds shall be made.
Refunds may be processed via the original method of payment, except for cash transactions where refunds will be provided by cheque.
Gallery