Sorry we have no scheduled courses at the moment. Please contact us below.
Get in Touch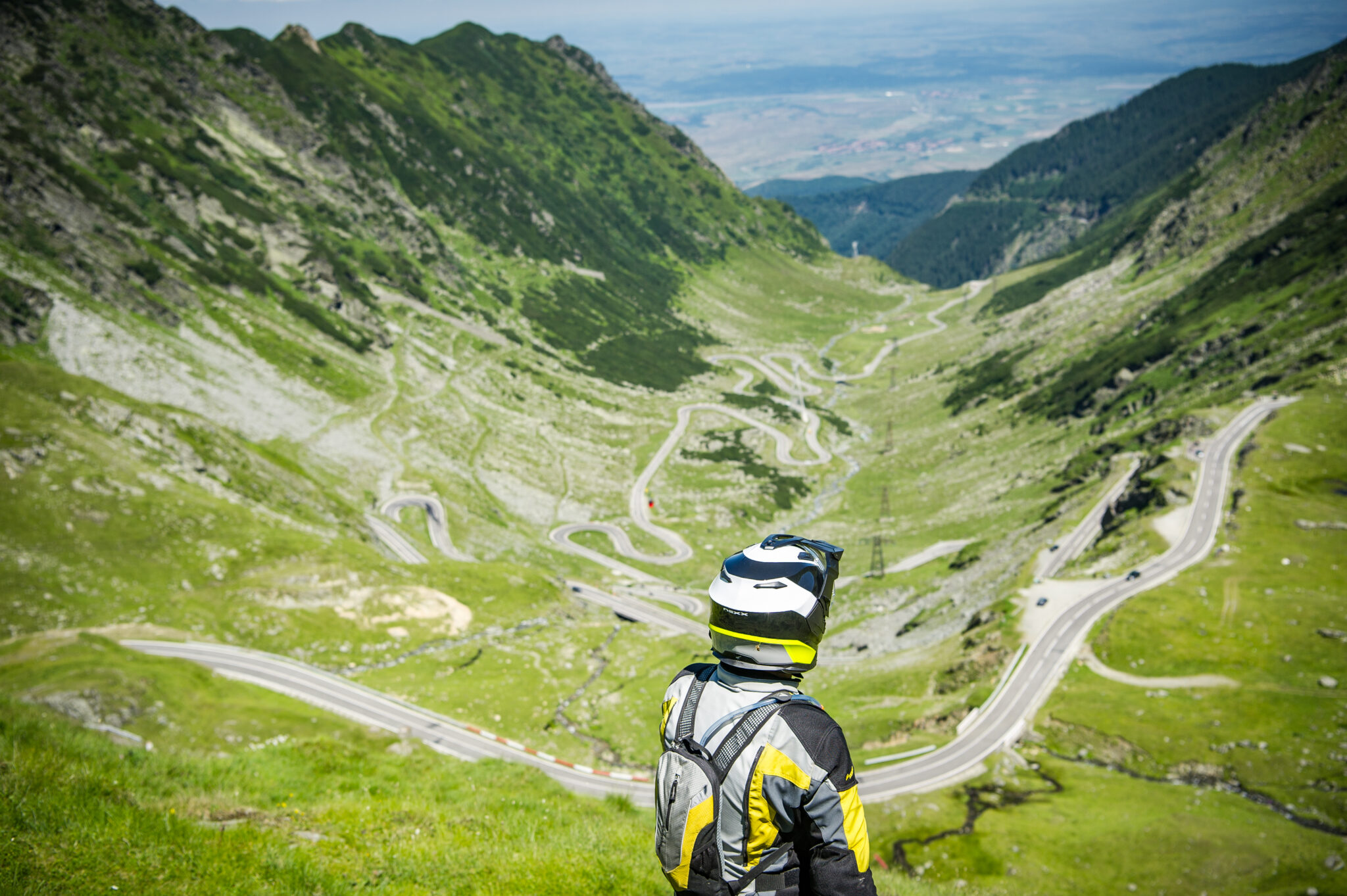 "Adventure Country Tracks Romania offers Real Adventure with Vlad the Impaler"
Key Information
Start / Finish
Budapest, Romania
Duration
10 Days & 11 Nights
Distance
Circa 3,000km
Difficulty
Moderate to Difficult - experience essential
Unpaved Tracks
20% Approx.
Single Supplement
€550
Support Vehicle
Yes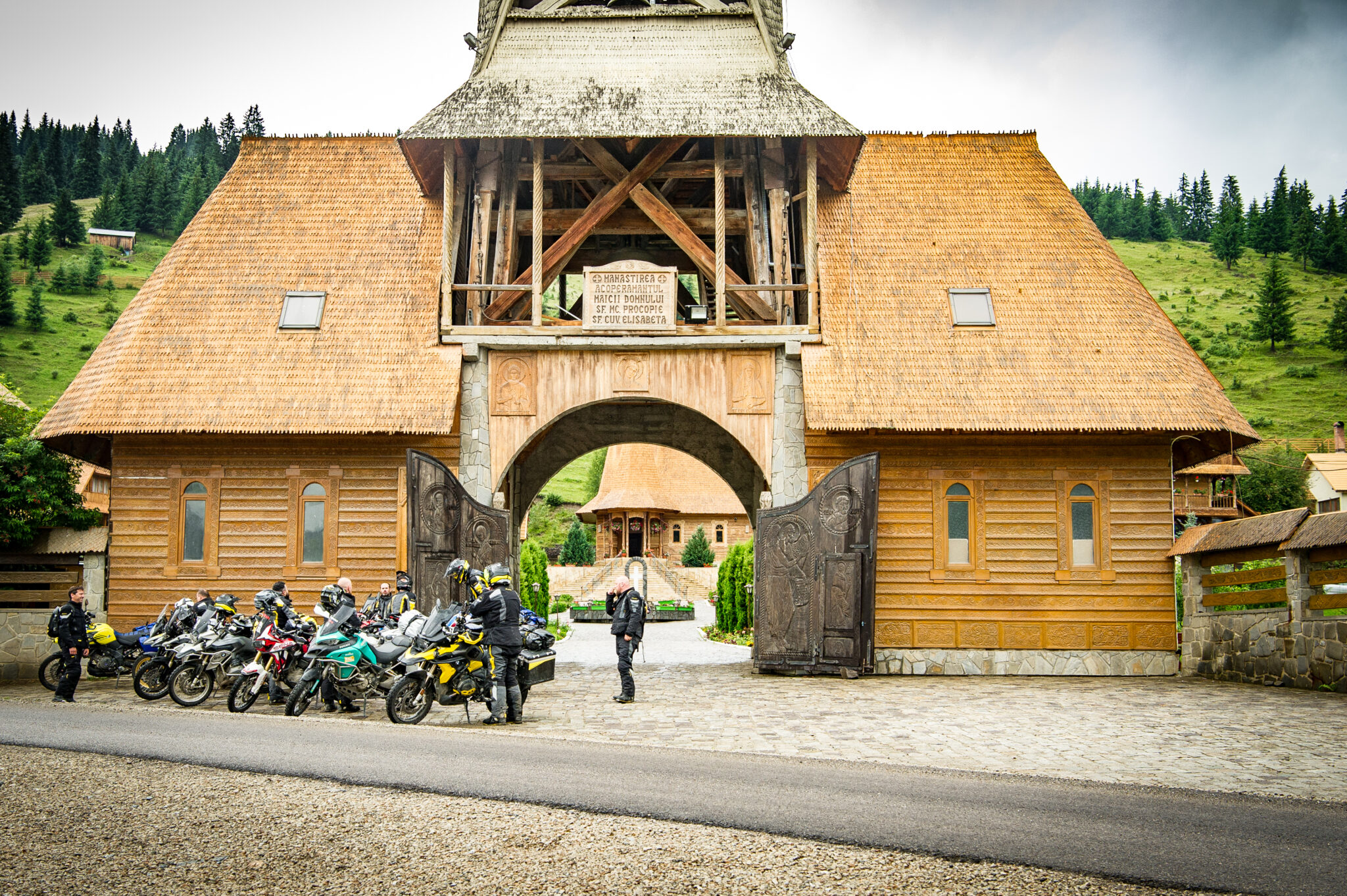 This is an authentic multi-day adventure ride which is suitable for big adventure bikes, for experienced riders, and combines incredible natural scenery with a thoroughly enjoyable riding experience. It's never been easier to take that step into real motorcycle adventure on trails that take you away from population into empty valleys, up windswept hills and mountains, through beautiful nature along empty sinuous country roads and tracks.
Introduction – We first visited Romania, and more specifically the Carpathians and Transylvania, in 2012 and then again in 2013 as part of our 'Circumnavigation the Black Sea' tours. Romania was one of the unexpected highlights of the tour and ever since there has been a burning desire to return and explore this beautiful and enchanting country a little more. This tour is designed to take in the very best Transylvania and the Carpathians have to offer. It's a mixture of the very best roads plus ACT tracks combined with a little bit of TET for good measure. This is not just an ACT tour but is a combination of all our favourite bits of Transylvania & The Carpathians. Romania, a former communist dictatorship, has in the past been described as the 'Wild West of Europe' but not any more…
ACT background Info – Adventure Country Tracks (ACT) takes the classic Backcountry Discovery Route (BDR) concept of a border-to-border route and so follows a north-south path down the east side of Portugal – only it doesn't run arrow straight, instead curving east and west as it picks out places of interest or tags onto trails of exceptional interest or beauty. It is inspired in the Backcountry Discovery Routes successfully implemented by Touratech USA in the past. The goal of ACT is to guide adventure motorcyclists to routes that are legal to ride and are environmentally and socially compatible and to create a mutually beneficial relationship between adventure motorcyclists and the rural communities and businesses of Europe. This is what adventure motorcycles were created for.
2016 saw the launch of Adventure Country Tracks and the first track in Portugal. The ACT concept has been a huge hit and become very popular. Our first ACT Portugal Tour was completed in May 2016. In succession to Portugal the  ACT Greece was released in the Autumn of 2017. Romania is the third to be released in the ACT series with Italy scheduled for late 2019.
WARNING: The Romania ACT is an adventure tour of medium/high difficulty and depending on the weather and the condition of the track, it could be quite difficult! We strongly advise off road training and recent experience in advance of the trip. As we'll be crossing the most remotes tracks of the Romania back-country, it's important to pay attention to every detail and to be prepared for all the possible situations, because in many of these regions it won't be possible to find help nearby…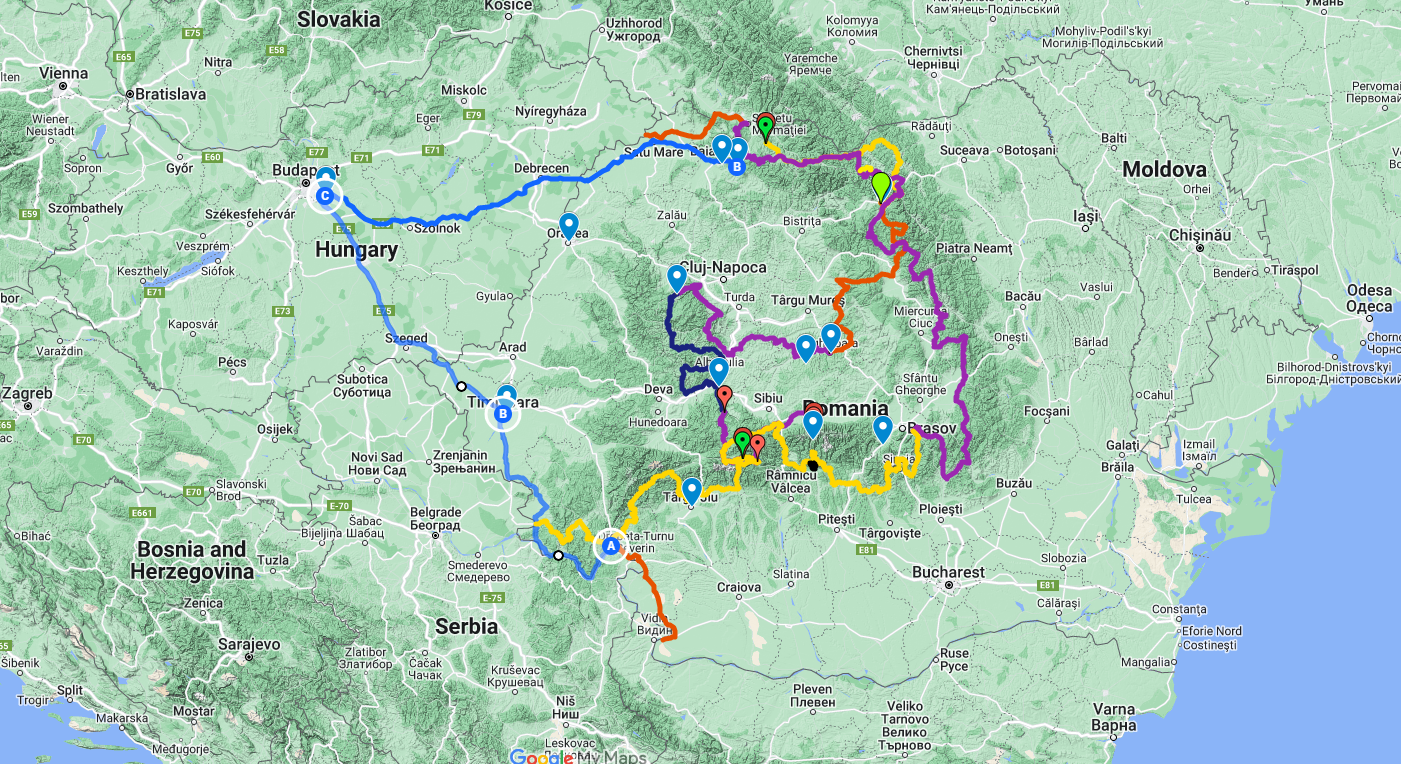 More Information
Day 1 | 400km
Leaving Budapest and Hungary we travel east and north east to the official starting location for the ACT track in the Maramures region of northwest Romania where century-old traditions are still part of daily life. The inhabitants of this area have preserved, to an amazing extent, the rural culture and crafts of their Dacian ancestors.
Maramures villages are distinguished by their unique wooden churches with tall spires and shingled roofs. Woodlands still account for more than four-fifths of the land surface of Maramures. Traditional Carved Gate in Maramures, Northern RomaniaIt is understandable, therefore, that wood has long been – and continues to be – the medium of expression for the region's artisans. Elaborate woodcarvings decorate the eaves, entryways and windows of houses. The local handiwork is also seen in the hand-woven carpets and intricate embroidery that adorns folk dresses still worn by the locals.
Day 2 | START: Barsana |END: Vatra Dornei | LENGTH: 240km | EXPERTIZE LEVEL Dry: Medium Wet: Medium
With a start at the Barsana monastery, we are heading east, from the beautiful hills and valleys of Maramures County to Bucovina. Sometimes the track gets so close to the Ukrainian border that your cell phones will connect to Ukrainian networks which can get very costly, so better to turn off data roaming! Also there may be border police around in off-road vehicles who are usually pleased about a brief chat with moto adventurers!
Following some nice and flowing back country roads, we leave the asphalt at Borsa. The first real off-road section takes us along a scenic river and up into the forests of the Maramures Mountains. The first mountain pass in the outback will rewards us with an amazing view and fantastic riding. The grounds are rocky enough to ensure grippy riding even in the wet. A small river crossing will also be no problem, even in heavy rain (as encountered on the scouting tour)
We leave the forests alongside a beautiful river to finish the day off on nice country roads that will take us over the spectacular Rarau Mountain and to Vatra Dornei.
Day 3 | START: Vatra Dornei | END: Sighisoara | LENGTH: 290km | EXPERTIZE LEVEL Dry: Medium Wet: Hard
The day two takes us into the heart of Romania, the mystic region of Transylvania. Starting with a smooth dam ride alongside the river, we dig deep into the forests. Scenic landscapes and well-maintained gravel roads await us, so the going off-road will be generally faster and easier than the day before. Mind you: when it has been raining, some flat earthy sections of the trail will turn muddy and slippery, so adventure is – as always – just around the corner!
A long day ends at Sighisoara, one of the seven towns (="Siebenbürgen", seven castles) of Transylvania that were founded by German settlers in the 12th century. Sighisoara has a beautiful old town to visit and if you take a stroll, you will come across the truly creepy house in which Count Dracula is said to have been born!
Day 4 | START: Sighioara  END: Marisel | LENGTH: 300km | EXPERTIZE LEVEL Dry: Medium Wet: Hard
The longest day takes us northwest through Transylvania, to the beautiful commune of Mărișel, high up in the Apuseni Mountains. Most of it will be easy going on flowy gravel roads that can get a bit dusty on dry days, so keep your distances when going in larger groups! Halfway through the day, passing the Olt river on a little roll ferry sets a charming highlight. Negotiate a good price with the friendly Gypsy family that runs the ferry and you may think of the old Chris de Burgh song: "Don´t pay the ferryman… until he gets you to the other side"
The track continues through little villages where you will every now and then have contact with one of the many dogs that run around freely in Romania. Just take good care, go slowly and don´t ever kick or attack them. Most are just as excited about the cool motorcycles as you are and want to follow you a bit, barking in sheer excitement. The final third of the track leads through some of the most amazing and spectacular mountain scenery of this ACT… hopefully in good weather, to enjoy the views there and in the 1200m high destination Mărișel.
Day 5 | START: Marisel | END: Sugag, Transalpina | LENGTH: 270km | EXPERTIZE LEVEL Dry: Easy Wet: Medium
A touch of "relax day" before the great finals! 270km of well balanced on/off-road sections, mostly easy to ride. The highlands around Mărișel are extremely beautiful on a sunny morning and so is the trail that leads once again into the forest and soon comes across a river that can either be crossed twice or ridden alongside on the gravel road. Following the trail we move south with a spectacular view at the mountain ridge where the final day is going to take place.
In the afternoon, the trail takes a big sweep west, around the town of Alba Iulia, first on a fast overland road, then moving south and east again on tiny country roads and off-road. The day ends in or around the town of Sugag, at the entrance to one of the best mountain roads overall: the Transalpina.
Day 6 | START: Sugag, Transalpina | END: Top of Transfagarasan | LENGTH: 270km | EXPERTIZE LEVEL Dry: Medium Wet: Hard
The highlight today is a motorcyclists dream as we traverse the TransAlpina, known locally as 'the Kings Road' and sometimes referred to as 'The Devils Path'. The TransAlpina road (DN67C) is the highest road in Romania and one of the famous Romanian high altitude roads. With a length of 146 km, it crosses the Southern Carpathian Mountains and reaches a maximum altitude of 2,145m above sea level at Pasul Urdele. It is considered one of the most spectacular roads of the Carpathian Mountains and offers breathtaking views together with an exhilarating ride. Arguably the oldest road over the Carpathian Mountains, TransAlpina was built at the beginning of the 2nd Century AD by the Roman legions during their war campaign to conquer Sarmizegetusa – the capital of Dacia (modern-day Romania). After the conquest of Dacia, the Romans used the TransAlpina to transport gold to Rome extracted from Transylvania. You can go there and have a great look around, but the track actually leaves the Transalpina some kilometres before, to follow one of the most spectacular and scenic off-road bits in Romania: the Strada Strategica. The Strategica is an old WW2 military piste that provides you with amazing riding and panoramic views. Not far after leaving the Transalpina you´ll come across a meadow that is often slippery, so take good care there. And not far after that, you´ll have a splendid view to your left, down on a lake. The road continues east and at km 23 offers you a choice: if you like a good challenge and if the weather is dry, you just continue the Strategica that becomes more difficult, with ridges and washouts that demand some off-road experience and courage. Otherwise turn right at the km 23 intersection and leave the Strategica by its easy exit through the forests and the village of Ciungetu. Both options take you back to the road that leads to Valea Măceşului and Voineasa.
From Voineasa the track brings you a final off-road highlight, as it follows 40 kilometres of dirt road that is partly rocky and can be tough to ride. Amazing views when the road goes alongside a wild river, but eventually leads into green forests and back to civilization. And to the final section that many call the best mountain road ever: the Transfagarasan highway. From above, it looks more like a racetrack, with spoon shaped hairpins, extremely flowy to ride and spectacularly carved into the mountain. On its highest point, just before the tunnel, the track turns left to Lac Balea. A spot where Romania looks like Norway. And then there´s just another little step to ride up and you´re at the end of this ACT track, with a breath-taking view back at the road that brought you up here and back into the country that gave you 5 days of unforgettable riding.
More than 150 kilometres in length the Transfagarasan Highway is Romania's most spectacular and best known road and, thanks to an appearance on BBC Top Gear in 2009, now one of the country's most popular tourist attractions. Fully open only from June to October, the road's highest point is at 2042 metres: the tunnel which links the northern and southern sides at Lake Balea (Balea Lac). The Transfagarasan was built between 1970 and 1974 by military forces. After the 1968 invasion of Czechoslovakia by the Soviets, Nicolae Ceausescu had it built as a strategic military route to cross the mountains in the event the Soviets attempted a similar move into Romania. The builders used 6000 tons of dynamite to clear a path for the road on the northern side of the mountains (this is the most spectacular) and on the tunnel. 40 soldiers lost their lives during construction. Facts and figures tend to vary but you get the jist.
Day 7 | Rest Day with optional rideout to Bran / Draculas Castle and Bucegi National Park – a day of never ending twistiies! 
Day 8 | Transfagarasan to Targu Jiu | 220km
An easy day is on offer today as we enjoy the Transfagarasan before turning west and towards our destination at Targu Jiu. With the official ACT track now complete there are also more off-road sections available for those who wish
Day 9 | Targu Jiu to Timisoara | 370km
Today sees us ride through a number of national parks on quiet rural roads and to our most southerly point on tour, where the mighty Danube acts as a natural border between Serbia and Romania. We follow the Danube for a while along the border before turning north to Timisoara and our final night in Romania
Day 10 | Timisoara to Budapest | 275km
Again an easy days biking is in order to finish our tour as we meander our way back to Budapest. Divided in two by the Danube, the city is made up of Buda on one side: with Ottoman-era thermal baths at the foot of the spectacular Gellért Hill, the royal palace and Matthias Church, it radiates calm and peace. One the other side lies Pest, vibrant and lively, with its slew of museums rich in cultural and historical treasures, extraordinary Secessionist architecture, its majestic Parliament building considered as one of the most magnificent in the world, Saint Stephen's Basilica surrounded by pedestrian streets, and its entirely renovated Jewish Quarter and Palace District. Besides its historical value, Budapest has a highly developed cultural scene with its world-class festivals, theatres, museums, concert halls and sporting events. For relaxing and enjoying nature, Margaret Island is the city's "green heart" (considered by many to be one of Europe's best city parks) – the perfect place to enjoy a stroll, various sports, swimming in outdoor pools or soaking in thermal baths and spas. As for foodies, the celebrated creations of Hungarian cuisine are a definite must!
Included in this trip:
Return transport of your motorcycle from our base in Gorey, Co. Wexford to / from Budapest, Hungary
Experienced tour guide(s)
Bed & Breakfast accommodation in quality hotels and guest houses.
Support Vehicle
Not Included:
Flights, Lunch and evening meals,
Any travel costs to get to the start and from the finish point for the tour.
Personal travel, accident and medical insurance (covering matters such as medical expenses, repatriation, cancellation, curtailment, loss or damage to property)
Motorcycle insurance cover, motorcycle breakdown cover or recovery costs
Entrance fees to sights and parks, optional local excursions or local activities, (except where stated)
Lunches or snacks (except where stated). Any meals whilst on board ferries. Evening meals on rest/optional ride out days.
Personal spending money, tips, souvenirs or other extras.
Personal documentation (eg visas, passport), vaccinations, personal taxes, border crossing fees, motorcycle documentation
Costs of motorcycle repair (parts, labour or other related costs), tyres
Fuel, oil & other motorcycle consumables
Toll road fees, traffic fines or other charges relating to breach of the law
Any other item not specifically included in the price.
Hotels
As with all our guided tours we carefully select very good standard 3 or 4* hotels. Over the years we have built up a vast selection of tried and tested hotels around the world and we select hotels for their character and service rather than just on their star rating.  Hotel standards vary all over the world and a 4* in Africa or South America is not always the same as in Europe. In some more remote locations, we may use equivalent 3* hotels or the best available in the area, which could be a more family run establishment, with local character.
FAQ:
What riding gear: We suggest bringing full summer type/ventilated protective motorcycle riding gear with removal inner/outer waterproof layer. Average temp SHOULD be in the mid-teens to mid-twenties. However in the mountains temperatures can drop to single figures. Off road type body protection is highly recommend including good torso, back, hip, knee and ankle protection. We would also suggest hydration backpacks. Travel Light!
Bike Preparation: As the route involves off road sections we highly recommend the following. Please call us for further info:

Suitable adventure style motorcycle
Off road biased tyres
Sufficient engine, radiator, fairing and sump protection

Travel Insurance: ESSENTIAL – Travel Insurance including medical repatriation (make sure and check that you're covered for a motorbike trip – a lot of policies have fine print stating you're not covered over a certain cc).
Navigation: There will be a .gpx file available for upload to your Sat Nav
Checklist of the more important things:
Travel Insurance (with large cc motorbike cover)
Any medication plus pain killers, headache tablets, anti-histamine, motillium, Imodium, rehydration salts, sun cream etc.
Passport valid for over six months
Drivers Licence
We will be providing a more detailed itinerary in due course. Please note that this is an outline route and maybe subject to change.
Gallery