Sorry we have no scheduled courses at the moment. Please contact us below.
Get in Touch
Real Adventure deep in the Pyrenees…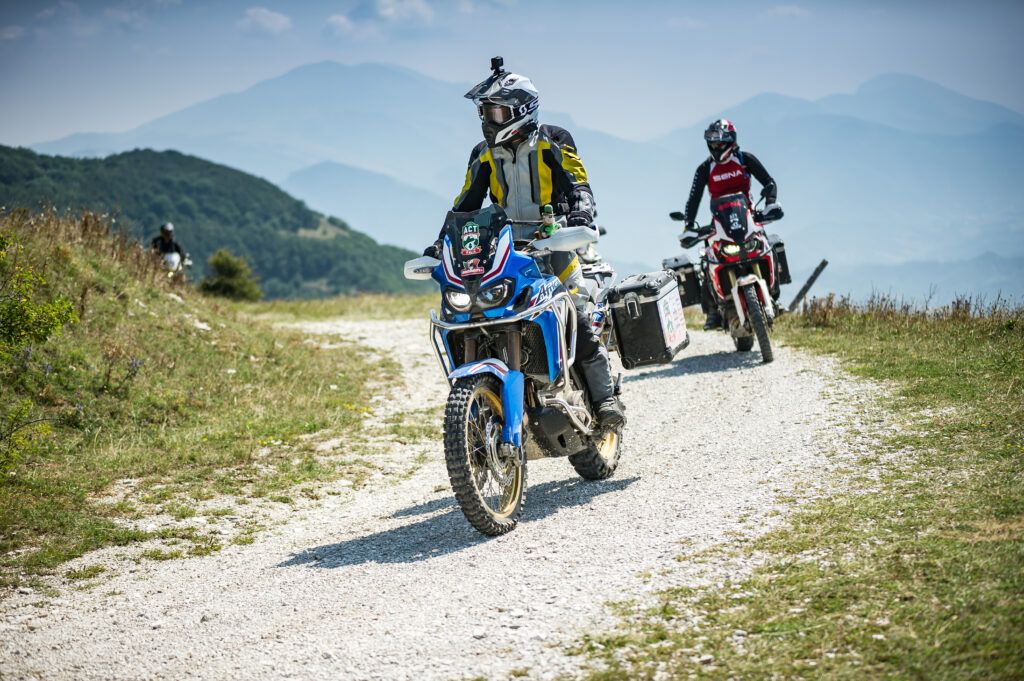 Key Information
Start / Finish Location
Bilbao, Spain
Duration
9 Days & 10 Nights (Fully Supported)
Distance
TBC
Riding Dificulty
Moderate - Experience Essential
Pillion Supplement
Not suitable for pillions
Single Room Supplment
€400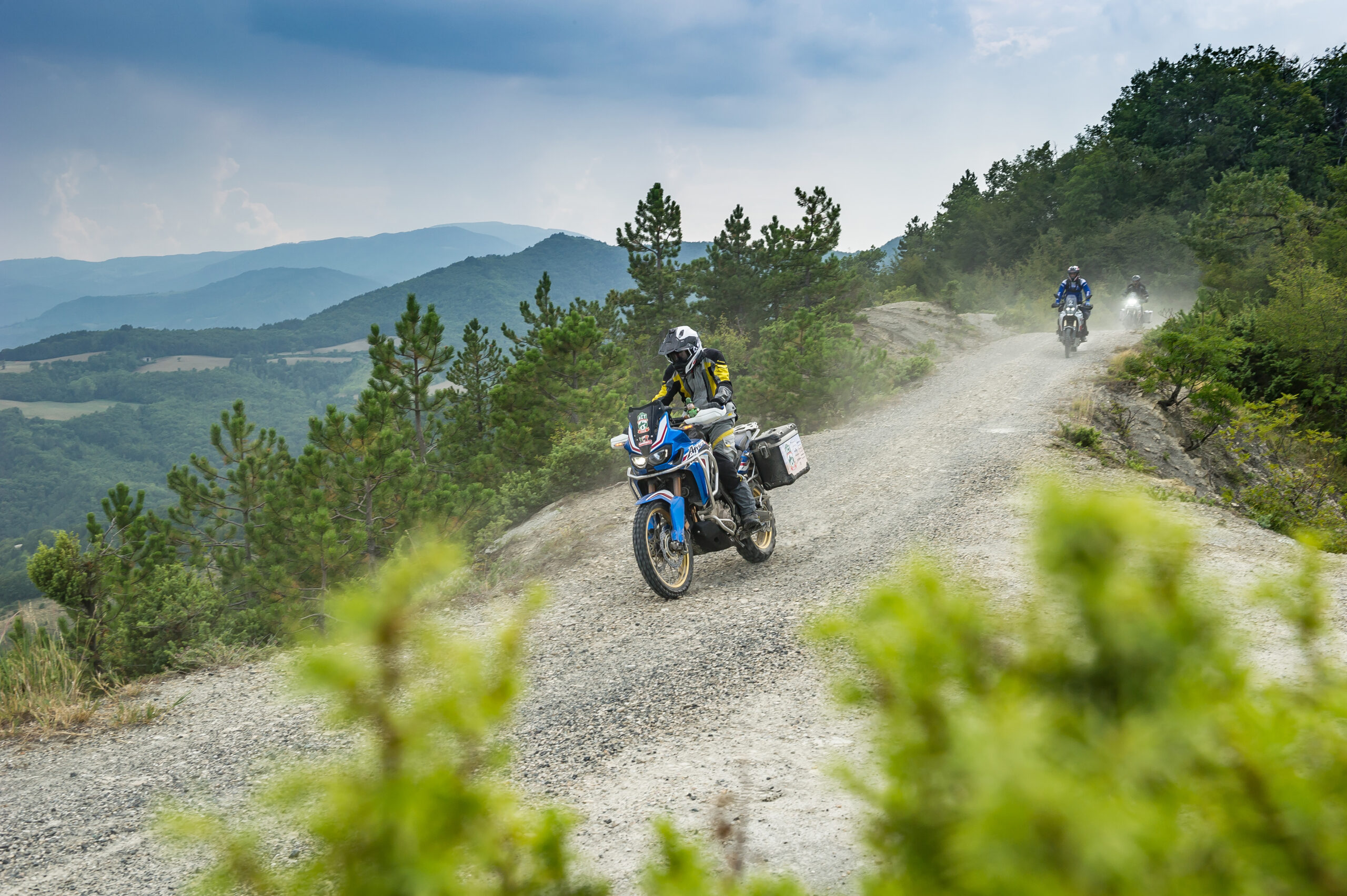 This is an authentic multi-day adventure ride which is suitable for big adventure bikes, for experienced riders, and combines incredible natural scenery with a thoroughly enjoyable riding experience. It's never been easier to take that step into real motorcycle adventure on trails that take you away from population into empty valleys, up windswept hills and mountains, through beautiful nature along empty sinuous country roads and tracks.
Background Info – Adventure Country Tracks (ACT) takes the classic Backcountry Discovery Route (BDR) concept of a border-to-border route and so follows a north-south path down the east side of Portugal – only it doesn't run arrow straight, instead curving east and west as it picks out places of interest or tags onto trails of exceptional interest or beauty. It is inspired in the Backcountry Discovery Routes successfully implemented by Touratech USA in the past. The goal of ACT is to guide adventure motorcyclists to routes that are legal to ride and are environmentally and socially compatible and to create a mutually beneficial relationship between adventure motorcyclists and the rural communities and businesses of Europe. This is what adventure motorcycles were created for.
2016 saw the launch of Adventure Country Tracks and the first track in Portugal. The ACT concept has been a huge hit and become very popular. Our first ACT Portugal Tour was completed in May 2016. In succession to Portugal; the Greek ACT was released in the Autumn of 2017 followed by Romania in 2018 and most recently; Italy (as the fourth in the ACT series) in late 2019. 2021 will see the addition of ACT Pyrenees – originally planned to be released in 2020 but rescheduled due to pandemic. Our tour scheduled for late May 2020 (the week directly after the official filming) means we will be amoung the very first to ride the route.  
WARNING: The Pyrenees ACT is an adventure tour of medium difficulty. While it may be considered one of the easiest tracks in the ACT series and least prone to weather influences, we strongly advise off road training and recent experience in advance of the trip. As we'll be crossing the most remotes tracks of the Pyrenees mountain range, it's important to pay attention to every detail and to be prepared for all the possible situations! The route crosses some areas of environmental interest where it is not allowed to travel in groups of more than 6 motorcycles and transiting outside the streets (gravel or tarmac) is forbidden.
General Route information: ACT Pyrenees is a spectacular long trip crossing all the Pyrenees Mountain range, from the Mediterranean Sea, to the Atlantic ocean. The official starting point is Cap de Creus, the easternmost point of mainland Spain and the Iberian Peninsula. The finish is in San Sebastian on the Atlantic coast, after 5 stages and 1160 km of adventure roads. What you can expect from this trip: one mix of nice tarmac curving roads and amazing dirt roads with infinite landscapes on the top of the mountains. On these five stages, you will cross the country borders eight times between Spain, France, and Andorra.
More Information
The itinerary of our ACT Pyrenees tour will follow in typical fashion of all our ACT tours to date with 5 – 6 days riding the ACT route and 2 – 3 days taking in the highlights of the Pyrenees. 
DAYS 1 – 3 | START: BILBAO | END: CABO DE CREUS
The first three days of this tour see us traverse the Pyrennes from west to east on the Spanish side. The route offers excellent motorcycling, stunning scenery and rural landscapes. Of course we have options of some trails along the way and we'll be riding some of the best roads in Europe as we travel across Catalunya to the most easterly point of the Iberian Peninsula at Cabo de Creus and the offiicial starting location for the ACT Pyrenees track.
DAY 4 |  DIFFICULTY: EASY | START: CABO DE CREUS | END: SETCASES | LENGTH: 210 KM | OFFROAD PERCENTAGE: 40%
The first official track day of ACT Pyrenees starts at the mediterrenean sea at Cabo de Creus directly at the lighthouse. If you are staying at a nearby hotel make sure that you are going there before sunrise. The sun rises above the sea with a spectacular view of the surrounding coast.
The first hours the track goes inland on tarmac roads for the first 2 hours so that you can grove into the curves, the bike, the landscape, the group before you are heading into the first offroad sections to test your abilities. The 210 km of day one have about 40% offroad and 60 % tarmac from the distance point of view, but like always you probably spend some time on the offroad sections, depending on the weather conditions. It leads you into the mountains close to the border to France and gives you a light impression of the complexity of the track, A fairly lightweight day, still quite a distance with an ending in the beautiful town of Setcases.
DAYS 5 -7 | DIFFICULTY: MEDIUM / HARD | START: SETCASES | END: ARINSAL ANDORRA | LENGTH: 230 KM | OFFROAD PERCENTAGE: 60%
Day 2 of the track starts in the beautiful region of Setcases and we can only suggest to start the day early. After a few km the tarmac switches to nice offroad tracks and goes high up into the mountains. Be aware if it is weekends, since the locals are going there with their offroad vehicles as well. The views are fantastic, the roads are great and you spend most of the day high up in the mountains. This day has about 230km and you will spend quite some time offroad, so rather 60 % offroad this day, but nice and fast tracks. Be aware of the last section into Andorra. It is the smugglers trail and goes up to 2000 meters and with bad weather conditions it is slippery, muddy and not an easy section. You will end this day in Andorra, please be aware that this last section can take 3 hours, so make sure you are in time for dinner and select you hotel in advance since Andorra is a tourist spot. (There is a tarmac alternative for the last section of the day via the regular road from La Seu d´Urgell into Andorra)
DIFFICULTY: MEDIUM / HARD | START: ARINSAL | END: VILALLER | LENGTH: 230 KM | OFFROAD PERCENTAGE: 60%
Leaving Andorra at dusk is perfect. It is a busy city and the offroad track goes again high up into the mountains with a beautiful 7 km descent into the valley which can be slippery and challenging with Rain or snow, but with reasonabel weather conditions it is spectacular. (there is an alternative onroad track via La Seu d´Urgell and Adrall and Sort to meet the group again on the C28). There is quite some offroad during this day and big landscapes, big mountains, crossing into France and back to Spain, Different levels of Tracks from Challenging to fast and fun. It is also a long day but some of the tarmac sections are fast and connect you especially at the end of the day to civilization. We have ended the day in a small town at a nice hotel with a restaurant nearby located perfectly for a great start into day 4, which will be the longest day of the trip. Probably a 50/50% onroad /offroad day, but the offroad passages take their time and are so beautiful you want to spend lots of time there for pictures and views of the landscape
DAY 8 | DIFFICULTY: EASY / MEDIUM | START: VILALLER | END: ANSÓ | LENGTH: 265 KM | OFFROAD PERCENTAGE: 45%
Is another great day on the road and it is the longest day of the track with 265 km. After some tarmac km we immidiatley go into the offroad section. This day is a bit more relaxing, even when some of the offroad passages are a bit steep. But the offroad part is maybe only 40%, nevertheless we have plenty of small tarmac roads with thousands of curves and sometime you switch from onroad to offroad 5 times per hour. The mountains are not that big any more, it is more civilization but the forest roads are more mystic and hidden. We enjoy those curvy roads, relax a bi tour bones and muscles but never have the chance to relax our mind, wether tarmac or dirt, all sections are curvy and small and there might be traffic on the road. It is a long day, so make sure you have plenty of time. The day ends in a hidden village that especially off season is only inhabited by some hikers who enjoy the remote mountain region.
DAY 9 | DIFFICULTY: EASY / MEDIUM | START: ANSÓ | END: SAN SEBASTIAN | LENGTH: 225 KM | OFFROAD PERCENTAGE: 40%
Day 5 the last day of the adventure country tracks Pyrenees. The region is different, more fences, more people, more regular roads, but always backcountry. Some challenging offroad sections combined with fast curvy tarmac hidden in the valley and forests of northern spain and southern france. If you want to end your day at the coast in San Sebastian you have a good day ahead of you and can decide if you want to final your trip with a last challenging offroad passage even i fit is only a few km. Arriving at the ocean is special. You made it from the mediterranean to the atlantic. We end the track officially on the other side of the city at a great lookout. 
DAY 10 | START: SAN SEBASTIAN | END: BILBAO & FLY | LENGTH: … KM
Included:
Return transport of your motorcycle from our base in Gorey, Co. Wexford. – Option to join the tour at the start location in Bilbao (reduced price without transport element)
B&B accommodation in quality accommodation.
Support Vehicle
Tour guide(s)
Detailed route maps / itinerary etc. allowing some self-guiding if preferred.
Return ferry to/from Corsica
Not Included
Any travel costs to get to the start and from the finish point for the tour.
Personal travel, accident and medical insurance (covering matters such as medical expenses, repatriation, cancellation, curtailment, loss or damage to property)
Motorcycle insurance cover, motorcycle breakdown cover or recovery costs
Entrance fees to sights and parks, optional local excursions or local activities, (except where stated)
Lunches or snacks (except where stated). Any meals whilst on board ferries. Evening meals on rest/optional ride out days.
Personal spending money, tips, souvenirs or other extras.
Personal documentation (eg visas, passport), vaccinations, personal taxes, border crossing fees, motorcycle documentation
Costs of motorcycle repair (parts, labour or other related costs), tyres
Fuel, oil & other motorcycle consumables
Toll road fees, traffic fines or other charges relating to breach of the law
Any other item not specifically included in the price.
FAQ:
What riding gear: We suggest bringing full summer type/ventilated protective motorcycle riding gear with removal inner/outer waterproof layer. Average temp SHOULD be in the low to mid-twenties. This region in Italy can also be subject to some heavy downpours. Off road type body protection is highly recommend including good torso, back, hip, knee and ankle protection. We would also suggest hydration backpacks. Travel Light!
Bike Preparation: As the route involves off road sections we highly recommend the following. Please call us for further info:

Suitable adventure style motorcycle
Off road biased tyres
Sufficient engine, radiator, fairing and sump protection.
Pre-trip we provide you with Tour Specific Information that gives you detailed information about how to prepare and plan your tour, and what to expect when on tour.  These are a few FAQ that many people have. If you have any further queries or concerns please do not hesitate to contact us.
What bike is suitable to bring?
Generally speaking we recommend adventure or touring style motorcycles as the most suitable.  However, sports, sport-touring and cruiser motorcycles may also be suitable subject to you being comfortable riding it for the distance and duration of the tour and that it has been properly prepared and adequately serviced with good tyres.
What riding experience do I need?
Generally speaking we recommend all participants to be experienced tourers in Europe and/or beyond. Obviously, some destinations are easier than others, as classified by our difficulty ratings, and should you have concerns please do not hesitate to contact us. It is your responsibility to ensure your motorcycling skills are up to the requirements for this tour. Obviously advanced riding skills increase enjoyment factor and reduce risk.
Do I have to ride in a group?
No!  We do not make you ride in convoy and we offer you the freedom to decide how you would like to ride. However, we find most people prefer to ride with the group without the need to navigate. We use either the 'drop off' or 'buddy' systems when group riding (depending on country and complexity of navigation); these are tried and tested systems of group riding and allow riders to ride at their own pace. Full details are provided at pre-trip briefings. Daily departure times are set every evening for the following morning depending on the days route and points of interest. If you prefer to ride on your own, we provide you with a map and route cards with recommendations for lunch or coffee stops and hotel information. We offer a very flexible approach with an emphasis on maximum enjoyment.
Is this ride suitable for a passenger?
Yes. Pillion passengers should be experienced tourers / travellers. 
What is the average group size?
Our groups are normally between 8 – 14 riders (some riders will have passengers). Most riders are from the Ireland, but we do also have overseas riders who may take part.
What documents do I need?
You will need your original documents as follows: 
Passport and Driving Licence.  Passengers only need their passport.  As a general rule, passports should be valid for at least 6 months after the end of the tour; however, this may be shorter in some European countries. 
If you are bringing your own motorcycle, you will also need your motorcycle registration document (RF101 / log book) and your motorcycle insurance.
In addition, you must have valid travel/medical insurance.
Visas as required Please ensure that you are fully aware of all passport and visa requirements and that you allow adequate time to obtain them.
What will the weather be like?
Depending on season / time of year we will advise expected weather conditions in the pre-trip information and also suggest the most suitable gear based on our experience. It is imperative that tour participants have suitably adequate gear. Please note our tour calendar is carefully planned taking into account the most suitable seasons / local weather for the destination. However, as much as we would like, we cannot always guarantee the best weather. Particularly considering the un-predictable climates the world has been experiencing.
What about my health when I am abroad?
You need to be physically fit and healthy and also take the necessary health precautions.  It is essential for you to consult your doctor or travel clinic for up-to-date medical travel information prior of travel, particularly if you have a pre-existing medical condition. Please ensure that you are fully aware of all official travel advice, local customs, current affairs, travel requirements and medical/travel advice. Please check with your GP regarding recommended inoculations. 
Do I need Travel / Medical Insurance?
It is a condition of you travelling with us that you are adequately insured.  Your insurance policy must cover you for the costs of any medical expenses, medical treatment or repatriation needed, due to injury or illness on this trip, including those that occur whilst motorcycle touring, either as the rider or a passenger.  It is important that your insurance company understands that the main purpose of your trip is motorcycle touring, using your own large capacity cc motorcycle or a rental motorcycle.  Your insurance must cover you for the full duration of the trip and for all countries we travel through.
In addition, we strongly recommend that your insurance policy has cover for loss or damage to your personal belongings, delay at your outward or homeward point of departure, personal liability, overseas legal expenses and cancellation and curtailment. We do not refund your deposit simply because you failed to take out insurance in sufficient time. Some travel insurance policies do not cover motorcycle travel over a certain cc or for a prolonged duration.
Minimum Numbers
We require a minimum number of 8 riders on this tour.  If we do not have this number of bookings, then we reserve the right to cancel the tour.
Booking:
Overlanders may accept a booking online, via telephone or by email. To confirm a booking a deposit is required – once the deposit is received the booking is confirmed.
Payments & Fees:
A deposit is required at time of booking.
Guided tours – 50% required at least 60 days prior to the shipment / travel date.
All payments must be made in full at least 30 days prior to the shipment / travel date.
Cancellation/Amendments/Refund Policy:
Please note that all payments and deposits are non refundable nor transferrable if cancellation accrues within one month before the shipment / tour date.
Where possible we will try to accommodate any amendments you wish to make.
In the event of curtailment no refunds shall be made.
Refunds may be processed via the original method of payment, except for cash transactions where refunds will be provided by cheque.
Preparation for Shipping (if applicable)
All rider/pillion gear including boots and helmets should be packed into a kit/sports bag and labelled with the owners name, bike make/model and registration. One kit bag permitted per person.

Please note loose items or items tied onto the motorcycle will not be transported.
Bin liners, rubbish bags, cardboard boxes etc are not acceptable.

Motorcycles should be in a clean and presentable condition both for outbound and return shipments. If your motorcycle is considerably dirty post trip please wash it before returning it.
All Luggage (hard and soft panniers) should be left unlocked and removable from the motorcycle if necessary for transport purposes.
Alarms should be switched off or in "Ferry" mode for transport purposes.
Fuel level should be kept relatively low. All our depots are within a few km of fuel stations.
Keys for both the motorcycle and luggage should be left with the motorcycle.
At handover we will require a signed customs declaration form and a photocopy of the registration document / log book stapled together. Customs declaration from will be emailed pre-shipment. These should only be handed over in hard copy at time of delivery.

Do not email copies in advance.
We will not accept original copies of registration documents/log books.
Gallery