Sorry we have no scheduled courses at the moment. Please contact us below.
Get in Touch
"Countless mountain passes amongst jaw dropping scenery and quaint villages nestled high in the mountains"
Key Information
Start / Finish Location
Memmingen, Germany
Countries Visited
Austria, France, Italy & Switzerland
Duaration
10 days & 10 nights
Distance
Variable (circa 1300 –2000km)
Riding Difficulty
Moderate
Culture Shock
Low
Pillion Supplemnt
€950
Single Room Suppment
€400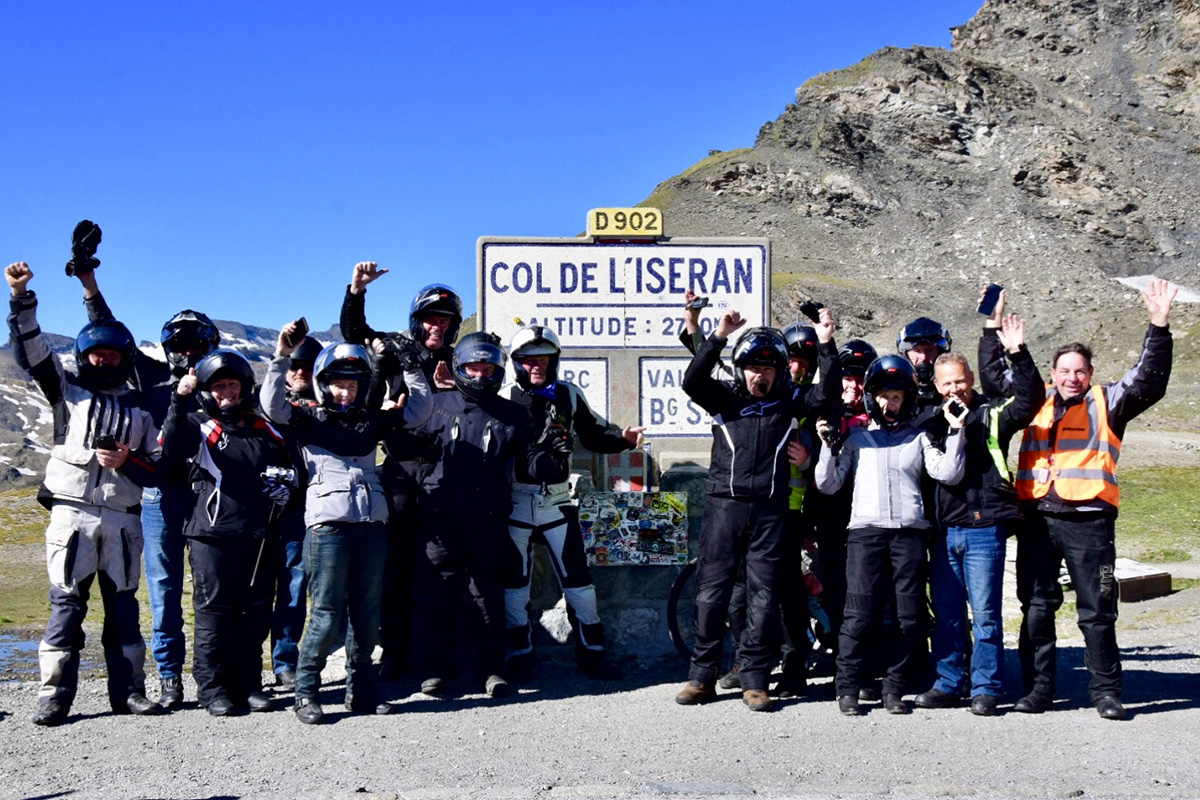 Introduction – Central Europe has so much to offer and it's no wonder motorcyclists return here year after year to what can only be described as some of the best motorcycling and scenery in Europe. To this day Central Europe remains one of our most popular destinations. There are many different highlights in Central Europe but for this tour we are concentrating on the best of the SwissAlpsbordering Italy and the French Alps in southeast France. Highlights includeSusten, Grimsel and Furka Passes along with Coldel'Iseran, Col d'Izoard, Col de la Bonette, The Vercors Massif, andsome of the Route des Grand Alps.With 'less is more' being the basis for this particular tour we indulge in the very best the regions have to offerin terms of scenery, cuisine and local hospitality. The tour incorporates some very well-known mountain passes along with some lesser known hidden gems.
More Information
Day 1 – Memmingen to Obergoms, Switzerland
Leaving Memmingen behind we travel south and enter Austria via the Fernpass, a 1,212 metre high mountain pass in the Tyrolean Alps in Austria. It is located between the Lechtal Alps on the west and the Mieming Mountains on the east. The landscape is marked by a series of lakes, the largest of which is the Blindsee.  After crossing the Fernpass we turn west for Switzerland and enter the mighty Swiss Alps and onwards to our base for two nights at Obergoms.
Day 2 – Obergoms – rest day
It's time to dump the luggage at our base for the day allowing us ample opportunity to explore the region in detail with different routes on offer to include the Susten, Furka, Grimsel and Nufenen passes to name a few.
The Furka Pass is the fourth highest in Switzerland and links the cantons of Uri and Valais. Its well-preserved winding roads coupled with stunning mountainous views make it a rider's paradise. Various pull-over spots are situated along the pass for those wishing to capture the view on film, while there are also numerous places to stop for lunch. Beware of a couple of hairpin corners which get the heart rate going as you teeter of the edge.
Those looking to get that premium drive experience could hire an Aston Martin to recreate the James Bond scene from Goldfinger, which was shot here in the 1960s.
Day 3 – Obergoms to Val d'Isere, France
Two amazing attractions are on our list for today. First a visit to Zermatt, a small town known for the best view of Matterhorn- the world's most photographed mountain and a symbol of Switzerland. Often called 'the mountain of mountains', its triangular dramatic looking top at 4,478m has been a desire of many climbers all the way since 1865. Second on the list, if time allows, is a gondola trip to Aiguille du Midi at 3842m, a literally breath-taking view of the Alps from 'Step into the Void' glass cage platform over a 1000m precipice! Now that's amazing.
Day 4 – Val d'Isere to Barcelonnette, France
Today we take on the Col de l'Iseran, Col d'Izoard and Col de la Bonette.
At 2770m, the Col de l'Iseran is the highest paved road in Europe, surrounded by the glaciers of Val d'Isère and the Vanoise National Park. It's also an epic climb of the Tour de France and the setting for the Chamois Reborn motorcycle hill – climb festival.
The Col d'Izoard is one of the great Cols of the French Alps. At an elevation of 2.360m above the sea level, it's a high mountain pass located in Provence-Alpes-Cote d'Azur. Few Alpine cols are more mythic than the Izoard. The pass is traversed by the scenic Route des Grandes Alpes. The Col d'Izoard is one of the most famous mountain passes in  history. While it's rightly famous for the part it has played in Tour de France history, the Giro d'Italia has ascended it several times.
Day 5 – Barcelonnette, France – rest day.
Optional ride-outs today to incorporate some more spectacular cols with an option to visit Italy and take in some of the Route des Grandes Alpes; The journey between Lake Geneva and the shores of the Mediterranean embraces the entire French Alps. The winding road crosses spectacular mountain landscapes, and in the valleys you'll find local cultural features and gastronomic specialities. Whether on 2 wheels or 4, Route des Grandes Alpes is a fabulous mountain road. The 684 km between Thonon-les-Bains and Menton include 16 passes that are among the highest in the Alps. It's an exceptional natural and cultural environment.
Day 6 – Barcelonnette, France to Vercors Nature Reserve.
Home to the largest nature reserve in France, the Vercors's dramatic rockscape and patchwork of rugged valleys are ripe to be explored. Its wild, grandiose and mysterious scenery is characterised by a wealth of natural treasures including deep gorges, caves, abysses, sheer cliffs, high plateaux, lush valleys, mountain meadows, forests and a rich flora and fauna. It is also crossed by some breathtakingly beautiful roads like Les Grands Goulets in the Drôme, and Les Gorges de la Bourne and Le Canyon des Écouges in the Isère.
The D76 Combe Laval road sustains all the drama of our route so far with a few fireworks of its own thrown in for good measure, including a sensational 4km stretch overhanging a 600m cliff face above the Cholet river. On the way up we pass through woodlands, emerging at a lay-by with an orientation panel, relating the historical importance of the local timber industry. Originally sawn in water-powered mills, the timber was floated down from Port-en-Royans to the Mediterranean via the Isère and Rhône. 15,000 tonnes are still produced annually.
At around 1000m altitude we catch sight of the first of a series of rock arches announcing the start of the Combe Laval. The curiously-named Col de la Machine (1015m) soon follows, with more fine viewpoints from which to try to take it all in, on the descent to the ruggedly-beautiful Forêt de Lente. As we emerge from the forest, the small family ski resort of Font d'Urle appears to our right – ideal for a lunch break on the terrace of a pleasant café/bar.
Suitably refreshed, we soon reach the Site National de la Résistance which occupies a commanding position on the Col de la Chau, a wild and beautiful hillside high above Vassieux, and recalling the heroic WWII events which brought the Vercors lasting fame. A few kilometres later down on the valley floor the D76 turns sharp right, past a prominent cemetery in which many of the martyrs of the French Résistance lie buried.
Day 7 – Vercors Nature Reserve to Lauterbrunnen, Switzerland
Leaving France behind we cross back into Switzerland and set our sights for Lauterbrunnen.
Lauterbrunnen is situated in one of the most impressive trough valleys in the Alps, between gigantic rock faces and mountain peaks. With its 72 thundering waterfalls, secluded valleys, colourful alpine meadows and lonely mountain inns, the Lauterbrunnen Valley is one of the biggest nature conservation areas in Switzerland.
The very name 'Lauter Brunnen' ('many fountains') suggests the magnificence of this landscape. There are 72 waterfalls in the Lauterbrunnen Valley, the most famous being the Staubbach Falls. Plunging almost 300 metres from an overhanging rock face, they are one of the highest free-falling waterfalls in Europe.
Another deafening natural phenomenon are the Trümmelbach Falls in the 'Black Monk' mountain, hidden behind mighty rock faces. Up to 20,000 litres of water per second cascade over the ten glacier falls from a total height of about 200 metres. This spectacle can only be reached in summer by tunnel lift.
Day 8 – Lauterbrunnen, Switzerland to Kaunertal, Austria
Austria bound via the Klausen and infamous Silvretta Passes.
The Klausen Pass – the mountainside route 17 wriggles along between Altdorf and Linthal, scrunched up into bunches in three places. Tight corners and blind views force speed down in places, while glimpses of the road ahead allow you to accelerate hard in others. The top of the pass bounces between the mesa-like cliffs of Glatten to the north and the monolithic mountain range to the south. Neither are ever conquered by the pass, so you feel as though you are only a humble guest in this giant landscape.
The Silvretta Pass is considered one of the most surreal settings in Western Austria. The 30km road runs straight through a national park, and you'll need to pay €12 per motorcycle (€15 for a car) to ride through. Don't let this put you off – forcing a toll on motorists puts some people off, and there is less traffic than would be expected on a road of this calibre. The sweeping corners just north of the Vermuntstausee reservoir must be some of the most perfect examples of the art of the switchback in the entire world.
Day 9 – Kaunertal, Austria – rest day
Again lots of options available today including a loop to take in the Fuorn, Umbrail, Stelvio and Timmelsjoch Passes to name a few.
Day 10 – Kaunertal, Austria to Memmingen, Germany.
As it's the last day of the tour what better way to finish than with a route across the Hahntennjoch Pass, along by Pansee Lake and finally the short hop to Memmingen.
Please note this is an outline route and may be subject to change. We will be providing a detailed itinerary pre departure.
Included:
Return transport of your motorcycle from our base in Gorey, Co. Wexford to Memmingen, Germany
B&B accommodation in quality 3-4 star hotels.
Half board on all riding days. 
Tour guide(s)
Detailed route maps / itinerary etc. allowing some self-guiding if preferred.
Return ferry to/from Corsica
Not Included
Any travel costs to get to the start and from the finish point for the tour.
Personal travel, accident and medical insurance (covering matters such as medical expenses, repatriation, cancellation, curtailment, loss or damage to property)
Motorcycle insurance cover, motorcycle breakdown cover or recovery costs
Entrance fees to sights and parks, optional local excursions or local activities, (except where stated)
Lunches or snacks (except where stated). Any meals whilst on board ferries. Evening meals on rest/optional ride out days.
Personal spending money, tips, souvenirs or other extras.
Personal documentation (eg visas, passport), vaccinations, personal taxes, border crossing fees, motorcycle documentation
Costs of motorcycle repair (parts, labour or other related costs), tyres
Fuel, oil & other motorcycle consumables
Toll road fees, traffic fines or other charges relating to breach of the law
Any other item not specifically included in the price.
Hotels
As with all our guided tours we carefully select very good standard 3 or 4* hotels. Over the years we have built up a vast selection of tried and tested hotels around the world and we select hotels for their character and service rather than just on their star rating.  Hotel standards vary all over the world and a 4* in Africa or South America is not always the same as in Europe. In some more remote locations, we may use equivalent 3* hotels or the best available in the area, which could be a more family run establishment, with local character.
Pre trip we provide you with Tour Specific Information that gives you detailed information about how to prepare and plan your tour, and what to expect when on tour.  These are a few FAQ that many people have. If you have any further queries or concerns please do not hesitate to contact us.
What bike is suitable to bring?
Generally speaking we recommend adventure or touring style motorcycles as the most suitable.  However, sports, sport-touring and cruiser motorcycles may also be suitable subject to you being comfortable riding it for the distance and duration of the tour and that it has been properly prepared and adequately serviced with good tyres.
What riding experience do I need?
Generally speaking we recommend all participants to be experienced tourers in Europe and/or beyond. Obviously, some destinations are easier than others, as classified by our difficulty ratings, and should you have concerns please do not hesitate to contact us. It is your responsibility to ensure your motorcycling skills are up to the requirements for this tour. Obviously advanced riding skills increase enjoyment factor and reduce risk.
Do I have to ride in a group?
No!  We do not make you ride in convoy and we offer you the freedom to decide how you would like to ride. However, we find most people prefer to ride with the group without the need to navigate. We use either the 'drop off' or 'buddy' systems when group riding (depending on country and complexity of navigation); these are tried and tested systems of group riding and allow riders to ride at their own pace. Full details are provided at pre-trip briefings. Daily departure times are set every evening for the following morning depending on the days route and points of interest. If you prefer to ride on your own, we provide you with a map and route cards with recommendations for lunch or coffee stops and hotel information. We offer a very flexible approach with an emphasis on maximum enjoyment.
Is this ride suitable for a passenger?
Yes. Pillion passengers should be experienced tourers / travellers. 
What is the average group size?
Our groups are normally between 8 – 14 riders (some riders will have passengers). Most riders are from the Ireland, but we do also have overseas riders who may take part.
What documents do I need?
You will need your original documents as follows: 
Passport and Driving Licence.  Passengers only need their passport.  As a general rule, passports should be valid for at least 6 months after the end of the tour; however, this may be shorter in some European countries. 
If you are bringing your own motorcycle, you will also need your motorcycle registration document (RF101 / log book) and your motorcycle insurance.
In addition, you must have valid travel/medical insurance.
Visas as required Please ensure that you are fully aware of all passport and visa requirements and that you allow adequate time to obtain them.
What will the weather be like?
Depending on season / time of year we will advise expected weather conditions in the pre-trip information and also suggest the most suitable gear based on our experience. It is imperative that tour participants have suitably adequate gear. Please note our tour calendar is carefully planned taking into account the most suitable seasons / local weather for the destination. However, as much as we would like, we cannot always guarantee the best weather. Particularly considering the un-predictable climates the world has been experiencing.
What about my health when I am abroad?
You need to be physically fit and healthy and also take the necessary health precautions.  It is essential for you to consult your doctor or travel clinic for up-to-date medical travel information prior of travel, particularly if you have a pre-existing medical condition. Please ensure that you are fully aware of all official travel advice, local customs, current affairs, travel requirements and medical/travel advice. Please check with your GP regarding recommended inoculations. 
Do I need Travel / Medical Insurance?
It is a condition of you travelling with us that you are adequately insured.  Your insurance policy must cover you for the costs of any medical expenses, medical treatment or repatriation needed, due to injury or illness on this trip, including those that occur whilst motorcycle touring, either as the rider or a passenger.  It is important that your insurance company understands that the main purpose of your trip is motorcycle touring, using your own large capacity cc motorcycle or a rental motorcycle.  Your insurance must cover you for the full duration of the trip and for all countries we travel through.
In addition, we strongly recommend that your insurance policy has cover for loss or damage to your personal belongings, delay at your outward or homeward point of departure, personal liability, overseas legal expenses and cancellation and curtailment. We do not refund your deposit simply because you failed to take out insurance in sufficient time. Some travel insurance policies do not cover motorcycle travel over a certain cc or for a prolonged duration.
Minimum Numbers
We require a minimum number of 8 riders on this tour.  If we do not have this number of bookings, then we reserve the right to cancel the tour.
Booking:
Overlanders may accept a booking online, via telephone or by email. To confirm a booking a deposit is required – once the deposit is received the booking is confirmed.
Payments & Fees:
A deposit is required at time of booking.
Guided tours – 50% required at least 60 days prior to the shipment / travel date.
All payments must be made in full at least 30 days prior to the shipment / travel date.
Cancellation/Amendments/Refund Policy:
Please note that all payments and deposits are non refundable nor transferrable if cancellation accrues within one month before the shipment / tour date.
Where possible we will try to accommodate any amendments you wish to make.
In the event of curtailment no refunds shall be made.
Refunds may be processed via the original method of payment, except for cash transactions where refunds will be provided by cheque.
Preparation for Shipping (if applicable)
All rider/pillion gear including boots and helmets should be packed into a kit/sports bag and labelled with the owners name, bike make/model and registration. One kit bag permitted per person.

Please note loose items or items tied onto the motorcycle will not be transported.
Bin liners, rubbish bags, cardboard boxes etc are not acceptable.

Motorcycles should be in a clean and presentable condition both for outbound and return shipments. If your motorcycle is considerably dirty post trip please wash it before returning it.
All Luggage (hard and soft panniers) should be left unlocked and removable from the motorcycle if necessary for transport purposes.
Alarms should be switched off or in "Ferry" mode for transport purposes.
Fuel level should be kept relatively low. All our depots are within a few km of fuel stations.
Keys for both the motorcycle and luggage should be left with the motorcycle.
At handover we will require a signed customs declaration form and a photocopy of the registration document / log book stapled together. Customs declaration from will be emailed pre-shipment. These should only be handed over in hard copy at time of delivery.

Do not email copies in advance.
We will not accept original copies of registration documents/log books.
Gallery