Sorry we have no scheduled courses at the moment. Please contact us below.
Get in Touch
Think anceint UNESCO World Heritage Sites amid rolling and lush vineyards. Think excellent biking in beautiful mountain ranges surrounded by stunning beaches and coastline. Think active volvano with stunning surises and sunsets. Think hilltop stone villages, Sicilian culture, the Godfather, the Sopranos and the very best Italian cuisine – our Southern Italy and Sicily tour has it all and much much more!  
"ITALY WITHOUT SICILY LEAVES NO IMAGE IN THE SOUL: HERE IS THE KEY TO EVERYTHING." Goethe, in Palermo, April 13, 1787
2023 dates and pricing subject to change considering confirmed airline schedules.
Please confirm flights before booking.
Key Information
Start / Finish
Bari, Italy
Duration
10 Days & 11 Nights
Distance
TBC
Riding Difficulty
Easy
Pillion Supplement
1250
Single Room Supplement
550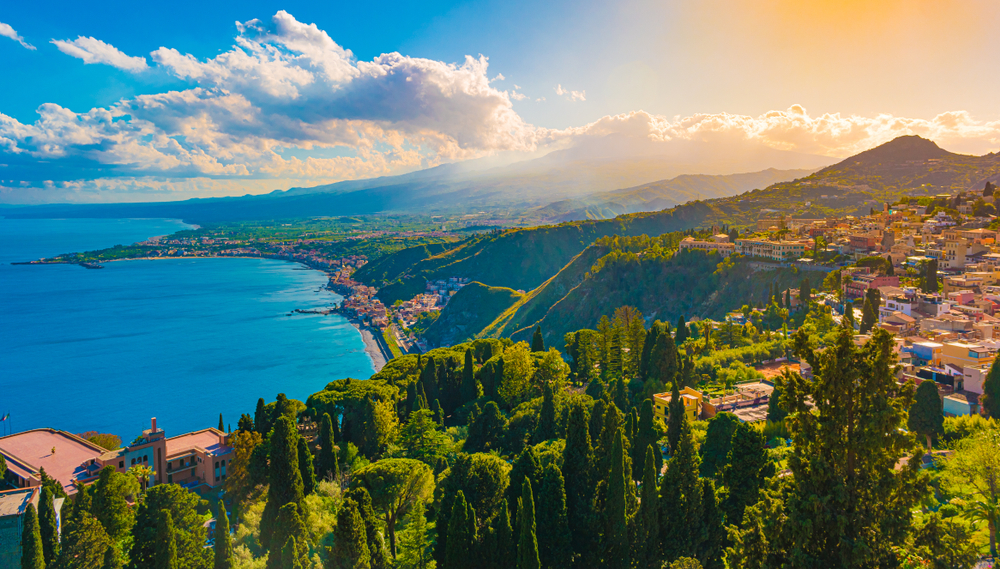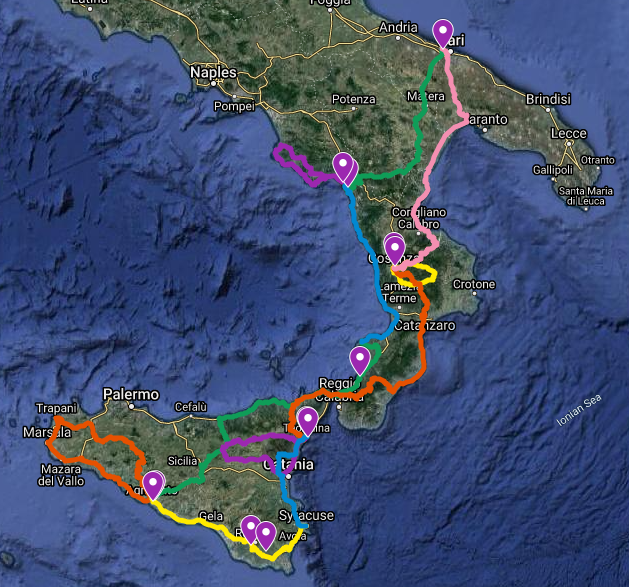 More Information
Note: This tour itinerary is subject to slight change. 
This tour begins and finishes in Bari, Italy. 
Day 1 
Transfer from airport, handover of motorcycles, followed by tour briefing.
Days 2, 3 & 4 
Travelling southwest in search of the Mountains of Calabria with some of the highest peaks in Italy. Lush dense vegetation, clear streams, lakes, and beautiful waterfalls grace these mountains, which are still perfectly wild and uncontaminated in many areas. More specifically we will be based in the Sila Massif for two nights. The Sila massif is divided into three groups: the Sila Greca, Sila Grande, and Sila Piccola, and as its slogan confidently proclaims, "Its nature will amaze you."
The Sila Greca is the northernmost section and is now mostly cultivated rather than thick woods. Around this area, we will find 15th-century Albanian villages such as San Demetrio Corone which sprang up when Albanians were fleeing the wrath of Muslim invaders; famous for a festival that features exquisite costumes and traditional singing in Albanian.
Sila Grande – The highest peaks in the whole range are found in this densely forested part of the Sila massif – Monte Scuro, Monte Curcio, and the tallest, Monte Botte Donato, which stands 1928 meters (6300 feet) tall. Situated in the Sila Grande but stretching into the Sila Greca is also a National Park complete with picnic spots, including La Fossiata.
Sila Piccola – Foresta di Gariglione anchors this most densely forested part of all of Calabria with its fir, beech, and the gigantic turkey oak for which the woods are named. The southern tip of the Sila Piccola reaches Catanzaro and the Ionian Coast. Now a national park, the Sila Piccola is heavily protected and very sparsely populated, but two notable towns in the range are Belcastro and Taverna.
Leaving Calabria behind it's time to cross the Straits of Messina to Sicily as the largest island in the Mediterranean.  Straits of Messina had a formidable reputation amongst Sailors of old. Greek Mythology talks of Scylla , a monster and Charybdis a whirlpool on opposing sides of the narrowest part of the Strait where only a mile separates Sicily and Italy. The take the Sella Mandrazzi, which offers excellent views of the Aeolian Islands to the north and Mt. Etna to the south.
Day 5
Rest day with optional rideout and activities. Strategically? based in the shadows of Mt. Etna (Europe's highest active Volcano at 3327m) there's lots to see and do in the area. Such attractions include. Mt. Etna Cable Car, one of the Godfather scenes at Bar Vitelli, Mt. Etna, megaliths of Argimusco and of course the stunning beaches and glowing sunrises at Taormina – a magnet for beauty and adventure lovers. Spectacularly perched on the side of a mountain, Taormina is Sicily's most popular summer destination, And while it is unashamedly touristy and has a main street lined with high-end designer shops, the town remains a beautiful spot with gorgeous medieval churches, a stunning Greek theatre and sweeping views of the Gulf of Naxos and Mt Etna.
Days 6 & 7
Takes us south along the east coast of Sicily to Syracuse; once the largest city of the ancient world (bigger than Athens & Corinth) before turning west along the southern coast via the baroque towns of Noto, Modica and Ragusa and onwards to Agrigento. Agrigento, once the fourth-largest city in the known world and home to Sicily's most impressive Greek ruins. The Unesco-listed Valley of the Temples is one of the most important sites in the Mediterranean, boasting the largest and best-preserved ancient Greek buildings outside of Greece, including seven monumental Greek temples in the Doric style, constructed during the 6th and 5th centuries BC.
Day 8
Rest day with optional rideouts east to the wine growing region of Marsala, the large flat salt plains and scenic windmills of Trapani where sea salt (white gold) is still harvested in the traditional way. We'll also have an opportunity to visit the small towns of Prizzi & Corleone; home to several mafia bosses as well as several fictional charachters such as Vito Corleone in The Godfather.
Days 9 & 10
Leaving Agrigento behind its time for us to head north east, across the Nebrodi Mountains and back across the Straits of Messina to mainland Italy and the town of Tropea. Tropea, famous for its onion, the cipolla di Tropea, is located along the Costa degli Dei and is described as the 'pearl of the Thyrrenian'. On a cliff overlooking the sea, the church of Santa Maria dell'Isola is the symbol of town. Tropea has been nominated to be the 2022 Italian capital of Culture. Travelling further north along the "instep" of Italy's foot with the Pollino National Park / mountains of the Apennines to our right and Tyrrhenian Sea to the left.
Day 11
Rest day with optional rideout to Pollino or Cilento National Parks.
In the Pollino National Park you'll find beech trees, rare plant and animal species such as the Loricato Pine and the Royal Eagle, Dolomite-like rock formations, glacial deposits, and countless cave systems. Within its borders, the Pollino National Park hosts many paleontology and archaeology sites, including the Romito Caves and the Mercure Valley, as well as sanctuaries, convents, castles, and historical centers of the original Albanian settlers from the 15th and 16th centuries.
The Cilento National Park is a lesser-known paradise of jagged coastline and inland hills that combine beautiful seas with green natural splendor. South of Salerno lies the Cilento, where you'll find small seaports, quaint fishing villages painted in a palatte of pastels, and time-worn hill towns resting amidst forested foothills. Natural landscapes and genuine hospitality are the hallmarks of the Cilento, which lies south of the famous Amalfi Coast but is a world away from the crowds and tourist shops. Here, you'll find street markets where locals shop and small stores for everyday life. The National Park of Cilento and Vallo di Diano houses many animal species. Their undisputed queen is undoubtedly the golden eagle that nests on the highest peaks. But other birds fly over the territory of the Park, including peregrine falcons, buzzards, sparrow hawk, owl and the owl. The territory is also inhabited by wolves, wild boars, foxes, martens, badgers, weasels and other mammals that bear witness to the progressive enrichment of the ecosystem of the Park of Cilento.
Day 12
Time to leave the west coast of Italy behind and cross back to our finish point in Bari on the east coast but not without a visit to Matera on-route. Considered one of the most interesting, unusual and memorable tourist destinations in Italy. In the remote southern region of Basilicata (also called Lucania), still little-visited by foreign travellers, it is a town famous for its extensive cave-dwelling districts, the sassi. The caves of Matera had been inhabited for centuries; some humble and some smarter residences, but by the early twentieth-century the area was a by-word for poverty. Until the 1950s hundreds of families were still living crowded into cave-houses here. The squalor and malaria-ridden conditions became a national scandal and finally the cave residents were moved – by law – to modern buildings on the plateau above. By the 1980s the abandoned caves of Matera were no longer scandalous, but fascinating reminders of the past. A few rather more well-to-do residents moved back and renovated old cave houses. In 1993 the town was made a UNESCO World Heritage site, for being "the most outstanding, intact example of a troglodyte settlement in the Mediterranean region, perfectly adapted to its terrain and ecosystem". And ever since, Matera has become steadily more popular as an off-the-beaten-track tourist destination. Matera (2019 European capital of culture) was the one of the filming locations for Mel Gibson's film The Passion of the Christ, with shots showing the sassi and the gorge below and the latest James Bond Film No Time to Die. 
Included:
Return transport of your motorcycle from our base in Gorey, Co. Wexford to Bari, Italy with option to join the tour without transport element.
B&B accommodation in quality 3-5 star hotels. Please note that in some more remote regions we may be using carefully selected guesthouses / accommodation or best available in the area. All accommodation is carefully selected considering quality, location, amenities and character.
6 evening meals
Tour guide(s)
Detailed route maps / itinerary etc. allowing some self-guiding if preferred.
Return ferry to / from Sicily
Not Included
Any travel costs to get to the start and from the finish point for the tour.
Personal travel, accident and medical insurance (covering matters such as medical expenses, repatriation, cancellation, curtailment, loss or damage to property)
Motorcycle insurance cover, motorcycle breakdown cover or recovery costs. Depending on your insurance provider, Green Card local insurance may need to be purchased at the various borders at a relaitively low cost of typically €10 – €20 per country. 
Entrance fees to sights and parks, optional local excursions or local activities, (except where stated)
Lunches or snacks (except where stated). Any meals whilst on board ferries. Evening meals on rest/optional ride out days.
Personal spending money, tips, souvenirs or other extras.
Personal documentation (eg visas, passport), vaccinations, personal taxes, border crossing fees, motorcycle documentation
Costs of motorcycle repair (parts, labour or other related costs), tyres
Fuel, oil & other motorcycle consumables
Toll road fees, traffic fines or other charges relating to breach of the law
Any other item not specifically included in the price.
As with all our guided tours we carefully select very good standard 3 – 5* hotels. Over the years we have built up a vast selection of tried and tested hotels around the world and we select hotels for their character and service rather than just on their star rating.  Hotel standards vary all over the world and a 4* in Africa or South America is not always the same as in Western Europe.
Pre trip we provide you with Tour Specific Information that gives you detailed information about how to prepare and plan your tour, and what to expect when on tour.  These are a few FAQ that many people have. If you have any further queries or concerns please do not hesitate to contact us.
What are the roads and driving like?
As with most countries in central Europe; the roads on this particular tour, while all paved, vary quite a bit. From sublime newly laid grippy asphalt to some narrower sections in the mountains. We try to avoid the busier main single carriage routes as much as possible and use rural less trafficked roads. As with most of Italy there can be the occasional kamikaze driver.
What bike is suitable to bring?
Generally speaking we recommend adventure or touring style motorcycles as the most suitable.  However, sport-touring and cruiser motorcycles may also be suitable subject to you being comfortable riding it for the distance / duration of the tour and considering the road conditions as described above.
What riding experience do I need?
Generally speaking we recommend all participants to be experienced tourers in Europe and/or beyond. Obviously, some destinations are easier than others, as classified by our difficulty ratings, and should you have concerns please do not hesitate to contact us. It is your responsibility to ensure your motorcycling skills are up to the requirements for this tour. Obviously advanced riding skills increase enjoyment factor and reduce risk.
Do I have to ride in a group?
No!  We do not make you ride in convoy and we offer you the freedom to decide how you would like to ride. However, we find most people prefer to ride with the group without the need to navigate. We use either the 'drop off' or 'buddy' systems when group riding (depending on country and complexity of navigation); these are tried and tested systems of group riding and allow riders to ride at their own pace. Full details are provided at pre-trip briefings. Daily departure times are set every evening for the following morning depending on the days route and points of interest. If you prefer to ride on your own, we provide you with a map and route cards with recommendations for lunch or coffee stops and hotel information. We offer a very flexible approach with an emphasis on maximum enjoyment.
Is this ride suitable for a passenger?
Yes. Pillion passengers should be experienced tourers / travellers. 
What is the average group size?
Our groups are normally between 8 – 14 riders (some riders will have passengers). Most riders are from the Ireland, but we do also have overseas riders who may take part. From time to time we may split into smaller groups depending on itinerary.
What documents do I need?
You will need your original documents as follows: 
Passport and Driving Licence.  Passengers only need their passport.  As a general rule, passports should be valid for at least 6 months after the end of the tour; however, this may be shorter in some European countries. 
If you are bringing your own motorcycle, you will also need your motorcycle registration document (RF101 / log book) and your motorcycle insurance.
In addition, you must have valid travel/medical insurance.
Visas as required Please ensure that you are fully aware of all passport and visa requirements and that you allow adequate time to obtain them.
We recommend an international driving permit available from: https://www.theaa.com/driving-advice/driving-abroad/idp Whilst driving permits are not always accepted or demanded they are handy to have! 
What will the weather be like?
Depending on season / time of year we will advise expected weather conditions in the pre-trip information and also suggest the most suitable gear based on our experience. It is imperative that tour participants have suitably adequate gear. Please note our tour calendar is carefully planned taking into account the most suitable seasons / local weather for the destination. However, as much as we would like, we cannot always guarantee the best weather. Particularly considering the un-predictable climates the world has been experiencing.
What about my health when I am abroad?
You need to be physically fit and healthy and also take the necessary health precautions.  It is essential for you to consult your doctor or travel clinic for up-to-date medical travel information prior of travel, particularly if you have a pre-existing medical condition. Please ensure that you are fully aware of all official travel advice, local customs, current affairs, travel requirements and medical/travel advice. Please check with your GP regarding recommended inoculations. 
Do I need Travel / Medical Insurance?
It is a condition of you travelling with us that you are adequately insured.  Your insurance policy must cover you for the costs of any medical expenses, medical treatment or repatriation needed, due to injury or illness on this trip, including those that occur whilst motorcycle touring, either as the rider or a passenger.  It is important that your insurance company understands that the main purpose of your trip is motorcycle touring, using your own large capacity cc motorcycle or a rental motorcycle.  Your insurance must cover you for the full duration of the trip and for all countries we travel through.
In addition, we strongly recommend that your insurance policy has cover for loss or damage to your personal belongings, delay at your outward or homeward point of departure, personal liability, overseas legal expenses and cancellation and curtailment. We do not refund your deposit simply because you failed to take out insurance in sufficient time. Some travel insurance policies do not cover motorcycle travel over a certain cc or for a prolonged duration.
Minimum Numbers
We require a minimum number of 8 riders on this tour.  If we do not have this number of bookings, then we reserve the right to cancel the tour.
Booking:
Overlanders may accept a booking online, via telephone or by email. To confirm a booking a deposit is required – once the deposit is received the booking is confirmed.
Payments & Fees:
A deposit is required at time of booking.
Guided tours – 50% required at least 60 days prior to the shipment / travel date.
All payments must be made in full at least 30 days prior to the shipment / travel date.
Cancellation/Amendments/Refund Policy:
Please note that all payments and deposits are non refundable nor transferrable if cancellation accrues within one month before the shipment / tour date.
Where possible we will try to accommodate any amendments you wish to make.
In the event of curtailment no refunds shall be made.
Refunds may be processed via the original method of payment, except for cash transactions where refunds will be provided by cheque.
Preparation for Shipping (if applicable)
All rider/pillion gear including boots and helmets should be packed into a kit/sports bag and labelled with the owners name, bike make/model and registration. One kit bag permitted per person.

Please note loose items or items tied onto the motorcycle will not be transported.
Bin liners, rubbish bags, cardboard boxes etc are not acceptable.

Motorcycles should be in a clean and presentable condition both for outbound and return shipments. If your motorcycle is considerably dirty post trip please wash it before returning it.
All Luggage (hard and soft panniers) should be left unlocked and removable from the motorcycle if necessary for transport purposes.
Alarms should be switched off or in "Ferry" mode for transport purposes.
Fuel level should be kept relatively low. All our depots are within a few km of fuel stations.
Keys for both the motorcycle and luggage should be left with the motorcycle.
At handover we will require a signed customs declaration form and a photocopy of the registration document / log book stapled together. Customs declaration from will be emailed pre-shipment. These should only be handed over in hard copy at time of delivery.

Do not email copies in advance.
We will not accept original copies of registration documents/log books.
Gallery