Transport, Guided Tour's, Rentals, Workshop & Service Department.
Transport Only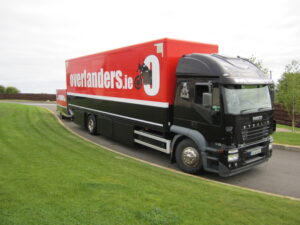 The aim of Overlanders is to provide a dedicated personal motorcycle transport service for motorcyclists travelling throughout Europe and beyond. We can provide return transport for your motorcycle, luggage and kit bag (riding gear) from our base in Gorey, Co. Wexford to any of the destinations listed in our calendar. All our handover locations in Europe are easily reached from the various airports. This allows you or your group to fly to your starting point, collect your motorcycle and depart on your trip the same day. At the end of your holiday you return your motorcycle to our base for transport back to Ireland. more info
Guided Tours
Along with our transport only option we also offer guided / package tours of the destinations listed in our calendar. Our guided tours are carefully researched and planned in choice locations allowing you to simply get off the plane, on the bike and enjoy the ride. more info
Workshop and Service Department
In an effort to provide a more 'complete package' to compliment our transport services we are now offering routine servicing, supply & fit, trip preparation of motorcycles including tyre fitment and free health checks. Our mechanic (the latest addition to the Overlanders team) is very well known and highly respected within the motorcycle industry.