Sorry we have no scheduled courses at the moment. Please contact us below.
Get in Touch
"Mountains, Rodeos, Stampedes, jaw dropping coastal scenery, vast National Parks, wildlife aplenty and the great outdoors… 
Western Canada is a final frontier and a fantastic motorcycling destination"
Introduction – Gigantic mountain ranges, roaring rivers, never-ending forests and remote highways!
Motorcycle riders love the extraordinary scenery through Canada's West. Why? It seems as if all of the pine tree forests, sparkling lakes and rivers and mountain ranges of the world can be found in the West of Canada.
The Canadian Rockies are located at the northern end of the North American Rocky Mountain Range and run through two of Canada's provinces: Alberta and British Columbia. However, towns like Jasper or Banff will make you feel like you're in the Great White North. The famous Icefields Parkway with its snow-capped mountaintops is surrounded by beautiful blue water and enormous glaciers and also Mount Robson, the highest peak in the Canadian Rockies.
Not only does this part of North America offer excellent sightseeing, but the curving roads and the beautiful scenery will make it difficult for you to distinguish dream from reality – not surprising in this paradise!
With 'less is more' being the basis for this particular tour we indulge in the very best the regions have to offer in terms of scenery, cuisine and local hospitality. The tour incorporates some very well-known holiday destinations along with some lesser known hidden gems.
Key Information
Start / Finish Location
Vancouver, British Columbia
Duration
15 Days / 16 Nights
Distance
3000km
Riding Difficulty
Moderate
Culture Shock
Low
Pillion Supplement
€1750
Single Room Supplement
€750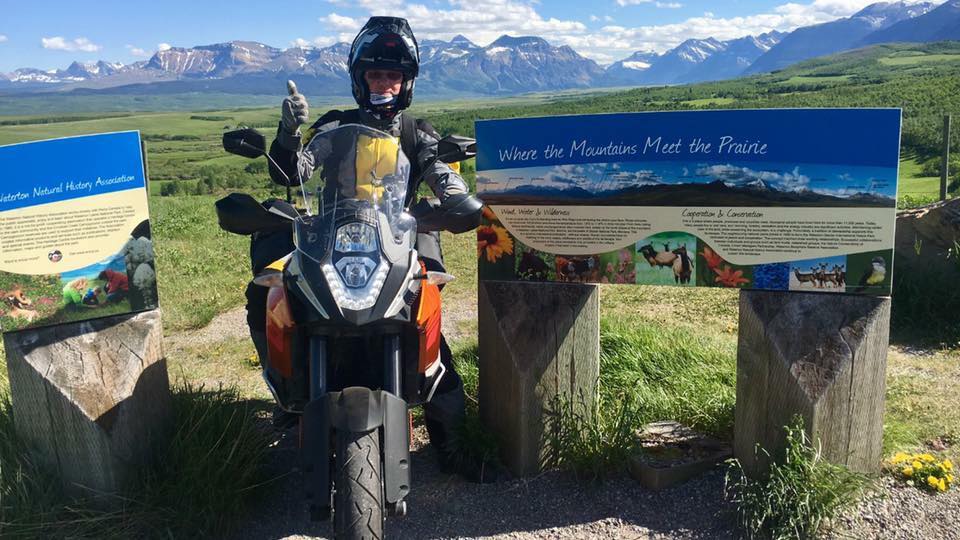 More Information
Vancouver Island
Campbell River | Mount Washington Alpine Resort | Tofino | Hot Springs Cove | Victoria
Discover an ocean-carved land of extremes ranging from mild to wild, cultured to life-affirmingly raw. Ride through majestic wilderness parks and Alpine Resorts. Marvel at orcas, black bears and the sheer abundance of furred, feathered and finned wildlife. Gaze at distant snow-capped mountains while splashing barefoot along softly curving beaches. That's Vancouver Island and that's why it's on our itinerary.
The Island stretches for 460 kilometres, from the ornate colonial capital of Victoria in the south to Cape Scott's windswept beaches and rocky headlands at its northern tip. Along with the Gulf Islands, this rugged paradise combines old-growth forests, snow-capped mountains, and untamed shorelines to create one of the planet's most diverse ecosystems. Experience world-class whale watching, bird watching and fishing or just let your worries drift away in the waves of the Pacific.
It's all about National Parks…. Mount Robson, Banff & Jasper National Parks and Icefields Parkway
Mount Robson is considered the most prominent mountain in North America's Rocky Mountain range and is the highest point in the Canadian Rockies located entirely within the UNESCO World Heritage Site of Mount Robson Provincial Park. Neighbouring Jasper National Park in Alberta is the largest in the Canadian Rockies and contains some of the Columbia Icefield as does Banff National Park. Both Jasper and Banff National Parks are connected by, what is widely considered as one of the world's most scenic mountain routes, the Icefields Parkway or Highway 93; a 230km long mountain road running through the heart of both national parks.
Lake Louise
Lake Louise is world famous for its turquoise lakes, the Victoria Glacier, soaring mountain backdrop, palatial hotel, and incredible hiking and skiing. Surrounded by a lifetime's worth of jaw-dropping sights and adventures, Lake Louise is a rare place that must be experienced to be believed.
Calgary Stampede
We've deliberately scheduled this tour to coincide with the infamous Calgary Stampede; an annual rodeo, exhibition, and festival held every July in Calgary, Alberta, Canada. Organized by thousands of volunteers and supported by civic leaders, the Calgary Stampede has grown into one of the world's richest rodeos, one of Canada's largest festivals, and a significant tourist attraction for the city.
The ten-day event, which bills itself as "The Greatest Outdoor Show on Earth", attracts over one million visitors per year and features one of the world's largest rodeos, a parade, midway, stage shows, concerts, agricultural competitions, chuckwagon racing, and First Nations exhibitions.
The event's roots are traced to 1886 when the Calgary and District Agricultural Society held its first fair. In 1912, American promoter Guy Weadick organized his first rodeo and festival, known as the Stampede. He returned to Calgary in 1919 to organize the Victory Stampede in honour of soldiers returning from World War I. Weadick's festival became an annual event in 1923 when it merged with the Calgary Industrial Exhibition to create the Calgary Exhibition and Stampede.
Other Highlights include:
Whale watching in Tofino, Yellowhead Highway, South Thompson River, Lake Louise, The Continental Divide, Takkakwa Falls, Golden Pass, Rogers Pass, Ainsworth Hot Springs, Rock Creek, Whistler, Campbell River-Alert Bay (Comorant Island)
Included:
Motorcycle Rental with choice of BMW R1250GS, R1200GS, F700GS Low, CRF1000 Africa Twin, Suzuki V-Strom 650, Honda CBF500FA or similar (surcharges apply depending on model)
B&B accommodation in quality 3-4 star hotels.
Tour guide(s)
Detailed route maps / itinerary etc. allowing some self-guiding if preferred.
Return ferry to/from Corsica
Not Included
Rental Deposit
Any travel costs to get to the start and from the finish point for the tour.
Personal travel, accident and medical insurance (covering matters such as medical expenses, repatriation, cancellation, curtailment, loss or damage to property)
Motorcycle insurance cover, motorcycle breakdown cover or recovery costs
Entrance fees to sights and parks, optional local excursions or local activities, (except where stated)
Lunches, evening meals or snacks (except where stated). Any meals whilst on board ferries. Evening meals on rest/optional ride out days.
Personal spending money, tips, souvenirs or other extras.
Personal documentation (eg visas, passport), vaccinations, personal taxes, border crossing fees, motorcycle documentation
Costs of motorcycle repair (parts, labour or other related costs), tyres
Fuel, oil & other motorcycle consumables
Toll road fees, traffic fines or other charges relating to breach of the law
Any other item not specifically included in the price.
Hotels
As with all our guided tours we carefully select very good standard 3 or 4* hotels. Over the years we have built up a vast selection of tried and tested hotels around the world and we select hotels for their character and service rather than just on their star rating.  Hotel standards vary all over the world and a 4* in Africa or South America is not always the same as in Europe. In some more remote locations, we may use equivalent 3* hotels or the best available in the area, which could be a more family run establishment, with local character.
Pre trip we provide you with Tour Specific Information that gives you detailed information about how to prepare and plan your tour, and what to expect when on tour.  These are a few FAQ that many people have. If you have any further queries or concerns please do not hesitate to contact us.
What bike is suitable to bring?
Generally speaking we recommend adventure or touring style motorcycles as the most suitable.  However, sports, sport-touring and cruiser motorcycles may also be suitable subject to you being comfortable riding it for the distance and duration of the tour and that it has been properly prepared and adequately serviced with good tyres.
What riding experience do I need?
Generally speaking we recommend all participants to be experienced tourers in Europe and/or beyond. Obviously, some destinations are easier than others, as classified by our difficulty ratings, and should you have concerns please do not hesitate to contact us. It is your responsibility to ensure your motorcycling skills are up to the requirements for this tour. Obviously advanced riding skills increase enjoyment factor and reduce risk.
Do I have to ride in a group?
No!  We do not make you ride in convoy and we offer you the freedom to decide how you would like to ride. However, we find most people prefer to ride with the group without the need to navigate. We use either the 'drop off' or 'buddy' systems when group riding (depending on country and complexity of navigation); these are tried and tested systems of group riding and allow riders to ride at their own pace. Full details are provided at pre-trip briefings. Daily departure times are set every evening for the following morning depending on the days route and points of interest. If you prefer to ride on your own, we provide you with a map and route cards with recommendations for lunch or coffee stops and hotel information. We offer a very flexible approach with an emphasis on maximum enjoyment.
Is this ride suitable for a passenger?
Yes. Pillion passengers should be experienced tourers / travellers. 
What is the average group size?
Our groups are normally between 8 – 14 riders (some riders will have passengers). Most riders are from the Ireland, but we do also have overseas riders who may take part.
What documents do I need?
You will need your original documents as follows: 
Passport and Driving Licence.  Passengers only need their passport.  As a general rule, passports should be valid for at least 6 months after the end of the tour; however, this may be shorter in some European countries. 
If you are bringing your own motorcycle, you will also need your motorcycle registration document (RF101 / log book) and your motorcycle insurance.
In addition, you must have valid travel/medical insurance.
Visas as required Please ensure that you are fully aware of all passport and visa requirements and that you allow adequate time to obtain them.
What will the weather be like?
Depending on season / time of year we will advise expected weather conditions in the pre-trip information and also suggest the most suitable gear based on our experience. It is imperative that tour participants have suitably adequate gear. Please note our tour calendar is carefully planned taking into account the most suitable seasons / local weather for the destination. However, as much as we would like, we cannot always guarantee the best weather. Particularly considering the un-predictable climates the world has been experiencing.
What about my health when I am abroad?
You need to be physically fit and healthy and also take the necessary health precautions.  It is essential for you to consult your doctor or travel clinic for up-to-date medical travel information prior of travel, particularly if you have a pre-existing medical condition. Please ensure that you are fully aware of all official travel advice, local customs, current affairs, travel requirements and medical/travel advice. Please check with your GP regarding recommended inoculations. 
Do I need Travel / Medical Insurance?
It is a condition of you travelling with us that you are adequately insured.  Your insurance policy must cover you for the costs of any medical expenses, medical treatment or repatriation needed, due to injury or illness on this trip, including those that occur whilst motorcycle touring, either as the rider or a passenger.  It is important that your insurance company understands that the main purpose of your trip is motorcycle touring, using your own large capacity cc motorcycle or a rental motorcycle.  Your insurance must cover you for the full duration of the trip and for all countries we travel through.
In addition, we strongly recommend that your insurance policy has cover for loss or damage to your personal belongings, delay at your outward or homeward point of departure, personal liability, overseas legal expenses and cancellation and curtailment. We do not refund your deposit simply because you failed to take out insurance in sufficient time. Some travel insurance policies do not cover motorcycle travel over a certain cc or for a prolonged duration.
Minimum Numbers
We require a minimum number of 8 riders on this tour.  If we do not have this number of bookings, then we reserve the right to cancel the tour.
Booking:
Overlanders may accept a booking online, via telephone or by email. To confirm a booking a deposit is required – once the deposit is received the booking is confirmed.
Payments & Fees:
A deposit is required at time of booking.
Guided tours – 50% required at least 60 days prior to the shipment / travel date.
All payments must be made in full at least 30 days prior to the shipment / travel date.
Cancellation/Amendments/Refund Policy:
Please note that all payments and deposits are non refundable nor transferrable if cancellation accrues within one month before the shipment / tour date.
Where possible we will try to accommodate any amendments you wish to make.
In the event of curtailment no refunds shall be made.
Refunds may be processed via the original method of payment, except for cash transactions where refunds will be provided by cheque.
Gallery