Sorry we have no scheduled courses at the moment. Please contact us below.
Get in Touch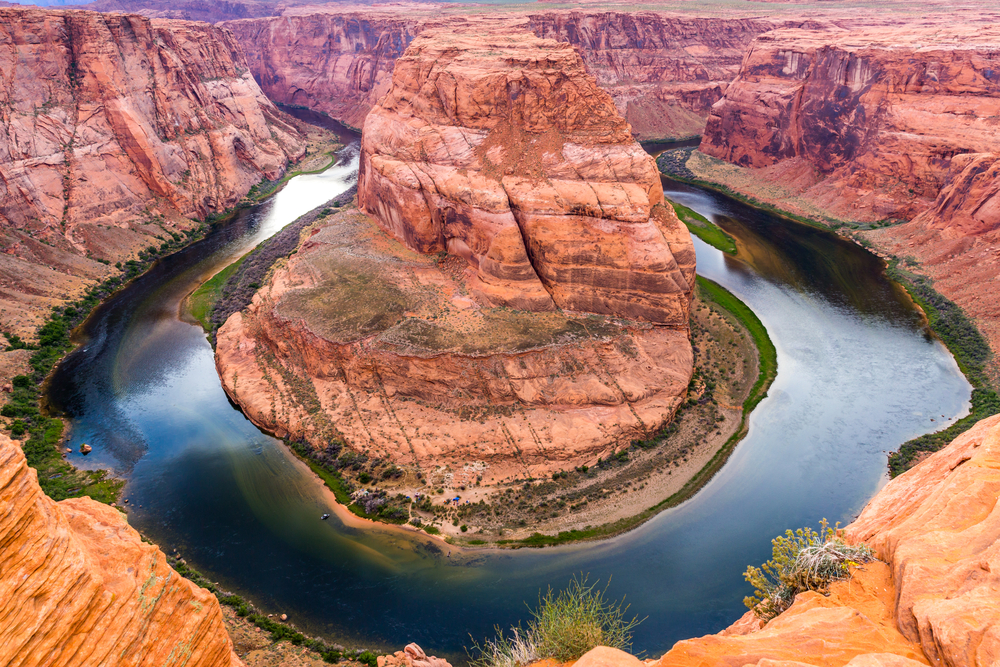 Grab the leading role in your own western and relive those classic John Wayne moments – this is a "once in a lifetime" bucket list motorcycle tour designed to encapsulate the very best of the Southern Midwest USA… a.k.a. THE WILD WEST
Picture yourself riding a motorcycle around one of the most iconic regions of the United States, the Southern Midwest. Open roads, vast skies, red canyons, and desert views that remind us of the old Western movies we grew up watching. Ride through Navajo and Apache lands, stop off at frontier towns and gaze down on the grandest canyon of them all. Our USA Wild West tour is designed to introduce you to an All-American experience, one that will surely be forever cherished once the trip is over. Each day on this tour is packed full of twisty little roads and long-forgotten places that will make you believe you are traveling back in time – it's the ultimate 2 week itinerary!
Too many motorcycle tour itineraries in the US are guilty of trying to squeeze too much in to a short time frame and merely pass through; ticking boxes rather than exploring the locations in detail both on and off the beaten track.
Highlights include:
The bright lights of Las Vegas
Valley of Fire
National Parks such as Zion, Bryce Canyon, Capitol Reef, Canyonlands, Arches, Grand Canyon plus many more
Moab – an adventurer's paradise
The mighty Colorado River
Million Dollar Highway
4 corners monument 
Valley of the Gods
Monument Valley
Route 66 (the best part)
Mojave Desert
Furnace Creek
Death Valley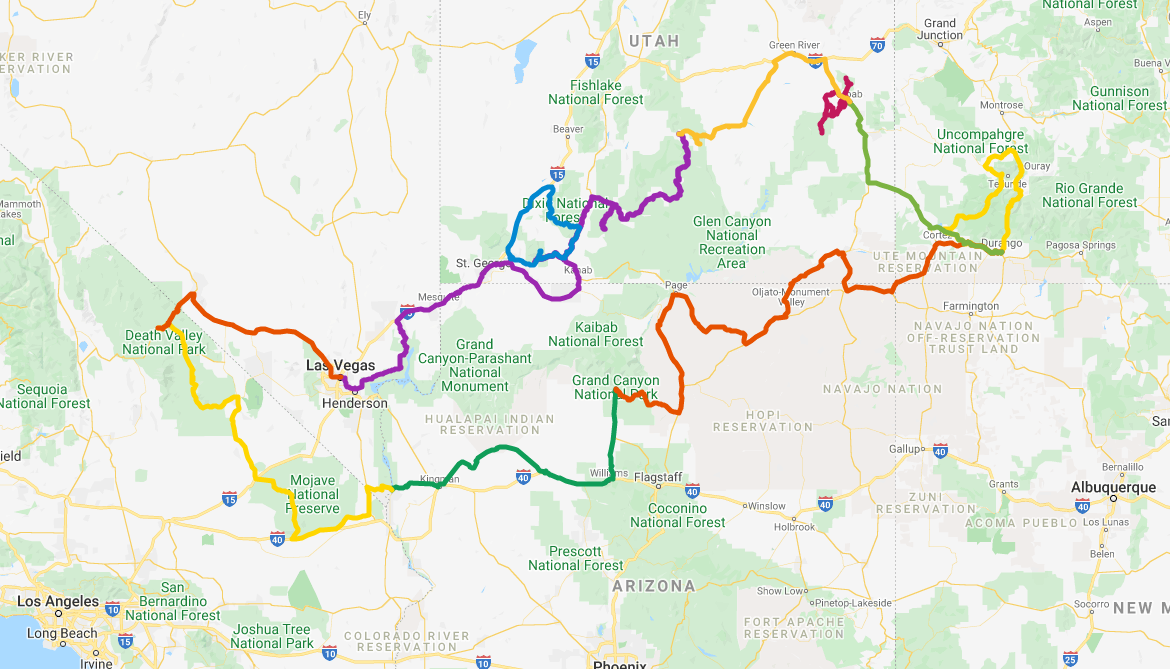 Key Information
Start / Finish Location
Las Vegas, Nevada
States Visited
Nevada, Utah, Colorado, Arizona, California
Duration
14 Days & 15 Nights
Riding Difficulty
Easy / Moderate
Culture Shock
Low
Pillion Suppl.
€1800
Single Room Suppl.
€1500
Incl. BMW F750 GS
See below
R1250GS upgrade
€250
Motorcycles available
See below
Insurance
See below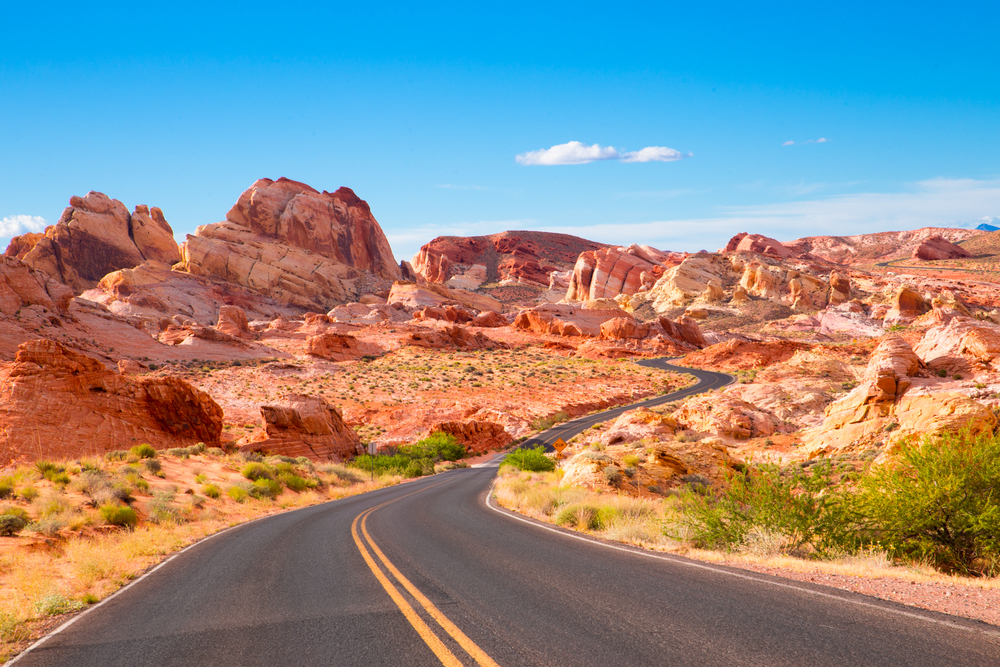 More Information
Detailed itinerary to follow and may be subject to change.
Participants should arrive in Las Vegas on or before 18th May and depart on or after 2nd June (accommodation included in Vegas on 18th May and 1st June)
Day 1 – Las Vegas to Springdale
Leaving the bright lights of Las Vegas behind us we head northeast in search of the Valley of Fire. As soon as we leave the city you'll know already that its going to be an all-American road trip. Our destination tonight is Springdale, Utah – at the entrance to Zion National Park.​
Day 2 – Springdale (local rideout – optional)
Strategically located for a day of local exploration in Zion National Park, North to Cedar Breaks National monument, Cedar City or south to the North Rim of the Grand Canyon. 
In a state filled with dramatic scenery that stretches to the horizon and seemingly endless bucket list adventures, Zion National Park is the crown jewel of Utah's five iconic national parks. Zion's landscape is filled with rainbow-colored rock layers chiselled into sharp peaks, high mesas, and deep, twisting canyons. It's a place so hauntingly beautiful that you will never forget the silence of Zion's sandstone cathedrals, the light reflecting off the slot canyons, the rushing Virgin River, or the architect of its cliffs and canyons.
Everyone should visit Zion at least once in their lifetime to hike its trails, wade through canyon waters, and watch deer graze in open meadows. Named by early settler Isaac Behunin in 1863, Zion remains true to its name – the Promised Land and a place of refuge.
Day 3 – Springdale to Torrey
First on the agenda today is Bryce Canyon as we travel further northeast in Utah. The geologic features of Bryce Canyon known as "hoodoos" attract millions of visitors every year. The National Park is famous for the largest collection of hoodoos in the world. While the patterns and clusters of hoodoos are aesthetically appealing and visually striking, the story of how they came to be is equally as intriguing.
Day 4 – Torrey to Moab
Our journey today takes us through Capitol Reef National Park in the heart of red rock country, east to Hanksville, before turning northeast (to our most northerly point of the tour at Green River) before arriving at Moab on the Colorado River.
Day 5 – Moab (local rideout – optional)
Located on the banks of the Colorado River and between the US's most visited national parks of Arches & Canyonlands – Moab is the perfect base for a days exploration of cowboy country. Moab is an adventure hub for many different outdoor activities.  
Day 6 – Moab to Durango, Colorado
Today see's us travel southeast to Colorado – a state of continuous curves, crystal clear lakes, cliffs and canyons. River canyons and twisty secondary roads are the main attractions for a good part of the day. Clear mountain air, the smell of alpine forests and abundant wildlife make for an exhilarating ride – stark contrast to the deserts and canyonlands of Utah and Arizona.
Day 7 – Durango (optional local rideout)
Strategically located for a days exploration in the San Miguel & San Juan mountains, along the 100km Million Dollar Highway, over the 3,300m high Red Mountain Pass & into the Navajo basin. We will also stop at the quaint little towns of Ouray and Silverton along the way.
Day 8 – Durango to Monument Valley
Monument Valley, where the west was won (at least in the movies) with its stark landscape, shifting red sands and sandstone buttes with names such as The Mittens, Totem Pole and Ear of the Wind (to mention a few) have seen John Wayne and Clint Eastwood save the day – no other place quite so encapsulates the Wild West. In the afternoon, we turn south to visit Valley of the Gods, a 17-mile loop through out-of-this-world scenery that is sure to leave you speechless. 
Day 9 – Monument Valley to Grand Canyon
What more is there to say. After visiting Monument Valley in the morning, we will take on the road to Page, Arizona, passing by the famous Horseshoe Bend after lunch for some must-have photo souvenirs. The afternoon will have us riding through beautiful landscapes while we make our way to the south entrance of Grand Canyon.
Day 10 – Grand Canyon (optional local rideout)
It's all in the name – the grandest canyon of them all. A rest day is highly recommended and you will be hard pressed to choose an activity. You can hike on many different trails, from easy to challenging ones; ride a mule along the canyon rim; or just let time pass by while contemplating this majestic display of steep canyons formed by millions of years of natural forces. Make sure the camera is ready!
Day 11 – Grand Canyon to Laughlin
It's time to take on Route 66 – there's very little of the original route left but our ride to Laughlin via Williams, Selligman and Kingman ranks amount the very best and we will see plenty of real 'Americana' in picturesque road stops and charming old-time motels.
Day 12 – Laughlin to Death Valley
If a road trip through the Mojave Desert and Furnace Creek on route to Death Valley doesn't tickle the imagination then there's little hope.
Day 13 – Death Valley (optional local rideout)
If you dare… We will spend the day riding around the Death Valley, exploring out-of-this-world views and experiencing the beauty of one of Earth's most desolated landscapes. Obviously you could also just spend the day relaxing in the surreal surroundings.
Day 14 – Death Valley to Las Vegas
Today see's us leaving Death Valley and returning to the bright lights in the middle of the desert and back to our starting point of this amazing adventure. Fancy extending your trip? a few days in LV is very highly recommended!
Included:
BMW F750GS rental motorcycle (less than 12 months old) with 3 piece luggage.

BMW R1250GS upgrade supplement €250
Other makes / models available incl. BMW R1250RT, K1600, Harley Ultra, Street Glide, Heritage Softail – subject to availability with price on application. 

B&B accommodation in quality selected hotels.
4 evening meals. 
Tour guide(s) & support
Detailed route maps / itinerary etc. allowing some self-guiding if preferred
Not Included
Any travel costs to get to the start and from the finish point for the tour.
Personal travel, accident and medical insurance (covering matters such as medical expenses, repatriation, cancellation, curtailment, loss or damage to property)
Rental Liability Insurance and insurance excess reduction to a maximum of $500 – €625 supplement 
Entrance fees to sights and parks, optional local excursions or local activities, (except where stated)
Lunches or snacks (except where stated). Any meals whilst on board ferries. Evening meals on rest/optional ride out days or days not listed.
Personal spending money, tips, souvenirs or other extras.
Personal documentation (eg visas, passport), vaccinations, personal taxes, border crossing fees, motorcycle documentation
Fuel, oil & other motorcycle consumables
Toll road fees, traffic fines or other charges relating to breach of the law
Any other item not specifically included in the price.
As with all our guided tours we carefully select very good standard 3 or 4* hotels. Over the years we have built up a vast selection of tried and tested hotels around the world and we select hotels for their character and service rather than just on their star rating.  Hotel standards vary all over the world and a 4* in Africa or South America is not always the same as in Europe. In some more remote locations, we may use equivalent 3* hotels or the best available in the area, which could be a more family run establishment, with local character.
Pre trip we provide you with Tour Specific Information that gives you detailed information about how to prepare and plan your tour, and what to expect when on tour.  These are a few FAQ that many people have. If you have any further queries or concerns please do not hesitate to contact us.
What bike is suitable ?
Generally speaking we recommend adventure or touring style motorcycles as the most suitable. However, sport-touring and cruiser motorcycles may also be suitable subject to you being comfortable riding it for the distance and duration of the tour.
What riding experience do I need?
Generally speaking we recommend all participants to be experienced tourers in Europe and/or beyond. Obviously, some destinations are easier than others, as classified by our difficulty ratings, and should you have concerns please do not hesitate to contact us. It is your responsibility to ensure your motorcycling skills are up to the requirements for this tour. Obviously advanced riding skills increase enjoyment factor and reduce risk.
Do I have to ride in a group?
No!  We do not make you ride in convoy and we offer you the freedom to decide how you would like to ride. However, we find most people prefer to ride with the group without the need to navigate. We use either the 'drop off' or 'buddy' systems when group riding (depending on country and complexity of navigation); these are tried and tested systems of group riding and allow riders to ride at their own pace. Full details are provided at pre-trip briefings. Daily departure times are set every evening for the following morning depending on the days route and points of interest. If you prefer to ride on your own, we provide you with a map and route cards with recommendations for lunch or coffee stops and hotel information. We offer a very flexible approach with an emphasis on maximum enjoyment.
Is this ride suitable for a passenger?
Yes. Pillion passengers should be experienced tourers / travellers. 
What is the average group size?
Our groups are normally between 8 – 14 riders (some riders will have passengers). Most riders are from the Ireland, but we do also have overseas riders who may take part.
What documents do I need?
You will need your original documents as follows: 
Passport and Driving Licence.  Passengers only need their passport.  As a general rule, passports should be valid for at least 6 months after the end of the tour; however, this may be shorter in some European countries. 
In addition, you must have valid travel/medical insurance.
Visas as required Please ensure that you are fully aware of all passport and visa requirements and that you allow adequate time to obtain them.
What will the weather be like?
Depending on season / time of year we will advise expected weather conditions in the pre-trip information and also suggest the most suitable gear based on our experience. It is imperative that tour participants have suitably adequate gear. Please note our tour calendar is carefully planned taking into account the most suitable seasons / local weather for the destination. However, as much as we would like, we cannot always guarantee the best weather. Particularly considering the un-predictable climates the world has been experiencing.
What about my health when I am abroad?
You need to be physically fit and healthy and also take the necessary health precautions.  It is essential for you to consult your doctor or travel clinic for up-to-date medical travel information prior of travel, particularly if you have a pre-existing medical condition. Please ensure that you are fully aware of all official travel advice, local customs, current affairs, travel requirements and medical/travel advice. Please check with your GP regarding recommended inoculations. 
Do I need Travel / Medical Insurance?
It is a condition of you travelling with us that you are adequately insured.  Your insurance policy must cover you for the costs of any medical expenses, medical treatment or repatriation needed, due to injury or illness on this trip, including those that occur whilst motorcycle touring, either as the rider or a passenger.  It is important that your insurance company understands that the main purpose of your trip is motorcycle touring, using your own large capacity cc motorcycle or a rental motorcycle.  Your insurance must cover you for the full duration of the trip and for all countries we travel through.
In addition, we strongly recommend that your insurance policy has cover for loss or damage to your personal belongings, delay at your outward or homeward point of departure, personal liability, overseas legal expenses and cancellation and curtailment. We do not refund your deposit simply because you failed to take out insurance in sufficient time. Some travel insurance policies do not cover motorcycle travel over a certain cc or for a prolonged duration.
Minimum Numbers
We require a minimum number of 8 riders on this tour.  If we do not have this number of bookings, then we reserve the right to cancel the tour.
Booking:
Overlanders may accept a booking online, via telephone or by email. To confirm a booking a deposit is required – once the deposit is received the booking is confirmed.
Payments & Fees:
A deposit is required at time of booking.
Guided tours – 50% required at least 60 days prior to the shipment / travel date.
All payments must be made in full at least 30 days prior to the shipment / travel date.
Cancellation/Amendments/Refund Policy:
Please note that all payments and deposits are non refundable nor transferrable if cancellation accrues within one month before the shipment / tour date.
Where possible we will try to accommodate any amendments you wish to make.
In the event of curtailment no refunds shall be made.
Refunds may be processed via the original method of payment, except for cash transactions where refunds will be provided by cheque.
Gallery