Sorry we have no scheduled courses at the moment. Please contact us below.
Get in Touch
You can feel more relaxed, more welcome here than in almost any other country in the world. Ireland is famous for its atmosphere, with good reason.
Introduction – Our little green Island in the North Atlantic and home to the world's longest defined coastal touring route at approximately 2,500km; the Wild Atlantic Way is a sensational journey of soaring cliffs and buzzing towns and cities, of hidden beaches and epic bays. This tour is designed to take in some of the very best this little country has to offer with a perfect mix of breath-taking scenery, excellent biking, lively towns, ancient history and a fantastic cultural experience Ireland is famed for. It's true the Irish are great international travellers but one thing that has become very apparent, from our previous tours and weekends away in Ireland, is how many hiddem gems, off the beaten track, people have never heard of or seen before; even from people who thought they knew and had travelled all of Ireland! 
Key Information
Start Location
Kinsale, Co. Cork
Finish Location
Clifden, Co. Galway
Duration
7 days & 8 nights
Distance
circa 1,500km
Pillion Supplement
€650
Single Supplement
€250
Rental Motorcycles Available
Yes. Please contact us for a quote.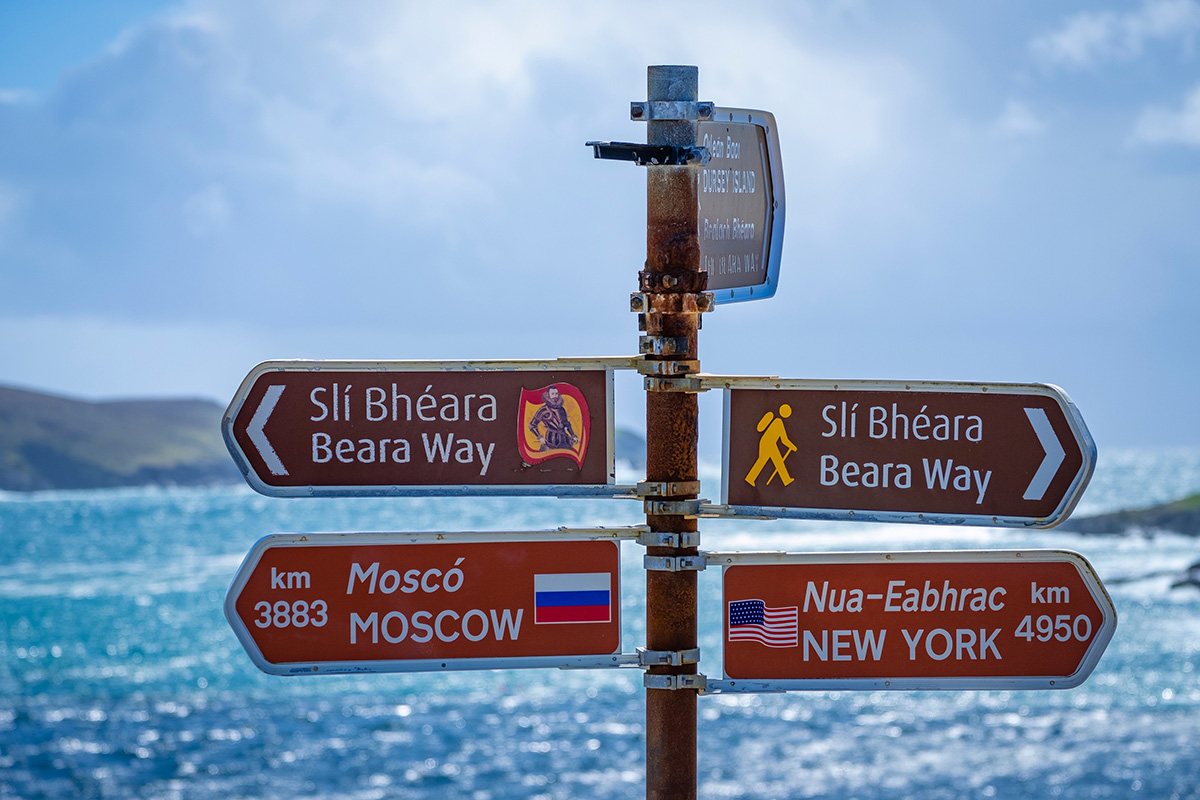 More Information
Highlights
The Haven Coast – where nature sets the pace
The southernmost stretch of the Wild Atlantic Way zigzags gently, from Kinsale through Skibbereen and on to dreamy Bantry Bay. Past gardens lush with sub-tropical plants. Between hedgerows thick with fuschia and monbretia. By hundreds of inlets, tiny coves, safe harbours and Blue Flag beaches, just right for long days spent in the salty air… beachcombing, island-hopping, whale-watching, learning to sail, kayaking on a saltwater lake in the moonlight, or simply enjoying a pint on the quayside while the fishing boats land their catch.
There's something restorative about the temperate Gulf Stream climate, the peaceful vibe and creative scene. There's West Cork's wonderful artisan food. Thriving arts and crafts. Scores of festivals – music, film, stories, food. And history, echoing all along this coast: ancient sites, coastal forts, Michael Collins' home town, the wreck of the Lusitania, and – out on the horizon – 'Ireland's tear drop' the Fastnet Rock.
Southern Peninsulas – Memorable experiences in Ireland's far south west and the edge of the world
In Ireland's beautiful far South West – where the ancient Kingdom of Kerry meets wild West Cork – five great peninsulas with mountainous spines stretch miles out into the ocean. This is great walking country, with long-distance trails and circular routes across the region. Hugging the coast, or crossing Ireland's highest mountains, breath-taking views unfold at every turn. It's the furthest west in all Ireland: "next parish Manhattan", they say here. And there's a distinctly edge-of-the-world feel to the Southern Peninsulas, as both the mainland and everyday life are left far behind.
You could find yourself paddle-boarding with dolphins, landing on a deserted archipelago once home to Ireland's greatest born-storytellers, taking a cable car with the ocean crashing below, sailing to a World Heritage Site named in Lonely Planet Best In Travel 2017's top 10 regions to visit, visiting an abandoned copper mine, or star-gazing under Ireland's darkest skies. Memorable – sometimes life-changing – experiences are ahead.
The Cliff Coast – Hard Land, Warm Hearts – Beauty & Tradition spans the North Kerry Coast through Clare and Galway
"The land is hard, the soul is not" says the Lonely Planet about the Cliff Coast … where ice-age landscapes meet west-coast warmth, and music is a way of life.
It's a place for clifftop walks, island-hopping, traditional pubs … and soul-stirring views: rainbows in the ocean spray along the Loop Head Drive; colonies of puffins on the sheer Cliffs of Moher; bottlenose dolphins in the mouth of the Shannon; and the view of Clare's mountains from Kerry's Cliffs of Dooneen.
Then there's the otherworldly Burren – a vast limestone pavement rich with rare flora, crossed by ancient green roads. And down to the Flaggy Shore, described by Seamus Heaney in his much-loved poem Postcript as a place that can "catch the heart off guard and blow it open". Enough said?
The Bay Coast – a fresh air playground
From the crystal waters of distant Erris to the "savage beauty" of much-loved Connemara, the Wild Atlantic Way skims south around some impressive bays.
The largest of these – Clew Bay – is said to have 365 islets and islands, one for every day of the year. Connemara means "inlets of the sea" in Irish, and here water and land merge in a lacy shoreline of loughs, coves, islands and sea-swept blanket bogs.
The Bay Coast is a salty fresh-air playground, with its dazzling beaches and Blueway trails, and where people come to kayak, kiteboard, paraglide, swim and dive. Riders trek across the sands on sure-footed Connemara ponies. Cyclists follow the Great Western Greenway – one of the world's most scenic cycleways and walkers climb the sacred Croagh Patrick mountain and Twelve Bens range but motorcyclists have the best fun of all!
And with Wild Nephin Ballycroy National Park's stunning 15,000+ hectares to roam, there's plenty for nature lovers, wildlife spotters and even stargazers too.
There's history and culture too: from elegant Georgian Westport to the Clare Island stronghold of legendary pirate queen Grace O'Malley, and onward toward Connemara's coarse and captivating Derrigimlagh Bog – a mosaic of tiny lakes and peat, where the first transatlantic flight landed. And looking west across the great sweep of Galway Bay, you can watch the sun go down behind the Gaeltacht Aran Islands before spending a night in the City of the Tribes itself
Itinerary – Please note this is an outline itinerary and may be subject to change.
Day 1 – Arrival
Please note arrival time should be arranged circa 3 pm to allow time to meet the Overlanders team and check in to the hotel. The afternoon and evening time will used for meeting other tour participants, welcome & pre trip briefing and of course an opportunity to explore the picturesque, historic port and fishing town of Kinsale – an idyllic starting point for our journey along the Haven Coast.
Day 2 – Kinsale, Co. Cork to Glengarriff, Co. Cork
Today see's us commencing our journey along the Wild Atlantic Way noted by the way the landscape begins to break up and the edges of the land become ragged, splitting apart into 5 great peninsulas jutting out into the mighty Atlantic Ocean. We'll also pass through lively and sleepy villages with beautiful bays and estuaries before visiting Mizen Head – Ireland's Southernmost point with its impressive vertical cliffs
Day 3 – Glengarriff to Glengarriff
Optional rest day or ride out on the Beara and Iveragh Peninsula's. The Beara Peninsula is easily one of our favourites in South West Ireland with the Healy Pass and Dursey Island Cable car. Easily a top highlight of the tour.
Day 4 – Glengarriff, Co. Cork to Dingle, Co. Kerry
More of the Iveragh Peninsula today including, Killarney National Park, Molls Gap and the world-famous Ring of Kerry circumnavigating the mighty Macgillycuddy Reeks and Ireland's highest mountain, Carrauntoohil, before turning north in search of Inch Beach and the Dingle Peninsula. The Dingle Peninsula is regarded as the connoisseur's choice of the five peninsulas of southwest Ireland. Here are beautiful sandpits, beaches, and mountains, and Ireland's greatest concentration of early Christian sites – not to mention the laid-back charm of Dingle town. Insider tip: Ask some of the locals if they know some good Keryman jokes.
Day 5 – Dingle Rest Day with optional rideout
Day 6 – Dingle, Co. Kerry to West Clare.
Departing the Dingle Peninsula, we traverse the spectacular Conor Pass before crossing the mouth of the Shannon River by ferry and into Co. Clare. The Conor Pass is one of the highest mountain passes in Ireland, and provides the most dramatic and scenic way of crossing from the south to north coast of the Dingle Peninsula. The views from the road are breath-taking, with a glaciated landscape of mountains, corrie lakes and a broad sweeping valley spread out below. Co. Clare is best known for three things; wild traditional music, a spectacular coast that is fractured and battered by the Atlantic and of course the laid-back approach to life. Our route see's us pass through the old seaside towns of Kilrush and Kilkee before reaching our destination at Doolin for an evening of traditional Irish music and craic. Pub-going in the west of Ireland is an activity as natural as breathing.
Day 7 – West Clare to Clifden, Co. Galway
Today we have an opportunity to visit the magnificent Cliffs of Moher in the Burren National Park. The Burren region of north County Clare is a remarkable and haunting place. Among its bare grey hills lie hidden ancient tombs, churches, dwellings and ring forts in a bleak setting with Ireland's richest flora. Passing Galway City we enter Connemara and no region is more steeped in the romance of harshly beautiful, remote and alluring countryside. We will also visit the site where the first nonstop transatlantic flight landed in 1919.
Day 8 – Clifden to Clifden
Optional rest day or ride out around Connemara. Leaving Clifden we head north visiting the Connemara National Park Visitor Centre and Kylemore Abbey; deservedly one of Irelands most photographed buildings. Further north we have an option to visit Westport on the shores of one of the most beautiful bays in Ireland, Clew Bay spattered with over 300 islands and dominated on the south by the cone of Croagh Patrick; a destination of one of the world's greatest Christian pilgrimages.
Note: This tour is designed for participants using their own motorcycles. Rental Motorcycles are available such as BMW R1250GS, F750GS or Honda CRF1100 Adv Sports – please contact us for pricing and availability.
Included in this tour:
B&B accommodation in high quality hotels (including arrival night)
4 evening meals
Tour guide(s)
Ferry crossing
Not included:
Fuel, tolls, lunches, local attraction entry fees & anything not listed above.
As with all our guided tours we carefully select very good standard 3 – 5* hotels. Over the years we have built up a vast selection of tried and tested hotels around the world and we select hotels for their character, facilities and service rather than just on their star rating.  Hotel standards vary all over the world and a 4* in Africa or South America is not always the same as in Western Europe.
Pre trip we provide you with Tour Specific Information that gives you detailed information about how to prepare and plan your tour, and what to expect when on tour.  These are a few FAQ that many people have. If you have any further queries or concerns please do not hesitate to contact us.
What are the roads and driving like?
As with most countries in central Europe; the roads on this particular tour, while all paved, vary quite a bit. From sublime newly laid grippy asphalt to some narrower scenic sections along the Wild Atlantic Way, in the mountains and through rural countryside . We try to avoid the busier main single carriage routes as much as possible and use rural less trafficked roads. As is typical in Ireland don't be surprised to find animals and agricultural vehicles wandering along rural roads. 
What bike is suitable to bring?
Generally speaking we recommend adventure or touring style motorcycles as the most suitable.  However, sport-touring and cruiser motorcycles may also be suitable subject to you being comfortable riding it for the distance / duration of the tour and considering the road conditions as described above. As average speeds are quite low we persoannly prefer light and agile as opposed big super comfy mile munchers.
What riding experience do I need?
Generally speaking we recommend all participants to be experienced tourers in Ireland and/or beyond. Obviously, some destinations are easier than others, as classified by our difficulty ratings, and should you have concerns please do not hesitate to contact us. It is your responsibility to ensure your motorcycling skills are up to the requirements for this tour. Obviously advanced riding skills increase enjoyment factor and reduce risk.
Do I have to ride in a group?
No!  We do not make you ride in convoy and we offer you the freedom to decide how you would like to ride. However, we find most people prefer to ride with the group without the need to navigate. We use either the 'drop off' or 'buddy' systems when group riding (depending on country and complexity of navigation); these are tried and tested systems of group riding and allow riders to ride at their own pace. Full details are provided at pre-trip briefings. Daily departure times are set every evening for the following morning depending on the days route and points of interest. If you prefer to ride on your own, we provide you with a map and route cards with recommendations for lunch or coffee stops and hotel information. We offer a very flexible approach with an emphasis on maximum enjoyment.
Is this ride suitable for a passenger?
Yes. Pillion passengers should be experienced tourers / travellers. 
What is the average group size?
Our groups are normally between 8 – 14 riders (some riders will have passengers). Most riders are from the Ireland, but we do also have overseas riders who may take part. From time to time we may split into smaller groups depending on itinerary.
What documents do I need?
You will need your original documents as follows: 
Passport and Driving Licence.  Passengers only need their passport.  
If you are bringing your own motorcycle, we recommend bringing your motorcycle registration document (RF101 / log book) and your motorcycle insurance.
In addition, you must have valid travel/medical insurance.
For internation clients – Visas as required. Please ensure that you are fully aware of all passport and visa requirements and that you allow adequate time to obtain them.
We recommend an international driving permit available from: https://www.theaa.com/driving-advice/driving-abroad/idp Whilst driving permits are not always accepted or demanded they are handy to have! 
What will the weather be like?
Depending on season / time of year we will advise expected weather conditions in the pre-trip information and also suggest the most suitable gear based on our experience. It is imperative that tour participants have suitably adequate gear. Please note our tour calendar is carefully planned taking into account the most suitable seasons / local weather for the destination. However, as much as we would like, we cannot always guarantee the best weather. Particularly considering the un-predictable climates the world has been experiencing.
What about my health when I am abroad?
You need to be physically fit and healthy and also take the necessary health precautions.  It is essential for you to consult your doctor or travel clinic for up-to-date medical travel information prior of travel, particularly if you have a pre-existing medical condition. Please ensure that you are fully aware of all official travel advice, local customs, current affairs, travel requirements and medical/travel advice. Please check with your GP regarding recommended inoculations. 
Do I need Travel / Medical Insurance?
It is a condition of you travelling with us that you are adequately insured.  Your insurance policy must cover you for the costs of any medical expenses, medical treatment or repatriation needed, due to injury or illness on this trip, including those that occur whilst motorcycle touring, either as the rider or a passenger.  It is important that your insurance company understands that the main purpose of your trip is motorcycle touring, using your own large capacity cc motorcycle or a rental motorcycle.  Your insurance must cover you for the full duration of the trip and for all countries we travel through.
In addition, we strongly recommend that your insurance policy has cover for loss or damage to your personal belongings, delay at your outward or homeward point of departure, personal liability, overseas legal expenses and cancellation and curtailment. We do not refund your deposit simply because you failed to take out insurance in sufficient time. Some travel insurance policies do not cover motorcycle travel over a certain cc or for a prolonged duration.
Minimum Numbers
We require a minimum number of 8 riders on this tour.  If we do not have this number of bookings, then we reserve the right to cancel the tour.
Booking:
Overlanders may accept a booking online, via telephone or by email. To confirm a booking a deposit is required – once the deposit is received the booking is confirmed.
Payments & Fees:
A deposit is required at time of booking.
Guided tours – 50% required at least 60 days prior to the shipment / travel date.
All payments must be made in full at least 30 days prior to the shipment / travel date.
Cancellation/Amendments/Refund Policy:
Please note that all payments and deposits are non refundable nor transferrable if cancellation accrues within one month before the shipment / tour date.
Where possible we will try to accommodate any amendments you wish to make.
In the event of curtailment no refunds shall be made.
Refunds may be processed via the original method of payment, except for cash transactions where refunds will be provided by cheque.
Gallery